Kez watch: Dugdale goes for spin with Boris Johnson's dad
The ex-Scottish Labour leader has exposed a shocking gap in her Christmas songs knowledge.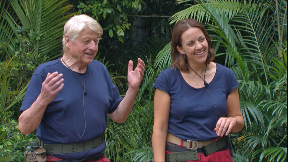 Who would have thought, a few weeks back, that Kezia Dugdale would end up locked in a rotating box full of cockroaches throwing balls at Boris Johnson's dad?
Alas, these are the times we live in, and the former Scottish Labour leader has now completed her first week in the jungle on I'm A Celebrity... Get Me Out Of Here!
On Tuesday, her screen-time was limited mostly to a thrilling ongoing feud with boxer Amir Khan about how many logs to put on the camp fire.
Wednesday brought a surprise nobody saw coming, except for everyone who follows the I'm a Celebrity account on Twitter.
Twist in the tale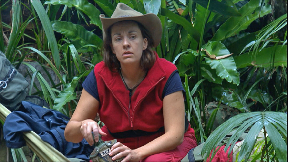 Tuesday's episode closed with the news that 77-year-old Stanley Johnson, dad of the foreign secretary, would be thrown into his first proper Bushtucker Trial along with Rebekah Vardy.
Things did not go according to plan, however. On their way to the challenge, a peaky-looking Rebekah made a pit stop to the medic's tent and was ruled out of carrying out the task on doctor's orders.
The person with the third-highest votes would have to take her place... but who could it possibly be?
None other than the MSP for Lothian herself. And she was thrilled about it.
Coalition of chaos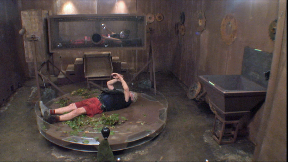 As Stanley pointed out, the last Labour-Conservative coalition was during the Second World War, unless of course you count the Better Together campaign (ba-doom tsch).
The political odd couple had to band together to face the "fear factory", which to be honest was not as scary as it sounds.
Kezia was locked in a rotating box full of locusts and cockroaches, hovering above Stanley who was strapped to a torture chamber-style wheel and covered in biting green ants.
They were asked general knowledge questions and, depending on their answer, Kezia had to pass Stanley either a large silver ball or a small silver ball, which he then had to throw down a chute.
Unfortunately he was, in the words of the former Scottish Labour leader, a "crap shot".
Jingle what?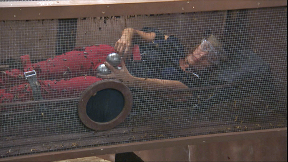 On the other hand, despite only winning five stars out of a possible 11, Kezia and Stanley actually answered nine of the questions correctly. It was Johnson's limp wrist that left them hanging.
Kezia showed off quick arithmetic skills and between her and Stanley, a former MEP, they had the political questions covered.
Pop culture questions threw them all over the place, with Kezia first incorrectly guessing which pop singer released the album Fearless (it was Taylor Swift, not Lady Gaga, Kez).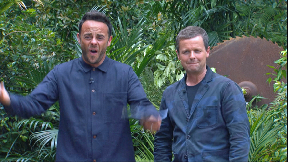 Then they were asked how many times the word 'jingle' appeared in the classic Christmas song Jingle Bells. They got the answer right, but Kezia's version of the song was unique.
Trying to count the number of jingles, she sang: "Jingle bells, jingle bells, jingle far away..."
Jingle far away?! What?
If that wasn't bad enough, they were also posed a Harry Potter-related question. What was Voldemort's real name - Tom Riddle or Tom Malfoy?
"I think he must be a Malfoy," said Kez. Ant and Dec were stunned.
Even her real-life partner Jenny Gilruth couldn't believe this truly shocking display of ignorance.
Download: The STV News app is Scotland's favourite and is available for iPhone from the App store and for Android from Google Play. Download it today and continue to enjoy STV News wherever you are.