Top 11 films cinema-goers can look forward to next year
A new year means new releases, with blockbusters galore coming in the next 12 months.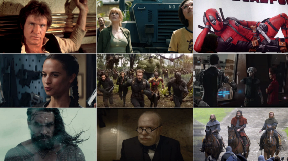 This year was a big one for cinema, with many of the world's biggest film franchises putting out a fresh release.
There was a spate of Marvel films, including Thor: Ragnarok, Spiderman: Homecoming, Logan and Guardians of the Galaxy Vol. 2 in 2017.
In the land of DC Comics, Wonder Woman smashed its way on to our screens, followed by the less well-received Justice League - and of course, there was a new Star Wars movie.
Christopher Nolan returned to the big screen with the critically-acclaimed Dunkirk and Denis Villeneuve directed long-awaited sci-fi sequel Blade Runner 2049.
Closer to home, Danny Boyle reunited with Ewan McGregor and the rest of the Trainspotting cast more than 20 years on from the iconic first film to make T2: Trainspotting.
What does 2018 have in store for cinema-goers?
Darkest Hour
Hitting cinemas on January 12, Gary Oldman will be the latest actor to portray Winston Churchill in Second World War film Darkest Hour.
It follows Churchill as he is appointed prime minister and forced to decide whether to continue the fight against Nazi Germany or to surrender, at a time when Hitler had conquered western Europe.
The Shape of Water
The renowned director of gothic fantasies such as Pan's Labyrinth, Guillermo del Toro's next film The Shape of Water hits screens in February.
Starring Sally Hawkins, Michael Shannon, Richard Jenkins and Doug Jones, it tells a Cold War-era story about a mute janitor who befriends a mysterious aquatic creature.
Ready Player One
Steven Spielberg is at the helm for the blockbuster adaptation of Ernest Cline's Ready Player One, out in March.
Set in a dystopian near-future, it depicts a world where many people reside in a colossal virtual reality software programme known as the Oasis. Expect a huge amount of 1980s pop culture references.
Tomb Raider
Also out in March is a reboot of Tomb Raider, with Alicia Vikander taking on the iconic role of adventurer Lara Croft.
Made by Norwegian director Roar Uthaug, the film will follow Lara finding the island where her father disappeared, played by The Wire's Dominic West.
Avengers: Infinity War
The latest in the Marvel saga could well be the biggest, with characters across the Marvel universe meeting for the first time in Avengers: Infinity War.
Key parts of the blockbuster were filmed in Edinburgh and the Scottish Borders, with cinematic release slated for the end of April.
Solo: A Star Wars Story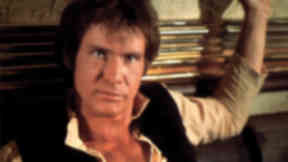 It seems like only yesterday (and it pretty much was only yesterday) that The Last Jedi came out but Star Wars enthusiasts can look forward to a new film as early as May.
Not very much is known about Solo: A Star Wars Story, other than that it revolves around a young Han Solo played by Alden Ehrenreich. Its first directors were sacked over a creative dispute and Ron Howard took over.
Deadpool 2
One of Marvel's more unconventional characters, foul-mouthed anti-hero Deadpool, played by Ryan Reynolds, was a big hit in his first outing.
Details of the sequel are sparse so far, with this bizarre teaser about the only that has been doled out, but an early June release is anticipated.
Jurassic World: Fallen Kingdom
Chris Pratt and Bryce Dallas Howard reprise their roles from the 2015 reboot in its sequel Jurassic World: Fallen Kingdom, due out in June.
The scientists must save the dinosaurs on the island from a volcanic eruption that threatens them with extinction.
Outlaw King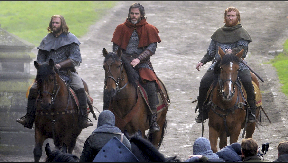 Made by Scottish director David Mackenzie and filmed in locations throughout Scotland, Outlaw King has no exact date but will be released next year on streaming service Netflix.
Featuring Star Trek actor Chris Pine as legendary Scots king Robert the Bruce, it will tell the story of his battles with the English army.
Fantastic Beasts: The Crimes of Grindelwald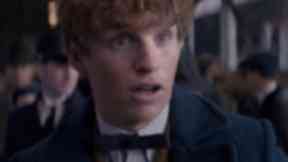 The second in the Fantastic Beasts franchise is again written by JK Rowling and made by Harry Potter director David Yates.
Eddie Redmayne will reprise his role as Newt Scamander, joined by Johnny Depp as dark wizard Grindelwald and Jude Law as a young Albus Dumbledore. It is out in November 2018.
Aquaman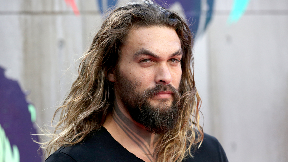 Following his appearance in this year's Justice League, Jason Momoa's Aquaman is to get his own film in December.
Directed by James Wan, a horror director who previously helmed Saw and The Conjuring, a leaked synopsis of Aquaman said it will show the character as a "reluctant ruler of the underwater kingdom of Atlantis".
Download: The STV News app is Scotland's favourite and is available for iPhone from the App store and for Android from Google Play. Download it today and continue to enjoy STV News wherever you are.