Oprah calls out sexual abusers with Golden Globes speech
The chat show host was the first black woman to get the honorary Cecil B DeMille award.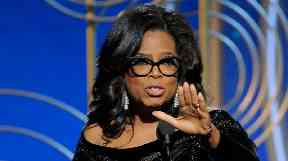 Oprah Winfrey gave a rousing speech at the Golden Globe awards, telling young girls that "a new day is on the horizon" when nobody will be a victim of sexual violence.
Collecting the honorary Cecil B DeMille award - the first black women to do so - the chat show host, actress and entrepreneur said: "When that new day finally dawns it will be because of a lot of magnificent women, many of whom are in this room tonight, and some pretty phenomenal men, fighting hard to make sure they become the leaders to take us to the time where nobody has to say 'me too' again."
"I have been inspired by all the women who have felt strong enough and powerful enough to stand up and tell their stories. This year, we became the story. Women who endured years of abuse because, like my mother, they had bills to pay and children to feed."
Winfrey praised icons Rosa Parks and Recy Taylor, who recently died, and their fight for justice after Taylor was gang-raped by six white men.
"She lived, as we all have lived, too many years in a culture broken brutally by powerful men," Winfrey said of Taylor. "For too long women have not been heard or believed if they spoke their truth to the power of those men - but their time is up."
Winfrey praised the press for helping women tell their stories, and expressed gratitude "to all the women who have endured years of abuse and assault because they, like my mother, had children to feed and bills to pay and dreams to pursue."
Recalling the importance of seeing Sidney Poitier becoming the first ever black actor to win an Oscar in 1964, and receiving the DeMille honour years later, Winfrey said: "It is not lost on me that at this moment there are some little girls watching as I become the first black woman to be given the same award."