Ewan McGregor wins best actor at Golden Globes for Fargo
The T2 Trainspotting star thanked wife of 22 years despite reports couple have split.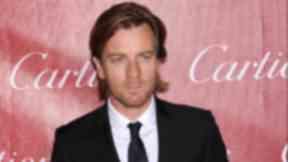 Ewan McGregor has been named best actor in a limited series for TV at the Golden Globes.
The Scottish star thanked his wife, despite reports the couple have split, as he collected the award for his role as twins Emmit and Ray Stussy in Fargo.
Picking up his prize dressed in a black tuxedo and black shirt with a Time's Up badge on his lapel, he paid tribute to Eve Mavrakis and Mary Elizabeth Winstead, his Fargo co-star who is rumoured to be his new girlfriend.
He said: "I want to take a moment to just say 'thank you' to Eve, who always stood by me for 22 years, and my four children Clara, Esther, Jamyan and Anouk.
"And I've always loved being an actor and I love hanging out with actors and I got amazing actors to work with on this.
"There wouldn't have been Emmit Stussy without David Thewlis and Michael Stuhlbarg and Carrie Coon, and there wouldn't have been a Ray without Mary Elizabeth Winstead."
McGregor and Mavrakis were married in 1995 but it is believed the couple are now estranged, following his rumoured romance with Fargo co-star Winstead.
Neither McGregor nor Mavrakis have commented officially on reports about their marriage.