Actress Bella Thorne: 'I was sexually abused until 14'
The 20-year-old revealed she suffered abuse throughout childhood in social media posts.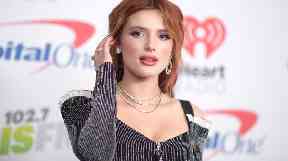 Bella Thorne has revealed on a social media post that she had been sexually and physically abused in childhood.
The American actress, who starred in Disney's Shake It Up, said she was abused "from the day I can remember till I was 14".
She added: "When I finally had the courage to lock my door at night and sit by it. All damn night. Waiting for someone to take advantage of my life again. Over and over I waited for it to stop and finally it did. But some of us aren't as lucky to get out alive. Please today stand up for every soul mistreated."
Ms Thorne, now 20, ended the post with the hashtag '#TimesUp' referring to an initiative launched by Hollywood women to fight sexual harassment as a result of the Harvey Weinstein scandal.
The initiative saw many female stars arrive at theGolden Globes wearing black instead of brightly coloured gowns.
Ms Thorne's Instagram post was liked more that half a million times and attracted hundreds of comments of support.
On Twitter, a similar post was retweeted and liked thousands of times.
The following day, the actress released a short video telling her supporters: "I'm reading on Twitter about all the people sharing their sexual abuse stories with me and I just want to say, I'm really proud of all you guys."