Former DJ Jonathan King 'used fame to lure teenage boys'
The ex-music mogul is said to have sexually assaulted teenage boys in the 1970s and 1980s.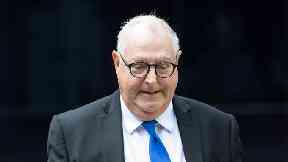 Former music mogul Jonathan King used his fame to sexually assault teenage boys after showering them with gifts or promising sex with girls their own age, a court has heard.
The convicted sex offender, 73, allegedly exploited his position in the record industry to carry out attacks on 11 teenagers as young as 14 in the 1970s and 1980s.
King, an ex-pop star and producer for acts including Genesis, is said to have lured youngsters into his Daimler or Rolls-Royce cars before driving them home, where they were plied with alcohol.
He also gave them presents, including records and concert tickets, showed them pornography and made false promises of sex with teenage girls, said prosecutor Rosina Cottage QC.
"When they were in his power and in no position to repel his advances he would assault them. It appears that it was a game of manipulation and power over boys aged about 13 to 16," she said.
"He would play the same routine again and again, honed for success."
King, of Bayswater, central London, is standing trial at Southwark Crown Court where he denies 24 serious sexual assault charges against boys aged between 14 and 16, alleged to have taken place between 1970 and 1988.
Dressed in a dark suit, white shirt, blue tie and colourful trainers, he appeared in court under his real name, Kenneth George King.
Wearing round glasses and a bum bag, he sat expressionless in the dock as the case against him was opened.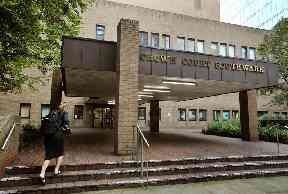 A jury of five men and seven women was told King denies he would ever have sex with anyone under age or force himself on someone without consent.
But the prosecutor said his denials are "hollow" and revealed he was convicted in 2001 of sexual offences against five teenage boys in the 1980s.
Referring to the current allegations, she added: "He claims not to know or remember most of the boys, despite their photographs or letters or addresses and details still being in his home up to 30 years later, like trophies kept for his own private perusal."
The court heard King would target straight, immature boys, securing sex by showering them with gifts of records, concert tickets, meals and alcohol, as well as paying insincere compliments and making false promises.
Ms Cottage said: "This case concerns sexual assaults by this defendant upon 11 teenage boys in the 1970s and 1980s.
"The defendant used his position in the music industry and his fame to lure boys into his Daimler or Rolls-Royce, where he would flatter them and pretend that they could help him with research or promotion.
"He would then drive them to his home where he would give them alcohol and promise them sex with teenage girls and show them pornography."
The trial, which could last until August 3, continues.
Download: The STV News app is Scotland's favourite and is available for iPhone from the App store and for Android from Google Play. Download it today and continue to enjoy STV News wherever you are.