Documentary tells incredible story of Scots mountaineer
Sir Michael Palin spoke at the UK premiere of Final Ascent, a documentary about Hamish MacInnes.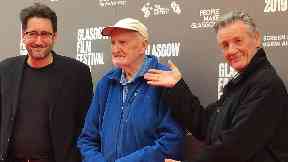 Sir Michael Palin has paid tribute to an "inspirational" mountaineering pioneer as the pair star in a new film.
The actor met Hamish MacInnes while searching for filming locations in Scotland for Monty Python and the Holy Grail.
A former mountain rescue head, Mr MacInnes, 88, has scaled peaks worldwide and invented life-saving equipment, including a mountain rescue stretcher used globally.
The Scottish mountaineer helped set up a rope bridge in Glencoe for the Monty Python team, which became the famed Bridge of Death in Monty Python and the Holy Grail.
Now, a very different film has brought the long-term friends together again - documentary Final Ascent, which charts Mr MacInnes piecing his life back together from his own books and films after being sectioned in 2014 with delirium related to dementia.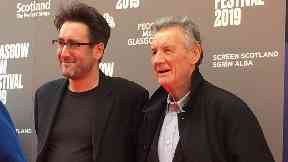 Speaking at the film's UK premiere at the Glasgow Film Festival, Sir Michael, 75, said: "I've had a good working life with Hamish, he's inspirational really.
"He's unlike anyone else I know and he has qualities unlike anybody else I know.
"After his illness a few years back it's so great to see him not just back on form but better than ever, almost."
He added: "In Glencoe, Hamish was helping us with certain structural problems like who would build the Bridge of Death over this terrifying gorge.
"Hamish found the place, built the bridge and ended up throwing the bodies of people who into the Gorge of Eternal Peril - he was the head of mountain rescue and he was throwing bodies into a gorge.
"This was before CGI and special effects and we had the real thing thanks to Hamish."
"Thankfully the ropes didn't break," Mr MacInnes joked.
Director Robbie Fraser, from Glasgow, said Mr MacInnes has "probably saved thousands of lives" through his rescues, equipment innovations and writing the mountain rescue "bible", the International Mountain Rescue Handbook.
Mr MacInnes joked that his best sells were to Russia.
He said: "I sold three million books to the Russians. And do you know how much I got in royalties? £200."
Mr MacInnes told STV News that after he fell ill, Sir Michael was there to help him out.
He said: "I was lucky; I've got a lot of very influential good friends. And I'm here today - I shouldn't be.
"I was lucky because I read my own books.
"I lost my own memory. This involved five years of my life and I re-read my own books, saw the films, and that's why my memory's come back now 100%."
Mr MacInnes hopes others will gain inspiration from the documentary.
He added: "I feel other people may get some hope that I recovered like this and not stuck in a home. And that's very important for me. And that's really what it's about."
This year's Glasgow Film Festival opened on February 20 with the UK premiere of Jonah Hill's directorial debut, the coming-of-age comedy-drama Mid90s.
The festival closes on Sunday with another film set in the 1990s, the UK premiere of the big-screen adaptation of Scottish playwright Kieran Hurley's stage show Beats.
Directed by Brian Welsh (Black Mirror) and executive produced by Steven Soderbergh, the film was mostly shot in Glasgow and tells the story of rave culture in '90s Scotland.
Download: The STV News app is Scotland's favourite and is available for iPhone from the App store and for Android from Google Play. Download it today and continue to enjoy STV News wherever you are.