Rock on, Tommy: Wets star kicks off STV's new entertainment show
The first episode of What's On Scotland will air on STV on Friday at 8pm.
Wet Wet Wet star Tommy Cunningham walks down memory lane in the first episode of STV's new weekly entertainment show.
The chart-topping drummer takes What's On Scotland's Nicola Meighan around his hometown of Clydebank in Friday night's programme.
He explains how the band - fronted by Marti Pellow - rose from the ashes of the breakdown of heavy industry.
Here's just some of what Tommy has to say in the show, which begins on STV at 8pm.
Tommy: "I don't think you can understand our journey without understanding the area we grew up in.
"There used to be really soft, undulating hills until some industrialists decided 'what a great area for shipbuilding'.
"The families that came into work in those heavy industries, they were here to achieve something, to try and have a lifestyle. And what it gave them - having a place to work and a town to live in - was a bit of pride.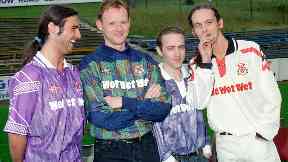 "So us as individuals in the 80s, all we heard was the stories about what this town had achieved. All our school was teaching us was how to be these people who were going to go into the heavy industries and all we knew was grey overalls and how to manufacture things.
"A few years later it turns out that Thatcherite Britain has taken over and led to the demise of heavy industry in the whole country and we were the youth that was caught up in that.
"We were the ones educated on how to work in heavy industry and dumped on a society with no industry to work in.
"We took our love of music, the working-class ethic that they taught to us, we were willing to work, we were willing to get tore in and build something that gave us a bit of pride.
"And that just happened to be songwriting and performing. And so we took that and we managed to escape the very type of surroundings that Clydebank had... you know we felt like we were in a box and we had to break out."
Download: The STV News app is Scotland's favourite and is available for iPhone from the App store and for Android from Google Play. Download it today and continue to enjoy STV News wherever you are.