Scottish Music Awards: Lewis Capaldi and Liam Gallagher among winners
The star-studded ceremony also featured performances from Simple Minds and Tom Walker.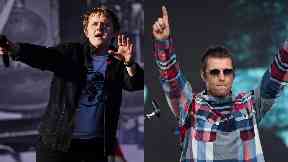 Lewis Capaldi, Liam Gallagher, Simple Minds and Tom Walker have been crowned winners at the Scottish Music Awards.
Be Charlotte and newcomer Joesef also took home awards at the St Andrew's Day ceremony that raised money for music charity Nordoff Robins.
Liam Gallagher and newly-announced TRNMT headliner Lewis Capaldi were the big winners, taking home the Best UK Artist Award and the King Tuts Song Writing Award respectively.
The young singer-songwriter from Bathgate, who has recently been nominated for a Grammy, was unwell so instead his friend and rising Scottish music star Luke La Volpe collected the award for him, saying: "it was always his dream to headline King Tuts!".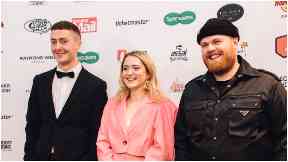 Simple Minds, who are celebrating 40 years in the industry, were awarded the Outstanding Contribution to Music Award.
"When we started out, we never thought we'd be here" said singer Jim Kerr.
"Although - I wish I could go back 40 years and tell myself to dress better!" added Charlie Burchill.
BRIT Award-winner Tom Walker was joined by the Red Hot Chilli pipers to perform his hit single Leave a Light On, before winning his second Scottish Music Award, for Best Album.
"I always try to change up my performances" he told STV News.
"I think that sound sounds amazing with the bagpipes. And we're in Scotland - so it goes together nicely!"
The singer-songwriter brought his whole family to the event, including Granny Sadie - much to the delight of fans.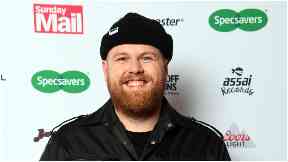 Also in attendance at the ceremony was mum Laura, whose son Jay takes part in music therapy.
Laura told the crowd how music therapy has helped her son and was met with a standing ovation.
"Jay would become overwhelmed by people around him and he preferred to be on his own all the time" she said.
"His world became very small and for a parent to watch that was heart breaking. One thing I noticed was that music was still a part of his life. Jay's school has a music therapist called Janet and when we saw what happened over the following weeks it was incredible.
"My little boy was happy, he was free and he was expressing himself through music - it was an absolute joy to see.
"He has since become more tolerant of the world around him and his confidence has grown in abundance. Music was his remedy. It breaks down the barriers and I will be forever grateful for what music therapy has given us.
"I want to thank Janet for her patience and for giving my little boy the chance to find himself again."
Glasgow band Twin Atlantic made an epic return to the award ceremony, performing Novocaine and Heart and Soul.
Ahead of the release of their highly-anticipated fourth album POWER in January, the band also collected the Best Band Award.
Huge supporters of Nordoff Robbins, frontman Sam McTrusty said, "We want to use this platform to give back to Nordoff Robbins who have supported us and we'd like to invite Jay and his mum to come and stand on stage at TRNSMT, and come and record a song with us in our studio.
"These two songs are for him!"
On the star-studded red carpet, Dundee singer-songwriter Be Charlotte spoke about the important work of the music therapy charity.
"I did a bit of that myself when I was growing up, and I try to use it in my songwriting.
"I write songs to help myself, but also to help others.
"I just love their message - that music can really transform your life."
The musician also performed at the event, before taking home the Evolution Award.
Donald MacLeod, Chairman of the Nordoff Robins Fundraising Committee, said: "We feel very proud that our annual night of music and cultural celebration also raises vital funds for Nordoff Robbins whilst celebrating the living legends and rising stars of the Scottish music scene.
"From Simple Minds to Joesef, Twin Atlantic to Tom Walker and more, we really can't thank all the artists who have come together to support Nordoff Robbins enough.
"Their support ensures we can provide music therapy to those who need it most across the country and it is truly enriching lives.
"Thank you once again to all of our outstanding partners and friends who come together to celebrate the biggest night in the Scottish music industry."
Download: The STV News app is Scotland's favourite and is available for iPhone from the App store and for Android from Google Play. Download it today and continue to enjoy STV News wherever you are.