Theft from above? The flying drone that can hack your phone 
A flying device that can hack into your mobile has been unveiled at a Scots security conference.
The sight of flying drones in Scotland's skies are set to become a common occurrence, as the radio-controlled devices are used more and more for landscape filming, and even delivering parcels.
Their use in broadcast news and by companies required to bring deliveries to customers in super quick time has also led to an explosion in stories about the dangers of drones.
While accidents involving drones are still fairly uncommon, security experts say they could be used for hacking data from the public.
At a conference in Edinburgh on Wednesday, a special drone called "Snoopy" was unveiled, which can steal content from your mobile phone.
How can drones be used to hack?
Security analyst Glenn Wilkinson believes that everyday use of Wi-Fi enabled devices can create a host of opportunities for e-criminals.
He said: "The snoopy drone is able to hack devices which are constantly searching for Wi-Fi by duping them into connecting to the snoopy device.
"It is relatively simple software used by criminals worldwide - and it highlights an important point that we must make sure devices don't constantly search for Wi-Fi when it is not necessary or we can't be certain of what it is we are connecting to.
"The concerning thing is that it is increasingly the case that every device we carry emits unique signatures - and even pacemakers come with Wi-Fi today, what a bad idea!"
The drone looks for people with Wi-Fi running on their device, seeking an open connection.

It can disguise itself as recognised networks, such as free Wi-Fi from a coffee shop or BT hotspots.

Once a user latches on to the drone network, it can steal information such as geo data (where you are and where you've been), passwords and banking information, or even any photos or files stored on your phone.

A demonstration at a conference in America witnessed over 5000 devices picked up by a single drone.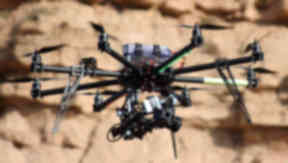 How can you avoid having data stolen?
Mandy Haeburn-Little, of the Scottish Business Resilience Network, said while so many people are dependent on working from Wi-Fi to save data costs, the threat is very real.
"We are here to keep businesses up to speed with emerging threats and this is all about giving business the information it needs to keep their own data and that of the organisation safe," she said.
She added: "Cyber crime can at times appear to be an unwinnable battle, but the reality is that often small steps can make a huge difference in limiting the likelihood or impact of an attack.
Never leave the Wi-Fi settings on your device set to automatically connect to networks. Many people forget this is enabled as it runs in the background of your phone.

When signing into a network, always check with the provider what the network name is, including whether characters are upper-case or lower-case.

If you are using Wi-Fi in a public place, make sure you have the proper firewalls & anti-virus software up to date and switched on.