Five-minute interview: Norman Pace on the Two Rons and Rocky Horror Show
The Hale and Pace favourite on invisible swords, theatre thoughts and being starstruck by Seve.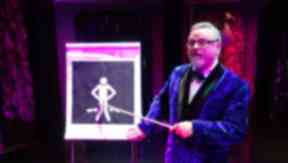 He will forever be known as one half of comedy duo Hale and Pace, the comics who stepped onto our TV screens in the late 80s and entertained without interruption for over a decade.
Famed for characters like The Two Rons and children's TV presenters Billy and Johnny, Norman Pace continues to entertain audiences more than 50 years after he was first inspired to enter the entertainment industry.
As he takes up the role of the narrator in musical The Rocky Horror Show, we caught up with Norman ahead of his stint in Edinburgh to find out about his showbiz memories with comedy partner Gareth Hale and the lure of the stage.
People will remember you from your comedy days as Hale and Pace. What do people always talk to you about?
It tends to be the characters we invented, Billy and Johnny or the Two Rons, that people mention first. We wrote a song for every show we did. I am most proud of having written all the songs for it.
You and Gareth go right back to when you were teachers. Has there always been a comedy double act on the go?
It is 45 years since we met, can you believe it? I have a young puppy that is now seven months old and I was going to take him to puppy classes.
I got an email from the puppy training saying a Mr Gareth Hale has just asked if he can come to puppy training as well so for the last six weeks, we have been taking our puppies to the same class every week.
It was a complete coincidence but delightful because I'm glad to say our friendship has survived our partnership which is something we are both very proud of.
Are the puppies as mischievous in their double act as you two were?
They are worse. They just won't stay where they are supposed to. They like fighting each other as puppies should.
What about school wind-ups? Was this a good place to put your comedy timing to the test?
I remember when I got my first teaching job, there was one particular class who found it hilarious if I made jokes when I called out the register, and it became very popular - none of the kids wanted to miss the class because they enjoyed it.
Have you ever been starstruck with anyone you've met during your career?
The only time I felt lost for words was when I played golf with Seve Ballesteros. I thought I would be impervious to his charm but I stood next to him and looked at him and his skin was perfect and he held himself like a God.
He was very friendly but it took me ten minutes before I could get a sentence out.
Do you have any comedy inspirations?
I came to Torquay as a little kid on a holiday in 1963 and I sat in the theatre and top of the bill was Bruce Forsyth. It was the first time I had ever been to see a proper show.
As the lights came down and came up on stage, I felt this tingle all over my body and thought it was magic and that I wanted to be a part of this. Here I am, 50 years later being a part of it.
You have just stepped into the shoes of the narrator in Rocky Horror Show, what are you enjoying about the new role?
You can prepare as much as you like for being the narrator of the Rocky Horror Show but nothing is like the real thing.
When you step on, you are greeted by what you call the "shout outs'"; they are like organised heckles. The problem is, sometimes their timing is not so good so you could be waiting for a heckle and you know what you are going to say and then it doesn't come, or it comes too late. So you really have to be on your toes.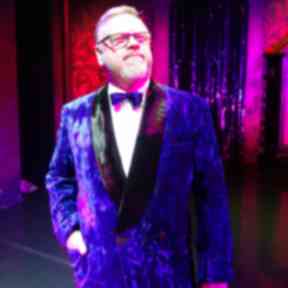 You have been in musicals before. What's it like being back on the stage?
I've always enjoyed the music side of things but the key to it is to try and get yourself into a good musical because if you are in a bad musical, the music just haunts you night in, night out.
Have you been quite selective then, or do you have had any bad musical experiences?
I made a personal rule that if I am up for a musical, I always ask if I can go and see it and have a good look at it. I had no hesitation with the Rocky Horror Show because it's legendary and people come to celebrate it.
What's the most embarrassing thing that's happened to you while performing?
Gareth and I used to do a Shakespeare sketch taking the Mickey out of the king who was about to kill someone and I was meant to kill the king with a plastic sword.
I walked on stage one night and I had forgotten it so rather than die of embarrassment, I said to Gareth, 'I am going to kill you now with my invisible sword'.
It stayed in the show every night after that, that was the funniest bit in the end.
What would you say are your career highlights?
With Gareth, we won a major international award called the Golden Rose of Montreux in Switzerland and that really gave us another ten years of making programmes because it was so prestigious and it meant our programme sold around the world.
Myself, I would say last year I worked with the National Theatre in One Man Two Guvnors and I never ever thought I would be a National Theatre actor. They gave me a mug with the National Theatre written on it and it has pride of place in my cupboard at home.
If you could be in any other musical, what would it be and what role?
The Producers is a musical and the part is Max Bialystock.
When they were recasting in the West End about ten years ago, I got to see Susan Stroman who directed the film and the Broadway show. She came over from America and I did an audition and she said, 'Norman, that was excellent, thank you for coming in'.
I went away and I thought, 'I've got it, I've got it' but they gave it to the understudy so I never did it.
To be honest with you, now I'm too old because it is quite a physical role and I am 63 now. I could have done it when I was 50 but I thought I would really struggle eight times a week now, so that one is gone but I still hold the show in my heart.
Any plans for a Hale and Pace reunion?
We did our farewell tour of Australia two years ago - they are still playing our show out there and we have a lot of loyal following.
Now, we are both going around doing the acting jobs if we fancy them and getting on with our lives. I wouldn't say winding down because there's no way of winding down in show business - you are either doing it or you're not doing it.
Download: The STV News app is Scotland's favourite and is available for iPhone from the App store and for Android from Google Play. Download it today and continue to enjoy STV News wherever you are.