Voting memories: Presenters talk about the first time they cast their votes
STV journalists recall past poll days including a 300-mile journey, a false name and a sweet tooth.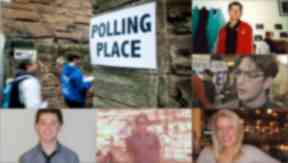 John MacKay, anchorman
"I loved General Elections as a kid. Not for any reasons of admiring the democratic process, oh no. No, this was all about cash, pure and simple. My school, Hillington Primary, was a polling station, so we got the day off. That was magic in itself. I quickly got wise to the fact that the local party agents would come up with a stack of leaflets and give you money if you helped hand them out. It was something like 50p for a few hundred. Enough for a bottle of ginger, a bag of Golden Wonder, a packet of Spangles and a Caramac. Spend all day there and you could get that order a few times. Maybe even chips later.
"There was none of this principle of handing out leaflets for a cause in which you believed. It was totally mercenary. If you were willing to pay I would hand out your leaflets. To my shame if I only had a few left and I saw the other agent coming, the remaining ones went down the drain. There were two elections in 1974. Happy days.
"I voted for the first time in 1983 at that same school. Margaret Thatcher was approaching the height of her popularity after the Falklands War and Glasgow Govan was a rock solid Labour seat. I was mindful of my duty to vote and took it seriously, but I also knew that whoever I voted for would make no difference in the greater scheme of things."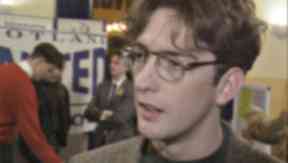 Colin Mackay, Holyrood editor
"My first vote was at the European Election in June 1989. It was in the old drill hall in Clackmannan. I was at university in Glasgow at the time but was still registered at home. Five years later, in the 1995 European election I had just started working at BBC Radio Orkney. I was still registered to vote in Clackmannan and hadn't organised a postal vote.
"I finished presenting the morning news at 8am and drove from Kirkwall to Stromness at breakneck speed to get the ferry; then drove south (stopping in Brora for Capaldi's ice cream) in time to vote in the same drill hall. My first vote was probably really exciting at the time, but there have been many more exciting votes since. I vote in Edinburgh now and should really get a postal vote but would miss the thrill of going in to the little booth and putting my cross on the ballot paper."
Kelly-Ann Woodland, Good Morning Britain presenter
"My first vote was for the 2001 UK General Election. It was for the Dumbarton seat. I remember at the time being utterly immersed in politics; I was studying politics and sociology at Glasgow University and I was also working as a runner for STV's overnight election coverage that night, so it was a very exciting time.
"I remember walking into the little booth, putting a cross on my ballot paper and then walking out feeling I'd done my bit. Journalist or not, I think elections are a real thrill."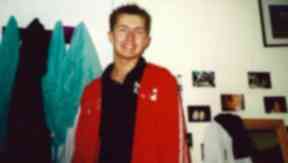 Sean Batty, weather presenter
"I was particularly upset on the day of the very first Scottish Parliament election held in 1999 as it was held on my 17th birthday, and meant I was exactly a year away from being able to vote.
"My first vote was made at St Ninian's Church in Ferguslie, for the Paisley North constituency. I can remember it being a sunny day with just a few showers (yes I've always been obsessed with the weather). Because I was 'manning' the polling station I arrived for it opening and had a mix of emotions when I walked in to collect my ballot paper. There was nervousness after years of wanting to vote, but also immense excitement. It was really daunting seeing a ballot paper for the first time and I stood to take in all the names and parties, something I still do to this day.
"When I put the cross in the box, I went over it a few times with the pencil, as if that would make any difference, but I wanted to make sure it was definitely visible and would be counted. I still get a huge buzz from walking into the polling station to vote and think it's so important that everyone exercises their right to, especially 16 and 17 year olds, as I was denied that privilege in the 1999 election."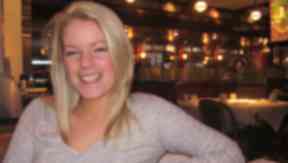 Lucy Whyte, news presenter
"My first vote was in the Scottish Parliament elections in 2003. I was at university in St Andrews at the time, so I had to get the train back home to Barrhead where I was registered. As I'm sure is the case for a lot of people, my polling station was in my former primary school. It was a strange experience going back there again for the first time, with the chairs and tables coming up to my knees.
"I always remember both of my grandmothers telling me how important it was for me to vote, they still remembered female relatives who hadn't had that automatic right. It was a poignant moment, and it was exciting. But I have to confess the two minutes it took me to get in, out and make my mark left me thinking 'Is that it?'. I've come to appreciate how easy it is now."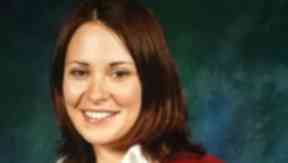 Laura Miller, news presenter
"I was too young to vote in the Scottish Devolution Referendum in 1997 but it felt like such a historic occasion and I was keen to be involved somehow (plus, I was a poor student and willing to do anything for some extra cash). So I managed to get a job as a polling clerk through my dad, who worked for the council at the time.
"I have two abiding memories of that day: Firstly, being buried in study books and revision material. I must have been in the middle of exams so I very conscientiously decided to put the long day to good use. Secondly, having to explain the ballot paper to a lot of people, despite never having voted myself. It had two questions (should there be a Scottish Parliament and should it have tax-varying powers) which seemed to cause endless confusion.
"Rather fittingly then, the first time I actually got to put a cross in the box myself was for the first Scottish Parliament Election in 1999. I remember being quite nervous and feeling a real sense of responsibility. I've always been very aware of voting being a right, hard-fought and long-cherished."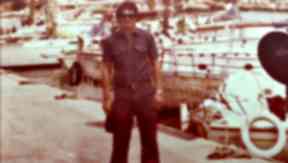 Craig Millar, Dundee bureau chief
"My own experience is quite relevant. The first vote I took part in was the 1975 referendum to decide whether the UK should remain in the European Union, or the Common Market as it was called at the time.
"I had just turned 18 and the Prime Minister was Harold Wilson, who encouraged a yes vote to stay in. It was the UK's first referendum. Just like David Cameron, the PM was involved in renegotiating our membership."
Gordon Chree, news presenter
"I first voted in the 1997 General Election - I was 18 at the time. This was the election of the Tony Blair-led Labour landslide and I remember feeling afterwards it was unlikely my individual vote had made much difference given the decisive result, but I still felt it was important I had had my say. I was a student at Napier University at the time and voted in the Edinburgh Central constituency.
"As I was leaving the polling station the eventual winner, Alistair Darling, was talking to campaigners outside. Rather than having to wait several years for my next vote, the opportunity came just a few months later in the referendum about establishing a Scottish Parliament - which has gone on to provide plenty of memorable moments in my working life."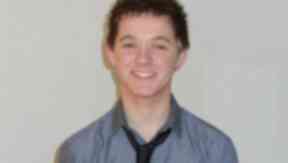 Colin Stone, news presenter
"I remember the first time I voted rather clearly because I made such a mess of it. I'd just finished my first year of university in Glasgow so I was home for the summer, registered to vote in Caithness, Sutherland and Easter Ross. I turned up to the Castletown drill hall at 9am and, without actually trying the door, thought they hadn't opened the polling station yet, so turned around and walked home.
"I eventually went back later that day and they couldn't find my name on the list of registered voters. I quickly realised I must've mumbled my name as they were looking for a Calum Stone. Everything went smoothly after that but I can't actually remember who I voted for."
("P.S. John MacKay would throttle my 18-year-old self. Just look at that magnificently-tied tie.")
Stephen Daisley, digital politics and comment editor
"My first general election vote was 2005. Tony Blair had been Prime Minister for eight years and for many the shine had worn off, especially in the aftermath of military action in Iraq. The Conservatives, led by Michael Howard, tried a 'one last heave' strategy, running a right-wing anti-immigration, tough-on-crime, more-school-discipline campaign. Their infamous poster declaring 'It's not racist to talk about immigration' was much parodied, though it was nothing compared to the instant savage mockery that are now possible thanks to Twitter and Facebook.
"I was a student during this election and it seemed everyone at my university was voting Liberal Democrat because Charles Kennedy had opposed the Iraq war and tuition fees. My abiding memory of this election was an excruciating photo-op between Tony Blair and Gordon Brown where the two ate ice cream cones together in a vain attempt to prove the New Labour leadership was united. I'd be surprised if the ices ever melted, given the notoriously frosty relations between the Prime Minister and Chancellor in those days."
Download: The STV News app is Scotland's favourite and is available for iPhone from the App store and for Android from Google Play. Download it today and continue to enjoy STV News wherever you are.