'Postnatal depression made me want to run away from my children'
Rebecca Lowson speaks out on postnatal depression in the hope other mothers will ask for help.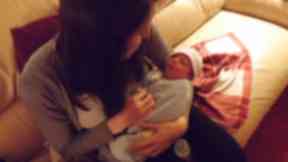 At her lowest point, mother-of-two Rebecca Lowson grappled with the thought she might not love her children.
It was a harrowing moment, particularly when she had seen so many other women crooning to their fragile infants in hospital wards, the picture of happiness.
In 2014, the Inverurie support worker gave birth to her son Ethan, a little brother for her daughter Freya.
For a time she suffered in silence as she was beset by the demons of postnatal depression. She did not need psychiatric help after her first child - why should things have been any different with her second?
Like many new mothers, Rebecca suffered symptoms ranging from low mood and self-esteem issues to brief, intrusive thoughts that she might do something to harm herself.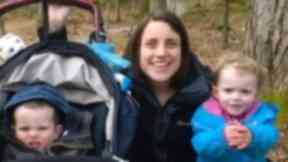 Rebecca told STV News reporter Laura Goodwin: "It felt like drowning, like I couldn't get to the top and I couldn't breathe.
"At my lowest point I didn't want to be here. I just wanted to walk out that door and just go, whether it was just walking or getting the bus.
"I thought about starting a new life down in England where no one would know my name. I Googled 'how to escape your life' and 'how to change your identity'.
"I felt empty. I didn't feel like I loved my children, I didn't feel like I loved my husband. There was just no relationship there at all.
"I did feel suicidal but I knew I would never go through with it because I had a strong fear of dying. The problem with mental health is people can't see it - people hide it, I hid it really well. My closest friends didn't find out until I said I was going to start a support group."
What are the symptoms?
There is a huge range of ways women can be affected. Women can be anxious, have trouble sleeping, feel tearful, sad, overwhelmed, guilty or negative about their parenting skills or feel their relationship with the new baby or partner is under stress.
Extreme symptoms have fuelled the stigma surrounding postnatal mental illness - but specialist workers say that most mothers in the throes of depression do not hit such extremes, and are often too scared to admit how they feel.
Postnatal depression affects up to 8000 women in Scotland every year following childbirth, and has the potential to have long-term effects if left untreated.
Only half of sufferers are identified despite regular contact with health care providers.
Similarly, Rebecca found there were no support groups in her area when she needed it - so she started one herself.
She now runs a fortnightly support group in Inverurie for women and men affected by postnatal depression through the Pandas Foundation.
Rebecca hopes to encourage mothers to ask for help when they need it.
She added: "I don't think I'll ever be fully recovered from it [depression], I still have days when I'm just down in the dumps.
"I still get angry and I've got quite bad anxiety over things. I worry a lot more and I still worry about my husband leaving me. Generally I'm fine, I just get on and do my job being a mummy."
Similar services can be found in other regions through the Pandas Foundation.
What about support through the NHS?
At present Scotland has two specialist in-patient mother and baby units to help the most severe cases, but NHS staff have called for support resources for women at a lower threshold.
Specialist midwife in perinatal mental health Shona McCann has pioneered a support service with NHS Grampian for women with minor depression and anxiety. Similar services have been imposed in England, but Scotland has yet to follow suit.
Having worked at a clinic with a consultant psychiatrist for several years, McCann noticed a gap in the service, as many women who did not meet criteria for psychiatric treatment were still suffering signs of depression.
It was then decided to have specialist midwife clinics within NHS Grampian. Other health boards are now showing interest in this approach, which helps "build trust" between midwives and mothers as well as "continuity of care".
McCann said: "There is so much pressure on women to be blissfully happy while they're pregnant and the reality for a lot of these women is not like that.
"Some women do have these thoughts, these strange, intrusive thoughts that they might do something to their children.
"They are terrified their children will be taken away from them. They're scared of being seen as not coping. A lot of their peer groups say they're doing great and a lot of the time it's not like that."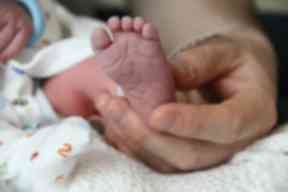 But for this specialist service to take flight in Scotland, doctors say the NHS requires "ring-fenced and specific" funding for community-based perinatal mental health services, as well as the specialist mother and baby units.
Cheryl Wilkinson, founder of UK Prenatal Education Association has also called for more training on mental health illnesses for midwives and health visitors.
A "massive" 71% of NHS boards do not have midwives or health visitors with accredited training in perinatal mental health, resulting in a "postcode lottery" of services.
Wilkinson said: "In post natal depression professionals are picking it up better and quicker, specifically through GPs and health visitors.
"However perinatal mental health isn't just post natal depression, there's post natal psychosis, post traumatic stress disorder (PTSD) and obsessive-compulsive disorder (OCD). A lot of the time a woman can be diagnosed with post natal depression, but 33% of cases are also suffering from PTSD through birth trauma and that's not being treated."
If you have been affected by any of the issues in this article, visit the SAMH website below.