Bravehound: Puppy enlisted to help ex-soldier overcome combat stress 
Irma is helping former serviceman Paul Wilkie cope with flashbacks thanks to charity Bravehounds.
Bounding across the garden in a flash of black and white, springer spaniel Irma appears to be like any other excitable pup.
Her ears prick up at the squeak of her favourite ball, she chases her tail and is happy chewing tall stalks of grass.
But the six-month-old puppy is more than a companion for her owner Paul Wilkie; she is helping him win his fight against post-traumatic stress disorder.
"I joined the Royal Engineers and went all over the world," Paul explains. "I served in Iraq three times, Bosnia, Kosovo, everywhere you know. I did have some nice postings, the Falkland Islands, Canada, it wasn't all bad.
"But I've seen a lot and I never thought 25 years later it would affect me the way it did. I had a brilliant career and I loved my career in the army. I was just gutted that I got hit with PTSD."
Having enjoyed a 22-year career in the armed forces, Paul's life came crashing down in 2012. An accident triggered his PTSD and the 45-year-old, who lives in Perthshire, has struggled with flashbacks every night for the past four years.
"It just completely changes your life: the depression, the anxiety, it ruined my marriage. I lost my house, my two cars. I was actually living in a forest for a while," he adds.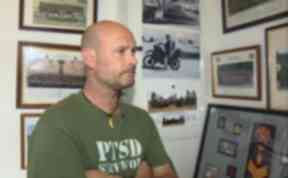 Paul's life has been transformed thanks to Irma, a little bundle of energy who is the first puppy to be matched with a veteran under new scheme Bravehound, launched by charity Glen Art which supports former servicemen and women return to civilian life.
Noticing the effect that animals had on those suffering with PTSD, Bravehound was launched to match dogs with veterans to help them assimilate back into civilian life whist providing financial assistance through veterinary bills, pet insurance and training.
Fiona MacDonald from the charity explains: "[Getting a dog] initially provided companionship and a reason to get up in the morning and to get out and meet people. And we want to work together, having fully trained assistance dogs but that will take us a few years.
"Our first puppy has gone to Paul which is fantastic and we have a few other dogs just in the pipeline and veterans and were going to put them together."
Paul says that the support he has received from Bravehounds has been invaluable since he was paired with Irma a few weeks ago.
"Like a lot of soldiers, I've not got much money at all. I've not got a job at the moment," he explains.
"Not everybody can afford a dog but what they do makes it more affordable to have a wee dog.
"She's a wee honey."
Lee Watson, a senior occupational therapist with Combat Stress, a charity which supports ex-servicemen and women, says that animals have a profound effect on those suffering with PTSD, offering them a way to communicate emotions they normally would have no other outlet for.
He says: "I think for a lot of guys with PTSD they'll have emotional numbness so it's a way for them to express their feelings to an animal. Dogs essentially are non-judgemental as well, and it allows them to develop a trust with the dog.
"For guys that are using dogs in the community, it's normally because guys with PTSD they have high anxiety and are socially isolated and a dog is a way for them to get a routine and get out the house.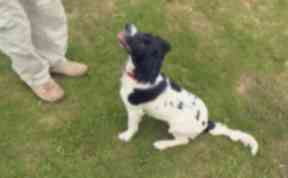 "We're quite good at letting ourselves down but with a dog, when it's giving you puppy dogs eyes and needs to go out, it will give you that motivation."
Since Irma came into Paul's life, he explains that she has been of great comfort, especially during stressful flashbacks during the night.
He says: "Instead of waking up frightened, crying and really hurt, I've got a puppy licking my face. It's a massive difference already, it's great.
"I think we're going to be great companions. She's bonded to me so well and I just think we're going to have a great life together."
Download: The STV News app is Scotland's favourite and is available for iPhone from the App store and for Android from Google Play. Download it today and continue to enjoy STV News wherever you are.