Eight foods so Scottish you probably haven't even heard of them
Ever dined on fly cemetery? Gorged on rumbledethumps? Got a thing for tipsy laird?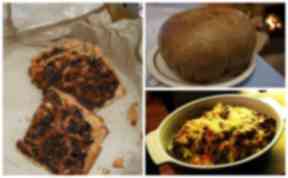 Let's be honest, we all know that Scotland is where tourists come to pick up tartan tins of shortbread, enjoy a few nips of whisky and splutter over a plate of haggis when the ingredients list is read aloud.
The radioactive orange of Irn-Bru isn't just a tin of fizzy hangover juice anymore, it's popping up as a prominent flavour in everything from pies to cupcakes and as a nation we are no stranger to deep fried sweets, with Stonehaven's Carron Fish Bar offering battered celebration sweets and coconut snowballs as festive treats.
And square sausage is so popular, Heck 'developed' square sausage meat patties in response to a plea for something to fill burger buns that wouldn't roll off the barbeque.
So where can you find Scottish foods that are still so quirky they could almost be considered artisan?
Thankfully there are still some Scots dishes that appear to have avoided the limelight and aren't being served on slates with sides of chips in fake deep fat fryer baskets, just yet.
So take a look and see how many of these weird yet wonderful Scottish dishes you have tried.
Black bun
Not another name for a well fired roll from the shops, black bun is in fact a traditional sliced cake steeped in history.
While it is more commonly eaten on Hogmanay, black bun was introduced following Mary, Queen of Scots' return from France and was consumed on the Twelfth Night as a kind of king's cake, a tradition which sees a hidden item, in this case a bean, being found and the winner celebrated as a king for a day. Following the Scottish Reformation in 1560, celebrating Christmas was banned, the king cake following alongside it.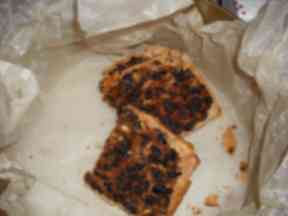 It made its return in the 19th century, known as Scotch bun but the cake remained the same, a long loaf cake filled with a spiced fruitcake and encased in shortcrust pastry.
Its more modern symbolism refers to the recipient of the cake from a first footer would not go hungry for the next 12 months, a slightly more cheerful way to celebrate the cake.
Get your loaf tin out and give it a go with this recipe.
Clootie dumpling
If you grew up with clootie dumpling, you'll probably recall the noise of a saucer rattling at the bottom of a saucepan for hours on end more than the actual taste.
A thick, doughy suet pudding rammed with dried fruit, a clootie dumpling is steamed in a 'cloot' (or cloth) which has been moistened and sprinkled with flour to give it that distinct thick skin.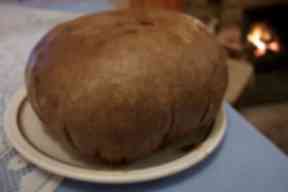 It's a pudding that requires commitment, steaming for around three to four hours with the baker keeping a close eye on the pan to ensure it doesn't dry out, risking the dumpling burning.
If you want to stand over a saucepan for most of the day, albeit for a delicious yield, give it a go here.
Crappit heid
If the idea of haggis is off putting, then crappit heid will have you reaching for the nearest bin.
An Aberdeenshire invention which made the most of every part of the fish, the offal-based crappit heid sees a haddock's head hollowed like a Halloween pumpkin and refilled with a delightful mix of oats and onions, stuffing the cavity behind the eyes with the mix then boiling the heads in a large pan.
There is no pomp and ceremony about this traditional fishing dish, unless the look of eight fish heads delicately bobbing face up, eyes and mouth wide open in pan fills you with glee.
Swallow your pretences and try this offal dish here.
Clapshot
Perhaps invented as a way to introduce babies to a traditional Burns Supper, clapshot is a good old fashioned mix of mashed neeps and tatties originating from Orkney.
It's a fairly simple side dish with the addition of pepper, chives, plenty of butter and a little onion for spicing up your weekday mince and tatties or even a plate of sausages.
Alternatively, forgo the seasoning and watch a small child throw half the bowl up your kitchen wall.
Try it out here.
Fly cemetery
Technically you could refer to fly cemetery by its more palatable moniker of a fruit slice, but let's be honest, it's creepier name is just a bit more interesting.
Depending on where you grew up, you may have eaten fly cemetery with puff pastry, shortcrust pastry or even with a layer of icing. Of course, the real gory element of the sweet is the name, it's sticky innards of dried fruits resembling your worst flypaper nightmare covered in dead insects.
Scottish Great British Bake Off finalist James Morton has a recipe if you fancy giving it a go here.
Rumbledethumps
While the English eat bubble and squeak and the Irish enjoy colcannon, Scots similarly threw all their scrabble tiles onto a table to come up with the wonderfully titled rumbledethumps.
Hailing from the Borders, although Aberdeenshire serve up a version called kailkenny, onion and cabbage is sauted in butter before mashed potatoes and sometimes mashed neeps are stirred through. Baked in the oven with a thick layer of cheddar until bubbling, it's pretty much the encompassment of Scottish comfort food and carbohydrate heaven.
Prepare to peel a lot of potatoes with the recipe here.
Tipsy laird
Cranachan may be a well-known Scottish dessert often served at Burns Suppers, but a tipsy laird actually borrows many of the key components of the creamy raspberry pudding.
Much like its custardy cousin the sherry trifle, a tipsy laird is made with sponge soaked with whisky, layered with plenty of cream and fresh raspberries and topped with almonds.
Give it a go for your next ceilidh with the recipe here.
Pizza crunch
While a pizza crunch isn't necessarily the most elusive item on the list, the idea of battering then deep frying a slab of pizza is typically found north of the border. It may be a heart attack served on a polystyrene plate with a side of chips, but considering its popularity it is unlikely to be forgotten anytime soon.
Interestingly, the Italian's have their own version of a pizza crunch, foregoing the batter to simply deep fry the pizza, often folded to resemble a crispy version of a calzone called a panzeretto.
Unless you own your own chip shop, it's probably best not to try this one at home. Pop down the local chipper instead and save the deep frying for your friendly chip shop lady with asbestos hands.
Download: The STV News app is Scotland's favourite and is available for iPhone from the App store and for Android from Google Play. Download it today and continue to enjoy STV News wherever you are.