The mysterious disappearance of Edinburgh University's Library Cat  
He has his own library card and published feline biography but where has Jordan the cat gone?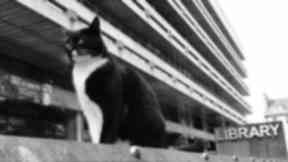 For most of his early years Jordan lived the life of an ordinary kitten.
A chunky ball of black and white fur, he was under the care of a Catholic Friary in Edinburgh.
Named after a 12th Century saint, his gentle owner Father Dermot held great ambitions for him to become an expert mouser.
Very early on, however, it became apparent that Jordan had other ideas.
Each day, instead of attending to his mousing duties, he stalked off instead across leafy George Square in the old town, to the university's main library and its well-heated rooms.
There, he found several comfy spots to snooze in and the adoration of several thousand students.
With a distinctive little white splodge to the right of his nose and bright green eyes, flecked with gold, he was an instant celebrity hit.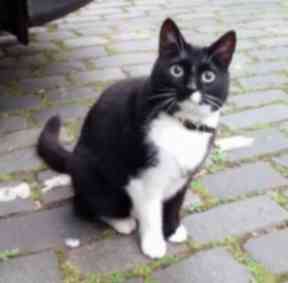 On nice days, the handsome tom liked to gaze into puddles, patrol the square looking for handy doormats to stretch out on and aloofly accept pats and head-scratches from passers-by.
By the time he turned eight, he had been gifted his own library card, bequeathed the nickname 'Library Cat' and had a fan page of close to 18,000 followers.
He also had his own writer.
Alex Howard was sitting outside the library cafe, surrounded by the everyday rumble of students smoking and talking politics, when he first spotted Jordan moseying about.
"I was immediately struck by his nature, it was quite odd," says 28-year-old Alex."On the one hand he liked to be stroked and tickled, but at the same time he would never trot towards you or make a bee-line for you.
"He would sort of accept friendly strokes and then very aloofly walk away."
It was 2013 and Alex was meant to be writing his masters thesis, but procrastination was the order of the day instead.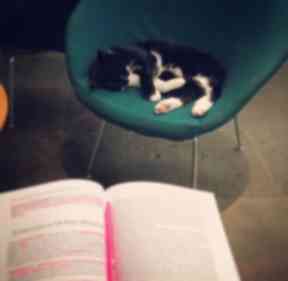 As Jordan went out of his way to lie around sunning himself in the square, deigning to allow the occasional ear tickle (left ear being the favourite) Alex couldn't help thinking how much the cat had his life sussed out.
But, as time went on, Alex's thoughts began to wander further.
"What if this cat could think and he just wasn't telling us his thoughts?" says Alex.
"His expressions definitely seemed to indicate some sort of mental cognizance. What if he did actually have very elaborate, complicated thoughts? What if he was understanding things that we don't?"
Alex's musings were the small snowballs in the avalanche to come.
Without quite realising where it would lead, Alex began shepherding Library Cat's thoughts out into the world, first on his own private Facebook page then onto a separate public page specifically for Jordan.
Remaining completely anonymous, Alex posted up Library Cat's thoughts on everything from the Scottish Referendum to capitalism and library fines.
"Things that we find very important as humans, like politics, Library Cat was deliciously indifferent too," says Alex, who cites Paul Merton as his all-time favourite comic.
"I think that's sort of what people liked about it. They began sending me photos and the more boring the image, the greater the caption competition under it could be. It got bigger and bigger."
Fans from America, Thailand, Japan, France and Hungary joined the Library Cat following and slowly but surely Alex pulled together his notes into a book.
Library Cat: The Observations of a Thinking Cat was published earlier this year, filled with the thoughts of Jordan and the humourous and heart-warming observations of his biographer Alex.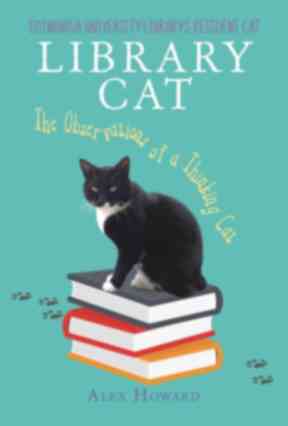 Library Cat liked James Joyce, bacon rind and tickles behind the left ear, but strongly disliked beige-coloured pothole puddles and cucumbers.
He also had a French cousin called Biblio Chat who was better with the lady cats than he was.
"What I've found is that I just love writing about cats," says Alex, who is currently working on his PhD in-between shifts at the local theatre box office.
"The things he talks about and the comedy kind of resonates at a very human level. It's a human story about human beings and their understanding about everything from politics to dustbins, from government to paving slabs."
Then, on the eve of his own book launch, disaster struck. Library Cat vanished.
His disappearance made national news. The BBC published the last date he had last been seen, March 13, and shared the university's plea for help.
Despite an outpouring of concern from Edinburgh to South Korea, Library Cat, aka Jordan, has still not been found.
"I was going all round the places where he had been sighted, holding out treats to try and find him," says Alex.
"I was worried he was trapped in a shed or something and couldn't get out or I had the horrible thought that someone had been cruel to him."
Nearly a month after Jordan's disappearance, Alex made the decision to come forward on Facebook and reveal himself as the author of Library Cat and express his concern for his missing feline friend.
"Thanks very much for joining me on this magical journey into this wonderful wee cat and his unforgettable character," he wrote.
"It has been an incredible adventure."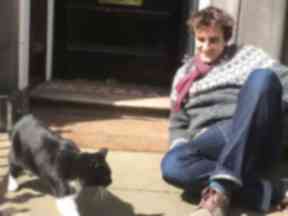 Despite Library Cat's notable absence, the book launch went ahead and has been so well received it is now set to be translated for sale in Italy and Korea.
But there is still an empty spot on Jordan's favourite turquoise chair in the library and his daily meal back with the friars has gone uneaten.
"It's been over three months but I still hope he'll return," says Alex.
"I missed him and I still do. I actually have dreams where I find him which is very odd."
It is the theories surrounding the cat's absence, however, which seem to have sparked what might be the next chapter in the Library Cat story.
On social media sites like Yik Yak, there were people who surmised that he'd run off to the join circus or gone off on an adventure with other famous cats such as Felix, the Huddersfield Station Cat.
"I have thoughts about follow-up Library Cat books. I love the thought of Library Cat's nine lives and where he might be now," says Alex.
"I do miss him. He was a constant and it was very sad to lose both a lovely animal and this character that had developed. There are other cats but none with quite his character."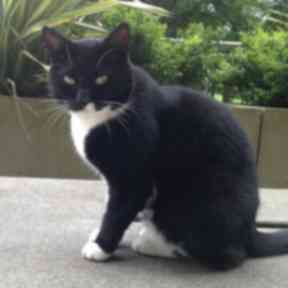 In the meantime, Alex has started up another page called Cats of Edinburgh which has already drawn in feline fans from across the city.
"At the beginning it got one 'like' and that was my girlfriend," laughs Alex. "But then it began to pick up after posts about a very pretty cat down in Viewforth."
"I feel that writing about cats is my bread and butter, it is what is keeping me writing," he adds. "It might not necessarily be the next project, but it keeps the cogs oiled and keeps me writing about something."
For now, Alex plans to finish his PhD and wait hopefully for the return of his favourite character, safe in the knowledge that if or when Jordan does make his appearance, it will be back in his library, where there is a shelf, with a book, with his very own name on it.
Download: The STV News app is Scotland's favourite and is available for iPhone from the App store and for Android from Google Play. Download it today and continue to enjoy STV News wherever you are.