Could Marty the robot become a teaching aid in every Scottish classroom?
Could a robot that dances and plays football be the next step in educational technology?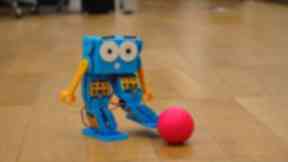 He dances, he rollerskates and he's even been known to execute the odd sumo-wrestling move.
Marty is a tiny, fully programmable robot, roughly the size of a kettle and designed for tech fans of all ages to build and customise.
His actions are as complicated and diverse as the person who programmes him dictates - be it kicking a football or providing a platform for hard academic research at university.
Created by 30-year-old Aberdonian Alexander Enoch, Marty started off as a side project while studying for his PhD in Edinburgh.
Hunting for a birthday present for his eight-year-old niece, the robotics engineer was baffled at the lack of toys for children that were actual robots, rather than "novelties" like remote control cars.
"I was a bit frustrated by the lack of toys that actually let you get more involved in programming or real robotics," said Alexander. "You're torn between novelties or expensive kits that are still a bit limited.
"So I set out to make something that was a real robot, but that could also compete with smart toys, for the price of a toy.
"With Marty we're focusing on educational robotics so it's something anyone can use, as a fun toy but also as a real platform for helping you learn about electronics, programming and mechanics."
Children as young as seven can build their own Marty, assembling the 3D-printed parts with a single screwdriver.
Once put together, Marty can be controlled remotely by Wi-Fi, be customised with additional limbs and accessories and is compatible with single board computers.
In terms of programming, children can use simple languages like Scratch to give Marty movement - a system where coding occurs by clicking and dragging boxes. Experienced programmers can control him using more powerful programming languages such as Python and C++, or state of the art robotics tools such as ROS.
But more importantly, Marty could be the next piece of technology used in primary and secondary schools across Scotland. Alexander is in talks with councils in a bid to bring Marty into the classroom as a learning tool.
Alexander said: "It would be amazing to have one Marty in classrooms across Scotland. It's something I'm quite keen on, actually getting them out into people's hands so that you learn by doing.
"Ideally you'd have one [Marty] between two or you could have more than just one per class so they can be programming their robots, rather than watching someone else do it."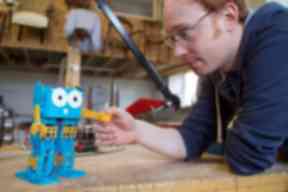 In the decade since Alexander left school, technology in education has increased almost exponentially - it has now reached the point where many UK parents struggle to get their children to turn off devices like phones and tablets.
But Alexander considers Marty more of a "side-step" in education technology, one that could give children a more hands-on and engaging approach to learning.
He said: "There's a far better access to technology in the classroom, but I would say it has to be used appropriately.
"iPads can be distracting, teachers need to know how to use them - and I think a lot of teachers are doing a really good job.
"These days I think everyone had a shorter attention span than we used to have, so I think we need to embrace that in classrooms. We need to make material for learning that's more engaging, more interesting and more learner-led or open-ended.
"Marty's technology allows you to do that because you can have people progressing at their own speed."
A crowdfunding page was launched in 2015 for the development of Marty, which estimates the finished product will be ready for shipping in January 2017.
For £75, members of the public have been able to pre-order a Marty kit, which comes with plastic parts, motors, electronics and screws - a basic circuit board can also be bought for £30.
But if trials are successful, Marty may well become as common in classrooms as web whiteboards and computers.
Alexander added: "Robotics is becoming big right now and there's also a shortage of engineers, in the UK at least.
"There are going to be more jobs related to programming and automation and it's really important that kids have the right skill sets or the opportunity to get involved."
Marty video credit: Robert Tomkins, ExploreMore Media Ltd