Silent reading party craze from America creating a noise in Dundee
A new social approach to reading gathers a group of loyal bookworms in its first year.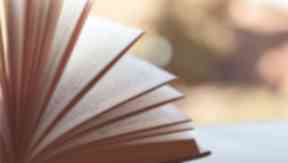 Finding just one hour in a month to lose herself in a book was something Mariel Symeonidou could never quite find the time for.
In between her studies for first her Masters and then her PHD, the 25-year-old said her love of reading for pleasure always seemed to fall to the bottom of the priority list.
Moving to Dundee from Cyprus seven years ago to take on her first degree, Mariel decided last year she wanted to establish some roots by setting up a social event.
Combined with a desire to wipe away the dust from her waiting book collection, her two passions began to fuse together when she discovered the concept of the 'silent reading party'.
First launched in Seattle in 2010, the gatherings encourage people to disconnect from technology for one hour and jump into the literary world.
The idea quickly spread across America to places like New York and Chicago before moving across the pond to London and Edinburgh.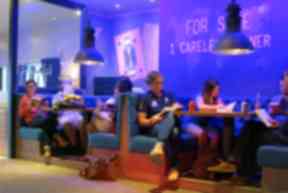 One year ago, Mariel took the plunge and set up Dundee's first silent reading party as a bit of a one-off event. Almost 12 months on, she is now preparing to celebrate their first birthday following loyal support within the Dundee literary community.
"I wanted to give it a go and see if it would work out," she says. "I thought it was a really nice idea that you could read in public in a group and then have an opportunity to meet other like-minded people.
"It's an hour where you can read your book and focus on that without worrying about work or other things.
"Dundee actually has a great literary community - there's so much going on."
Now running the free event once a month from Brewdog's Dundee bar, Mariel says up to 35 people turn up each month, book in hand, to enjoy an hour of reading.
And while some choose to leave once the hour is up, Mariel says many stay on for a chat, a freedom she wants to encourage to allow all personality types to benefit from the event.
"I have started my PHD so I have even less time to read so the event has become more important to me personally," she says.
"I have that hour of reading but it is also when I get to see everyone. It is a social event where people get together to have a chat, have a drink and meet other people so I do look forward to it."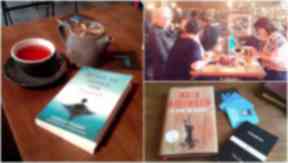 Mariel usually has two books on the go at any one time, with Kate Atkinson's Emotionally Weird and All the Birds in the Sky by Charlie Jane Anders on her list for the next event on July 18, with hopes that this trend for this public appreciation of books will continue to filter across to other parts of Scotland.
"It is nice to detach yourself from your busy schedule," Mariel says.
"And it is a nice way to start the week.
"Reading isn't normally connected to a social event so it's nice to see it in a way where people are able to go out and read their books and have a great time."