Dog's dinner: Restaurant launches new menu for hungry hounds
Saint Luke's in the east end is serving up lamb burgers and poached fish for canine patrons.
Head chef Steve Martin has never fed his pet processed food from a tin.
Having cooked in fine restaurants all over the world for most of his life, he decided what was good enough for people was good enough for his beloved rescue dog.
Rather than mass-produced mulch, four-year-old Shih Tzu Millie has instead gorged on homemade recipes of an entirely different pedigree.
Her favourites include poached fish and scrambled eggs - a dish which has now made it onto Saint Luke's first bespoke dog menu.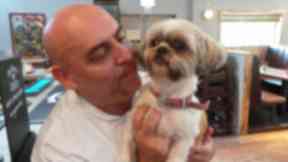 Originally from Ballater, Steve took up the helm at Saint Luke's bar and kitchen, The Winged Ox, last year.
It was a trendy southern American arts venue, resurrected from a 19th century church, which served Creole staples including gumbo and jambalaya alongside a selection of bourbons.
He was very much at home in the dog-friendly venue, where canine patrons were served up a bowl of water and a biscuit on arrival, but thought more could be done to cater to pets and their owners.
Using fresh meats and vegetables, Steve launched the kitchen's first menu exclusively for dogs, where pets could eat for an average of £3.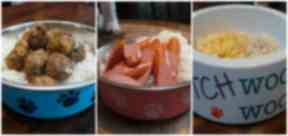 "I heard someone say they wanted to stay for a meal and a pint, but had to go home because they needed to feed the dog," Steve said.
"So I said I would feed them. I gave the dog a portion of chicken and rice and by the end of the meal, the owner was asking for a small bowl of ice cream.
"I've studied the diets of dogs big and small and tried out all the recipes at home with Millie. Rice is great for dogs so long as you bake it, I use poached chicken and minimal seasoning as smaller dogs can often have stomach problems.
"We get all sorts of dogs down here, we even had a woman from Irvine come down just to feed her dog."
Allowing dogs to relax in pubs with their owners is practised all over Glasgow, from The Brunswick Hotel in the city centre to The Bungo in the south side - but this latest service has taken pet culture one step further.
The Winged Ox menu for pooches features tasty treats such as lamb burgers and hot dogs (minus the bun) - all of which can be washed down with dog beer.
The latter is non-alcoholic and is made from beef or chicken stock, just in case any rogue pets start getting any ideas.
Now on a Sunday, the venue dishes up an average of 15 - 20 dog meals, and have even received a request to make a dog-friendly cake for a birthday celebration.
General managed David Brown added: "We're trying to make sure people know we're accessible.
"Anyone is welcome here and can feel safe and secure. We get all kinds of dogs in here from Lhasa Apsos to Great Danes and the atmosphere is great."