Tennis club 'breaking down the barriers' for disabled players
Last year Ben Gray picked up a racket for the first time and with it his confidence.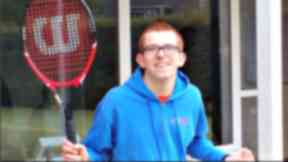 Last year Ben Gray was stuck in something of a rut.
Like any parent of a teenage son, his mother Sharron was worried. Getting him to step out of the family home was a challenge.
Ben, diagnosed with autism, sometimes found things a little difficult as he saw, heard and felt the world differently from those around him.
Convincing him to try new things could be hard. Getting him to go back and try them again was harder.
"He would go, enjoy it, but then not want to go back," says Sharron.
Judo wasn't quite for Ben. Trampolining, football and horses didn't catch his interest either.
Neither did several youth clubs and after a bit of a bruising experience with rugby, the pitch was crossed off the list too.
Fast running out of sports, his determined mother clutched at one more straw. A tennis club, newly formed, was looking for members just like Ben.
A few weeks later, the 18-year-old picked up his first racket and with it, his confidence.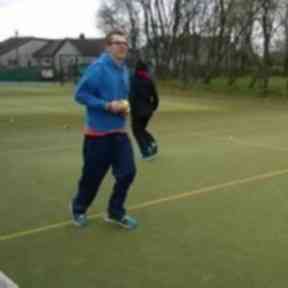 The catalyst came in the form of coach Allwyn Crawford, a lightly built Scotswoman with a steely eye for talent and a fierce grip on right and wrong.
What was right, she determined, is that anyone, no matter what their disability, should be able to get onto a court.
What was wrong was that there was not enough support out there to make it happen.
"This means more than anything else I've ever done," says Allwyn.
"There are always barriers and you really have to work your butt off to make it happen.
"You need to raise these young adults confidence levels to even get them to come in the first place."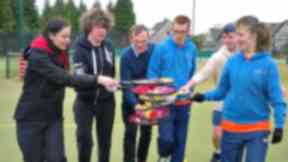 In 2014, Learning Disability Statistics Scotland reported that there were 26,786 adults known to local authorities across the country.
Of these, more than 4000 were on the autism spectrum like Ben.
According to the National Autistic Society, autism is much more common than most people think with many on the spectrum often saying the world can feel overwhelming for them.
It's a struggle which makes Ben's achievements all the more remarkable.
"He's no longer a follower," says his mother proudly. "He's the first one to stick his hand up and volunteer now.
"His hand-eye coordination wasn't that good but you should see him with a racket now, he just belts those balls over the net."
Like many parents looking after a person with autism, any change in behaviour can be small but significant.
"He now runs from the car to get to the court when we arrive at the club," says Sharron.
"He just can't get there fast enough."
Ben also organises himself for what he will need each day before practice, something his mother has never once seen him do in 19 years.
The biggest change, however, is the freedom the sport has now given her son.
"Don't get me wrong, he's a very happy 19-year-old boy," says Sharron. " But what 19-year-old spends 24/7 with his mother?
"To get him out there and doing more things is wonderful."
The club started with seven players and snowballed to include today's 27 members.
Nicknamed The Tennis Aces, the East Dunbartonshire group took to sport so well, three of them, including Ben, have now qualified for the Special Olympics held in the UK next year.
"To me it's about breaking down the barriers, taking away the limits that face them and helping them overcome the challenges," says Allwyn.
"We're changing their routine and taking them to somewhere new. I honestly don't know how it's worked but it has. They all accept each other."
For parents like Sharron, it's a gift that couldn't come too soon for her son.
"My Ben, if you didn't know him, you'd think he was just this shy, quiet boy," she says.
"But now he's out there making people laugh."
Download: The STV News app is Scotland's favourite and is available for iPhone from the App store and for Android from Google Play. Download it today and continue to enjoy STV News wherever you are.