Special brew: Should super-strength booze be banned in Scotland?
New study reveals majority of super-strength cider sold to problem drinkers in Scotland.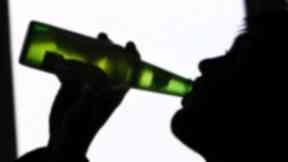 It was once thought to cause more harm to public health than crack or heroin.
Super-strength lagers and ciders sit on retailers' shelves across Scotland, allowing the consumer to imbibe a week's worth of recommended alcoholic units (14) for just £2.52.
The social stigma attached to brews like Carlsberg Special and Frosty Jack's is undeniable, a cheaper option than spirits for people counting every penny at the till.
But recent research may indicate that sales of super-strength drinks would be unaffected among the heaviest drinkers if even the cost was increased.
In the first study of its kind, researchers found that super-strength ciders sold in Scotland are consumed almost exclusively by problem drinkers.
Lead by professor Jonathan Chick, visiting professor at Edinburgh Napier University, the study interviewed patients attending hospitals and clinics for alcohol treatment.
It found that on average, problem drinkers who were seen in acute general hospitals consumed 42 units of strong cider in a week, while patients seen in alcohol treatment services drank an average of 59. However researchers found that of patients that drank white cider exclusively, some drank in excess of 200 units a week.
Given that Beeston reported 326,975 litres of pure alcohol were sold as strong cider off-licence that year, the group extrapolated "ill drinkers" accounted for the consumption of most of those sales.
Co-principal investigator Jan Gill, of Napier University, said: "We found that white cider was the drink people turned to when funds were low, so people used it as a buffer.
"If funds were greater then people would drink perhaps vodka."
'Most damaging drug'
Charities such as Thames Reach have long campaigned against the sale of super-strength drinks, calling alcohol the "most damaging" drug in the UK.
It's an idea of particular relevance to Scotland, with new figures revealing half of all 999 call outs were linked to alcohol.
Police officers, paramedics and firefighters have been punched, threatened and spat on as they stand on the frontline during emergencies.
But is an outright ban on high-strength drinks the way to go?
British columnist Leo McKinstry wrote a defence of the products, where he bemoans Carlsberg Special's most "ardent clientele" (which includes alcoholics) for polluting the drink's reputation with their "wayward nature".
In the same piece that reduces charity workers to "hectoring prohibitionists", McKinstry concludes: "If Special Brew was good enough for Winston Churchill, it is certainly good enough for the rest of us." (He also admits he was under influence of the drink at the time of writing.)
The piece may have seemed a little light in substance, particularly after Carlsberg agreed to "water down" the potent brew made for Churchill last year - but it does point out that non-dependent drinkers are responsible for their actions, and a ban would be a step back to a bygone era of prohibition.
Meanwhile bans on the products have been proposed, and enforced unsuccessfully in the past - Crest Super was withdrawn from UK shelves in 2004 (it was still available abroad), only to be reinstated in 2014.
Industry representatives, while supportive of campaigns such as Drink Aware, also argue that alcoholic products are not the problem.
A spokesperson from the British Beer and Pub Association (BBPA) said: "We agree that we need to view the issue in terms of problem drinkers, rather than problem drinks, so that we can get targeted help to those who need it.
"It is not helpful to ascribe particular strengths, or types of drink, as being the cause of alcohol misuse, especially when you consider that our product, beer, is overall, the lowest strength category of drink, and cider is generally considerably lower in strength than wine or spirits.
"Most beers of course would not be affected [by a ban], but we don't believe that bans are appropriate, especially when you consider that virtually all beers are lower in strength than typical wines, for example.
"Some craft beers are higher strength and would be unfairly affected by a blanket ban of this sort. The only alternative approach, targeting specific products raises series questions under competition law."
Up the cost
The Scottish government are currently pushing for a minimum alcohol pricing system, which would raise prices to 50p per unit - in other words, just over £1 for a can of super-strength cider, as opposed to 89p.
Researchers say that while this will "mathematically" reduce drinking overall, it may have no impact on problem drinkers.
Jan Gill added: "If you're addicted to alcohol you need to purchase alcohol.
"Minimum pricing may not have an impact on all problem drinkers, but I think it is important to ask whether it will stop recruitment of younger people into the heavy drinking category.
"We don't yet have the research to prove this."
Minimum pricing is also the preferred course of action for homeless charities such as Thames Reach, who have campaigned for higher tax on alcohol since 2005. The charity claims white cider producers are "exploiting tax breaks" intended to help the wider cider industry.
MSPs backed the move at Holyrood in 2012 but implementation stalled after the Scotch Whisky Association (SWA) and other European wine and spirits producers took legal action, arguing minimum pricing would breach European law.
In light of the recent super-strength cider study, a Scottish Government spokesperson said: "The Scottish Government has taken robust action in tackling alcohol misuse since 2008; the quantity discount ban, improved substance misuse education and the new lower drink drive limit.
"We also remain committed to Minimum Unit Pricing. We believe this is the most effective pricing measure to tackle the high strength, low cost alcohol that causes so much damage in our communities."
After carrying out an alcohol price check in Scotland earlier this year, Alison Douglas, chief executive of Alcohol Focus Scotland, also supported higher drink prices.
She said: "It is ridiculous that a toxic, carcinogenic product which causes so much harm can be sold so cheaply. £2.52 is the price of a takeaway coffee yet this can buy the weekly recommended alcohol limit of 14 units. The more affordable alcohol is, the more we drink and this means more alcohol-related hospital admissions, crime and deaths.
"A 50p minimum unit price is the most effective way to raise the price of the cheapest, strongest drinks which cause the most harm in Scotland. It is really disappointing that the Scotch Whisky Association's legal action has delayed this policy for four years so far. This delay has undoubtedly cost lives."