Rare Jurassic Skye fossil one of 'most important' found in Scotland
The Storr Lochs Monster has been dubbed the crown jewel in Scotland's Jurassic history.
The skeleton of a sea-living reptile 'monster' which ruled the oceans around the same time as huge dinosaurs thundered across the land has been unveiled.
The fossilised skeleton of this dolphin-like reptile from 170 million years ago is said to be the most complete that has ever been found in Scotland.
Named the Storr Lochs Monster, the fossil was discovered on the Isle of Skye in 1966 by a local power station manager and has been preserved by National Museums Scotland ever since.
In the last few months, experts have been able to clean up and extract the fossil from the rock which has been encasing it for millions of years.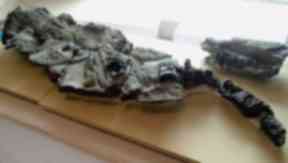 Dr Steve Brusatte, of the University of Edinburgh's School of GeoSciences, said these exceptionally rare bones are "one of a kind."
"I think this is one of the most important fossils which has ever been found in Scotland," Steve says.
"I think when a lot of people think of fossils they are not going to think of Scotland, but actually there's great fossils from across the country and this one is one of the most important because it is so complete.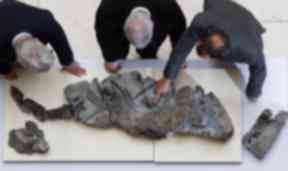 "What we have had before is a few bones here and there, but what we have now is almost a complete skeleton so it is one of a kind.
"Their bones are exceptionally rare in Scotland, which makes this specimen one of the crown jewels of Scottish fossils."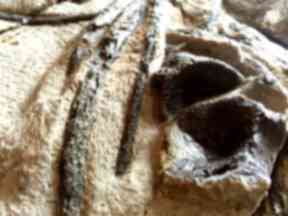 He adds: "Scotland is one of the best places in the world to find fossils from the middle part of the Jurassic period.
"So when you think of Jurassic Park, there are only some places in the world that actually have fossils from that time. Scotland is one of them and this one is one of the best fossils from here.
"So that just shows how critical this fossil is in helping us better understand that world 170 million years ago when there were huge dinosaurs thundering across the land and these reptile monsters swimming in the ocean."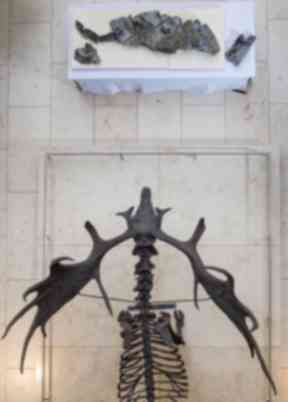 Dr Brusatte says these reptiles, from the ichthyosaurs group, were "close cousins to dinosaurs" and would have lived in the water all the time, even giving birth in the ocean. They would have been around four metres in length with fins, flippers and a a pointed head which had hundreds of cone-shaped teeth to allow them to feed on fish and squid.
"These were remarkable creatures, totally unlike anything that is alive today. It is these kinds of animals we want the people to Scotland to know," Steve says.
"There are rumours of sea monsters and lake monsters in Scotland today but there were real sea dragons that lived here during the time of dinosaurs."
Skye's Jurassic history
Skye is one of the few places in the world where fossils from the middle Jurassic period can be found and has been referred to as "Scotland's dinosaur island".
The Storr Lochs Monster fossil was discovered on a Skye beach near the SSE Storr Lochs Power Station by the facility's manager, Norrie Gillies, who died in 2011 aged 93, who spotted the fossil while out for a Sunday afternoon walk.
His son Allan Gillies joined experts from the museum, the University of Edinburgh and SSE on September 5 to reveal the fossil to the public for the first time.
Allan has fond memories of experts cutting out the fossil from the rock in blocks when he was just six years old after his father contacted National Museums Scotland to tell them about his discovery.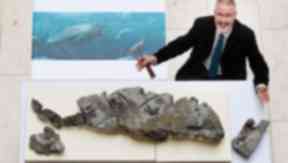 "It is a proud moment to see it revealed," Allan says. "Dad's aim was that it was not the sort of thing you keep in a back garden and should be for the general public to see it.
"Now that it is out of the rock, they will be able to study the science behind it and learn more about it - it's fantastic."
People will be able to view the fossil at a number of locations, including SSE's new visitor centre at the Pitlochry Dam, which opens in a few months' time before it returns to the lab for further research.
Here, a team of palaeontologists from the University of Edinburgh and National Museums Scotland will carry out a detailed examination of the fossil in a bid to form a clearer picture of the fossil.
It is hoped this will help to reveal how ichthyosaurs evolved during the middle Jurassic period, an era long been shrouded in mystery owing to a lack of fossil evidence from the time.