Photographer who captures the live birth of your child on camera
Live birth photography is a growing trend in Scotland's maternity wards.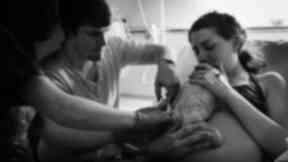 There were three people on standby the day Kayla Rouse went into labour: one was her husband Sam, the second was her midwife and the third was photographer Karolina Antanaviciute.
"I'd had my phone by my side for weeks before the due date," says Karolina.
"I remember feeling so nervous and excited."
For both women it was to be a first time experience. For Kayla, it was the arrival of her first child - for Karolina, it was her first experience of capturing a live birth.
"I'd only started offering it as a service this year," says the Edinburgh photographer, who runs an established photography studio in the city.
"I'd heard about the trend in America and put the word out that I'd be willing to offer it -then Kayla and Sam came forward."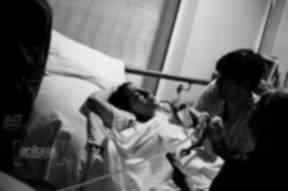 Karolina, 28, is part of a small but growing profession devoted to chronicling a rite of passage that is no less significant than a wedding or an engagement shoot - though a bit trickier to capture on film.
Live birth photography has become an almost commonplace trend in America though the UK, it would seem, is not far behind it.
According to a 2014 poll by parenting website BabyCentre UK, a fifth of all mothers or pregnant women would consider or have already booked a professional birth photographer to document their labour in all its intimacy.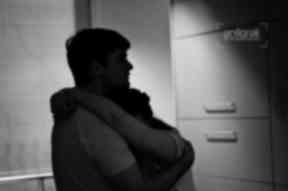 "It's not huge over here in Scotland yet though," says Karolina. "I know of only one other girl in Glasgow offering it at the moment and I get this surprised reaction whenever I speak of it."
Birth, once considered a behind-closed-doors affair, may seem a painful and perhaps unlikely event to capture, but for those who choose it, it can mean something entirely different.
"I totally fell in love with how precious it was. How can it not be?" asks Karolina.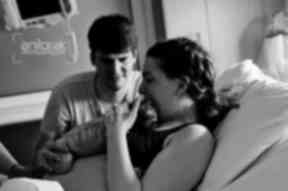 "I'm not a medical professional in the room; I'm just there to tell the story so I notice things that others wouldn't," she adds.
"The way dad looks for example, standing nearby, the way he acts and reacts while the nurses focus on baby and mum."
For Karolina, the real art is in making the parents comfortable and in being as invisible as possible.
"The biggest thing is not to be noticed so nobody really feels as though you're there," she says.
"It's a fly-on-the-wall style of photography that is just so raw and so simple."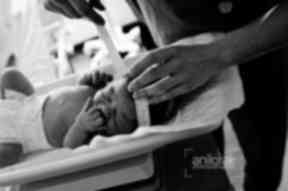 Birth photographers are insistent that each shoot can be as graphic or as subtle as the parents wish it to be and have to be on-call 24/7 two weeks before the due date to make sure they can arrive on time.
As birth photography is so new in Scotland though, clients are encouraged to talk to their birth team and hospital to seek permission for a photographer to be present.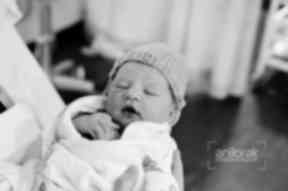 "I think people are excited and nervous to try it right now but I think it's something that we'll see more of soon," says Karolina.
"Kayla told me afterwards that she had her eyes closed most of the time during the birth.
"There was so much going on for her she wasn't as aware of where her husband was or how he was looking at her until she saw the pictures."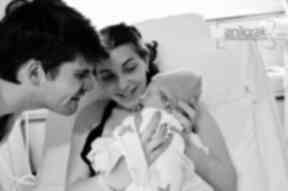 "I feel so privileged to be part of the moment they welcomed their daughter Liliana into the world," adds Karolina.
"Babies change within minutes of being born and keep on changing, so being able to capture that very first meeting, first kiss and first cuddle is so precious."