Nessie: Why Scots monster myth lives on into 21st century
The latest sighting of the elusive Loch Ness resident has reignited monster mania.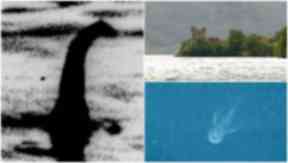 There have been more than 1000 sightings of Nessie since the prehistoric "monster" was first reported centuries ago.
This week, an image taken by an amateur photographer which looks suspiciously like three seals snapped at the right time has done the rounds on social media.
It seems that spotting the mythical plesiosaur/sea serpent/upturned log is an almost weekly occurrence at Scotland's deepest body of water.
In 1933, the first photograph was taken of the giant beast and the golden age of Nessie hunting began, with thousands flocking to the banks of Loch Ness hoping to catch a glimpse of the elusive prehistoric legend.
The public's fascination with the mythical sea monster endures to this day. Alleged sightings are common, and the digital age has allowed amateur photographers to take (and manipulate) images purporting to be Nessie with ease.
Despite no concrete evidence of Loch Ness' most famous resident ever having been found and a number of scientific expeditions coming up empty, many still believe a creature from pre-history is hiding in the darkest recesses of the loch.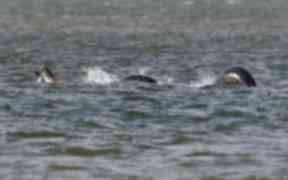 So what makes Nessie so continually popular with tourists and explorers? For naturalist and Loch Ness exhibition designer Adrian Shine it is the hope that one might find a fantastical ancient beast living in an area anyone can get to.
"We have for quite a long time been fascinated by the pre-historic world," he explains. "Ever since the 19th century revealed the existence of the plesiosaur and the Ichthyosaur, the fish lizard-type hybrid, was discovered by Sir Richard Owen."
He continues: "We always made the worst animals we could conceive, then when fossils began to be discovered we realised that there were animals which were even worse than we could imagine - take the Tyrannosaurus Rex. The taste for mythical lands and legendary monsters was also propagated by science-fiction and fantasy writers.
"It entered popular fiction, such as in Jules Verne's Journey to the Centre of the Earth and The Lost World by Arthur Conan Doyle.
"Then there was the Sasquatch in the forests of the US northwest and Yeti in the Himalayas, but Loch Ness is not a lost world, so you don't have to get eaten by Grizzlies searching for Bigfoot or go to mountains in the Himalayas to hunt for the Yeti.
"Loch Ness is accessible, so stories can come from ordinary people not experts and intrepid explorers."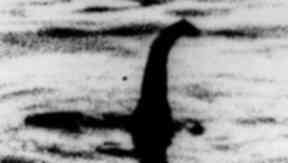 And its accessibility has meant a regular stream of sightings caught on camera since the 1933 'Surgeon's photograph' later discovered to be a hoax.
Professor Chris French of Goldsmiths is an expert on the psychology of paranormal phenomena and former editor-in-chief of The Skeptic magazine. He says a proliferation of sightings does not mean there is something lurking beneath the water.
"If you're a little kid who is scared of ghosts, you might see your dressing gown hanging up on the back of the door and think it's a bogeyman coming to get you.
"It's the same with the Loch Ness situation. If you believe that there might really be a monster out there and you see something that looks vaguely like it might be a monster, you may well add in details without realising that's what you are doing.
The reliance on eye-witness accounts is one of the weaknesses of the argument, he says.
"Even information that you come across after you had an experience can alter your memory.
"If you and I were walking around the shores of Loch Ness, there's a bit of splashing in the water and you don't really see much but I say 'Oh my god did you see that head that just came up and went down again', subsequently when you're asked about it you might say in all sincerity that you saw a head come out of the water. My account of it has influenced your memory of what you saw."
He says many believe in the Loch Ness monster as it is an "exciting" prospect.
"It fits into a more general world view. Lots of paranormal beliefs tend to inter-correlate with each other. You're more likely to believe in the Loch Ness monster if you believe in alien abductions, or telepathy for example," he said.
"It is possible to believe in one and not the other but they tend to go together. That kind of more general world view is one that is exciting.
"It's exciting to believe that there are these monsters in the world, whether you're talking about the Loch Ness monster, or Bigfoot, or Yetis or whatever we are talking about."
Such myths and legends are part of our history, and can be seductive to many.
"It is the subject of lots of fiction and its part of our culture. For most of us we just see it as being a fun kind of mythology.
"We know that in the history of the Loch Ness monster there have been a number of hoaxes, we know about the unreliability of eye-witness accounts but people still want to believe in this stuff. That sometimes goes along with a kind of rejection of scientific world view."
But for Adrian, who has been studying the loch for decades, the facts will not get in the way of the myth as long as the public appetite for the unusual remains.
"There will be a Loch Ness monster as long as we want there to be one."