Food lovers in meltdown over sell-out Cheese Toastie Festival 
More than 13,000 people RSVP'd to the Glasgow event on Facebook, which sold out in six minutes.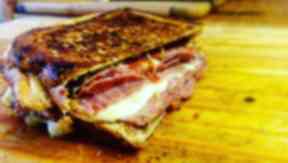 Fluffy toasted bread, bubbling cheese and a not-so-healthy array of glazed meat and fresh tomato; whatever the definition of a perfect cheese toastie is, Scotland has it sussed.
An institutional part of Scotland's homemade cuisine, the seemingly simple snack has captured the hearts (and stomachs) of a nation.
Now Scots foodies can look forward to a whole event dedicated to the toasted treat with the first annual Cheese Toastie Festival this weekend.
An increasing number of cafes and restaurants throughout the country have taken to featuring the popular grilled sandwich, each whipping up their own unique take on the cheesy concoction.
Known for her unusual location (a police box on Glasgow's Wilson Street) and American-inspired creations, Brew Box Coffee Company owner Laura Cameron said: "I didn't realise it was such a big thing - folk tend to like sandwiches anyway, but toasted with a wee bit of cheese - everybody seems to love it.
"Apparently Glasgow loves cheese toasties."
Glasgow will play host as around 1000 people arrive at Drygate Brewery on Sunday to get their hands on toasties from around the country.
The event sold out in six minutes, with 600 toastie lovers quickly snatching the limited tickets. Another 400 are on the reserve list for cancellations.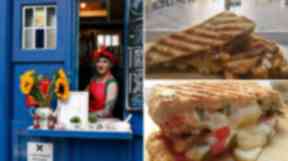 Up to ten businesses and street food vendors from across the country are waiting to show off their unique creations.
Based in Fife, The Cheesy Toast Shack is just one of many catering to Scotland's toastie cravings.
Co-owner Sam Larg said: "Everybody likes cheese on toast - there are no limits on the variations of flavour you can have.
"We've got a massive menu that we change all the time. We kinda stick to the policy that if we're fed up eating them ourselves, then we switch out the menu."
Some of the delights on offer this Sunday from The Shack include homemade macaroni with Stornaway black pudding, a smouldering combination of raclette cheese with smoked bacon lardons, onion, potato and garlic, and a mouth-watering cheese with Canadian maple smoked bacon with a jerk sauce.
The toastie creation ideas are absolutely limitless.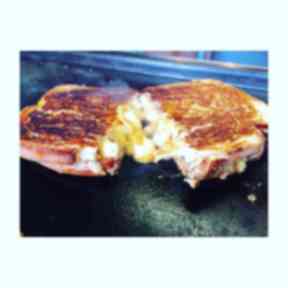 Ocho, in Glasgow, offer an alternative to the ordinarily savoury snack.
"Our French toast is a Sunday favourite, to the point we recently put it on our brunch menu full time, but coming into cold winter days we normally dish it up with bacon and maple syrup.
"For the festival, we figured switch the egg for mascarpone, banana for strawberry, and viola - a slice of heaven was born.
"Our ethos at Ocho is simple - to make good food, and to make eating, well, a bit more exciting.
"The freshly baked brioche, smothered in chocolatey goodness, coated in berries with the creaminess of mascarpone to cut through the sweetness, is an absolute taste explosion, and that is indeed what Ocho is all about."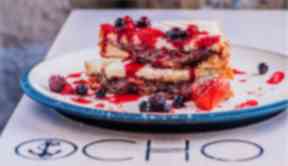 Event organiser Yelp! Glasgow said that it expects the festival to go really well.
Community manager Briony Cullen said: "We're delighted with the response this event received - a cheese toastie is something pretty much everyone loves.
"There'll be 20 toasties to try from some of Scotland's most delicious local cheese toastie businesses."
Download: The STV News app is Scotland's favourite and is available for iPhone from the App store and for Android from Google Play. Download it today and continue to enjoy STV News wherever you are.