RSNO: Celebrating 125 years of Scotland's national orchestra
The ensemble came together in the mid 1800s but was officially established in 1891.
It has featured some of classical music's most influential figures, and performed work around the world by nearly every iconic composer.
Now Scotland's national orchestra, the RSNO, is celebrating its 125th year as rehearsals get under way for their new season.
The ensemble came together in the mid 1800s to back the first Scottish performance of Handel's Messiah, but was officially established in 1891.
Since then it has performed all over the world, becoming a global leader in performing and recording.
RSNO associate leader Bill Chandler has been with the orchestra 21 years, and pays tribute to some important figures in its history.
"The tradition of this orchestra is very long and storied," he says.
"Some of the biggest figures go back to the days of Sir John Barbirolli, who had a presence here which has been long-felt because with him came a young apprentice conductor called Alexander Gibson, a Scot who took the reins after that and became, in a way, The Godfather of Scottish classical music."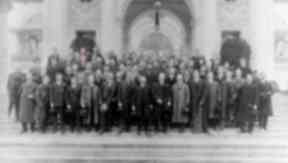 While the RSNO's live performances are formidable, they are perhaps more widely known for their recorded material. Mr Chandler credits Gibson for the transformation.
"He brought the orchestra to incredible new heights and was the one who really initiated the fabulous legacy of recording that we are quite famous for. Maybe more famous outside of Scotland than it is inside. I'm a native of America and I know all about the RSNO before I ever heard them play live because of these hundreds of recordings that exist and Alex Gibson was a real pioneer in that direction."
Many famous faces have passed through and featured in the orchestra through its long history, including composer Gustav Holst, who joined as second trombonist and stayed for four years.
The players were even conducted by Richard Strauss, for performances of his works.
The Glasgow-based orchestra's history has not been entirely positive though, with a number of setbacks to contend with and overcome.
In 1933, the Great Depression hit bring the company near to closure until financial backers stepped in, and the Second World War forced the temporary end on performance.
Perhaps the biggest challenge was in 1962. St Andrew's Hall in Glasgow, the orchestra's principal concert venue, was almost entirely destroyed by fire following a boxing match.
Now a single facade, and the memories of those who were there, are the only markers of its existence.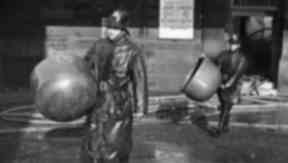 "It must have been devastating for the orchestra for that to happen," says Mr Chandler.
"I've seen photographs of a burned out Timpani with the firemen removing instruments destroyed in the fire, and I can only imagine how it must have felt.
"They were a bit lost for a home for quite a while until the concert hall next door was built and opened in the early 90s. That plus the Henry Wood Hall in the West End of Glasgow was a very good base."
The orchestra received Queen Elizabeth's endorsement in 1977, changing their name to the Royal Scottish National Orchestra.
Now, in a new home at the dedicated RSNO Centre in the heart of Glasgow, the orchestra is looking to the future.
Their new season sees a host of dates in venues around the world and some famous faces making their return. Violin superstar Nicola Benedetti will perform Tchaikovsky as the new season opens on Friday.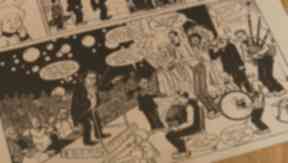 The RSNO has played a part in Scottish culture out with the sometime narrow confines of the classical scene, with conductor Stephane Deneve even appearing in The Broons comic.
Mr Chandler says: "It was great to have this sort of cultural relevance, and speak to people who maybe didn't know about the orchestra worked, and have a joke with those who do.
"It something that we try and do all the time actually and there's a big portion of the population I think anywhere who perhaps don't know all about symphony orchestras or have been to one recently.
"But if you ask the same people 'have you ever seen a symphony orchestra?', they might say 'No'. I always ask them again, 'have you been to the cinema lately?' well of course you have because almost every film has a symphony orchestra in it."
Reaching out to those who do not necessarily have a previous interest in their work is very import, and the orchestra's new home allows them to reach out to new audiences via online performance and live streaming.
"There is a relevance we are trying to speak to all the time, and we do that. We are out in the community, we are working in schools, and it's a huge part of what we do.
"We have a mission to connect people through music at that doesn't just happen in the concert hall."