Meet the vegan taxidermist transforming roadkill into sporrans
Emma Willats has a freezer full of foxes and badgers that she is turning into traditional kilt wear.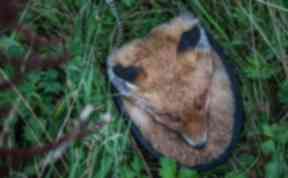 Standing in her converted bothy workshop skinning a badger, Emma Willats is pondering just why the wild animal has such "suicidal tendencies".
"At the moment I'm inundated with badgers, I dunno what's going on with badgers right now, they're all getting killed.
"They're so much harder to do," she explains. "Foxes are easier but I don't want all the foxes to get killed on the roads either."
It's a curious paradox for the vegan taxidermist who has just launched her roadkill sporran business The Dapper Dead.
Only using roadkill or animals which have died naturally for her kilt accessories, the animal-lover's stocks are largely dependant on foxes and badgers being hit by cars.
She adds: "You don't want them to die but if they do, then you want them."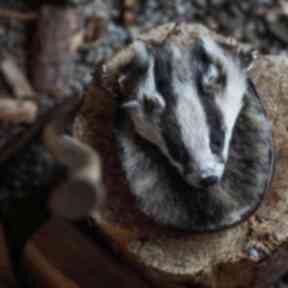 Emma's career path has taken a sharp turn in the last 12 months. Running her own dog grooming business in Aberdeen for the last few years, she's swapped blow drying pets for pickling roadkill, tending to their fur with the same precision but for an entirely different purpose.
After her partner was involved in a serious road collision, she wanted to work from home to help with his recovery, transforming the bothy at their remote cottage near Huntly in Aberdeenshire into her own taxidermy workshop.
It's an unusual move, especially for someone who identifies as a vegan. But Emma explains that she has been around taxidermy for years, studying equine science at university and spending a lot of time in a zoology department surrounded by 'pretty horrendous' attempts at preserved dead animals.
Late last year she took a course in Edinburgh with renowned taxidermist George Jamieson, who helped Emma hone her skills. Completely self-taught himself, he suggested she move on from stuffed birds to tackling a Scottish kilt accessory instead, using the full face of a dead animal in a nod to more traditional styles of sporrans often worn by officers and sergeants in the military.
Initially thinking the idea was "a bit weird", she adds: "The more I thought about it and the more I looked at the sporrans that were out there, some of them were horrendous so I thought I can do better than that. So I went back to him and said I'd like to do a sporran class."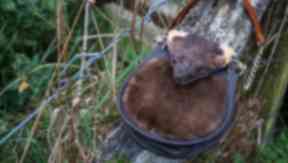 Straight away Emma knew that she didn't want to purchase animals which were bred specifically for making fur products and so turned to roadkill. Living in a remote area surrounded by wildlife, her friends would message her to point out badgers and foxes lying by the road for her to collect for her pieces.
Keeping record of her stocks, she photographs each animal she picks up for licencing purposes, calling the Scottish National Heritage in case she stumbles upon anything unusual.
With a freezer filled with animals, she says she has plenty badgers to work on, as well as a barn owl, a patagonian mara and a raccoon sent from a safari park.
She recently finished a child-sized sporran with the fur of a guinea pig, which was donated to her by the owner of a pet food store and says she has now finished six pieces with a further eight currently in progress.
While Emma acknowledges it may seem contradictory for a vegan to work with fur for a living, her philosophy is more about repurposing and recycling animals in a modern way, allowing people to appreciate taxidermy in a new era.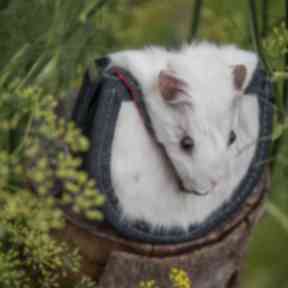 "I personally have absolutely no squeamishness when it comes to dead stuff, the way I look at it is if its dead, its dead.
"If it got hit by a car it would only get thrown in a ditch by a council worker and I feel like that's a waste really.
"I feel like as long as it did not die for me to use it then I'm happy to do it basically. It's the same with the leather I use, I try to use recycled leather sofas and jackets so that it is not something that is dying for me to make something from it.
"I try and do it that way where possible so that I can feel guilt free about it."
Many of Emma's friends understand and support her unusual stance on fur and although some people have been negative since she started her business, once she explains the roadkill and recycling elements, many become interested.
At a recent wedding show displaying her sporrans, she was delighted to discover most customers were open to the idea, with many women adding they would wear her fox sporran as a handbag.
However, she adds: "I did have one woman come up to me who said 'that's disgusting, its got a face' and I said to her 'well your leather bag used to have a face' and her look said it all really."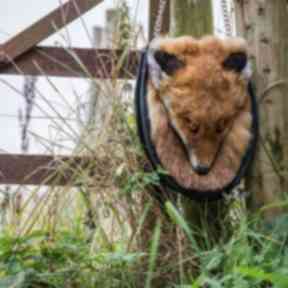 While The Dapper Dead is bringing 21st century Scottish approach to taxidermy, Emma also feels it's important to start a dialogue about the use of fur in more popular styles of sporran found in kilt shops.
She says: "The irony is, if you look at most sporrans, they've got farmed fur on them. People are all outraged by fur but nobody thinks to question the fur on their sporrans.
"A lot of the fur is animals bred, like mink, just for their fur. You'll buy that in any kilt shop and nobody bats an eyelid because it's normal but as soon as you put a face on it people start to panic."
As she tends to the fur of the skinned badger in her workshop, she recalls a story which hit headlines a few weeks ago with striking similarities to her own business.
"It was like every second person, I was like leave me alone with the cat handbag!" she laughs.
Turning a ginger cat into a ladies bag, modern taxidermy was suddenly thrust into the spotlight after the item was listed on Ebay - and Emma couldn't be more pleased.
She says: "Yeah I liked it, I think she did quite a good job of it and the fact it was a handbag was quite cool because people can wear that on a more daily basis.
"It was roadkill as well so it's not like it died for the blooming bag but a lot of people were losing their minds over it."
Download: The STV News app is Scotland's favourite and is available for iPhone from the App store and for Android from Google Play. Download it today and continue to enjoy STV News wherever you are.