Accidentally vegan: 14 surprising foods almost anyone can eat
From beef Pot Noodles to Jelly Tots, here's some surprising treats that even vegans can enjoy.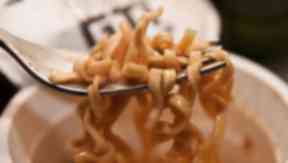 What does a creamy mug of hot chocolate, a packet of chocolate biscuits and a cup of beef instant noodles have in common?
The surprising answer is that they are all accidentally vegan.
While vegans, who don't eat products containing meat, dairy or animal by-products including milk, eggs or even honey, mainly eat a plant-based diet, there is a growing trend to alert others in the community to ready meals and off-the-shelf products which just happen to suit their diet.
The number of Scots identifying as vegan has been on the rise over the past few years, with The Vegan Society estimating that there are around 300,000 vegans across the UK.
While the People for the Ethical Treatment of Animals (Peta) have named Glasgow and Edinburgh as the UK's most vegan-friendly cities in 2013 and 2015 respectively.
As November marks the beginning of World Vegan Month, we've taken a look to see just what kind of instant meals, sweets and snacks vegans can pick up from any corner shop or supermarket without having to scour the labels or make their own homemade version.
Cake Mix
You can have your cake and eat it too, as most cake mixes have the accidentally vegan market all whipped up. Betty Crocker mixes as well as some supermarket brands do not contain dairy powders so all you need to make a vegan cake are some replacements for eggs or butter. Hacks for vegan eggs, milk and butter are rife across the internet, with some suggesting pureed black beans, apple sauce and flax seed or even just vegan spread can perfect for replacing the additional ingredients called for on the box. So you can still dig into carrot cake, devil's food, chocolate swirl and good old vanilla without a drop of milk or egg in sight.
Oreos
Rich and chocolatey with a creme centre, they really shouldn't be vegan but Oreos are firmly an accidental vegan product. While some of their limited edition flavours like peanut butter do contain milk, original, double stuffed, golden, chocolate and the new strawberry cheesecake and mint flavours are all perfect for tea dunking. Oreo do say that there is a risk of cross contamination with milk and they don't consider their products to be dairy-free, but most vegans tend to overlook this.
Meat-flavoured Pot Noodle
For some reason, should you miss piri piri chicken or sticky ribs despite being a vegan, you can still enjoy the taste of them with a variety of Pot Noodles. Not all are created equal though, but strangely most of the meat flavours do not contain milk powders or animal extracts. So the next time you need some noodles on the go, these pots are the ones to choose vegans.
Lotus Biscuits
These caramel-tasting biscuits are a favourite with vegans for their delicious cinnamon taste and lack of dairy ingredients. Great for eating with tea and coffee, they're also used for biscuit bases for vegan 'cheesecake' and for sprinkling on 'nice cream' (blended frozen bananas which turn to an ice cream texture). It also means the popular Biscoff spread is also totally vegan, which is excellent for spreading on toast.
Bird's Custard Powder
Miss drizzling custard over your desserts if you've just turned vegan? Then you'll be happy to know Bird's traditional custard powder is totally suitable for vegans, although do steer clear of the instant and low fat versions, which both contain cream and milk powders. Just mix with warmed plant or nut milk and you'll have a delicious vegan custard ready to pour on a vegan Mr Kipling pie.
Mr Kipling Apple and Blackcurrant Pies
That's right, these individual pies don't contain any milk, butter or eggs in the pastry and are a great individual serving especially if you're the only vegan dining at the table. Strangely the plain apple version does contain milk, so you'll have to stick to the blackcurrant version if you want your vegan pie fix.
Dried pasta
While the homemade stuff is bound together with bright egg yolks, most dried pasta doesn't contain any egg of the sort, meaning vegans can twirl spaghetti round their forks, eat macaroni shapes and dig into a big bowl of fusilli. Double check packets to be sure, but most are animal-product free - perfect for any Italian food fiends.
Jelly Tots
Most jelly-style sweets are completely off limits to vegans, which mainly use gelatin as a setting agent. Even vegetarian-versions of chewy sweets contain beeswax which is considered non-vegan as it is an animal product. But surprisingly, these tiny tots are totally fine for vegans to chew on.
Cadbury's Drinking Chocolate
Not to be confused with the iconic British brand's instant hot chocolate powder, this drinking chocolate contains no milk powder - just sugar, cocoa powder, salt and some flavouring. Great for baking with, it can also be made into a creamy cup of cocoa with a plant or nut based milk.
Aquafaba
Ok, you probably wouldn't know the name, but aquafaba is the moniker for the water legumes such as chickpeas are stored in. Bizarrely, the protein-rich liquid has been found to whip to similar properties to that of eggs, so vegans can now enjoy homemade crispy meringues with a chewy centre. Here's a video showing you just how easy it is to make a vegan-friendly meringue kiss.
Chocolate Churros
Specifically, these glitter-topped, hazelnut and chocolate-filled churros from Tesco's Christmas party food range, which vegans have been going crazy over. Often off limits due to the butter-rich churro batter and milk and cream-laden chocolate filling, this version utilizes oil, cocoa powder and hazelnut paste to ensure there are no dairy or animal ingredients to be found.
Starburst
Another sweet surprise, vegans can enjoy the fruity chews as they have been formulated without the need for a setting agent like pork gelatin. For vegans living in the US though, the same product is made with gelatin so if you're a fan of the 'unexplainably juicy' sweets, thank your lucky stars you don't have to have the UK version shipped over to the US to satisfy your cravings.
Bacon Rashers
Not what you stuff in a roll on a Sunday, but instead the smoky-bacon flavoured crisps that are even coloured and shaped to look like bacon pieces. Tesco's own brand version is vegan as are Sainsbury's Bacon Crispies, and many other brands offer a similar product devoid of dairy. Of course it's always worth checking the label, but these tasty treats are totally fine for vegans to snack on.
Chocolate Chip Hob Nobs
Of course, plain hobnobs are suitable for vegans considering they mainly contain oats, sugar and oil but surprisingly, the chocolate chip version is perfectly fine too. The chocolate chips are made with cocoa butter, cocoa powder and soya, meaning they are vegan-friendly if you're happy with them being made in the same factory that makes other biscuits using milk. Sadly the chocolate coated versions aren't vegan friendly, so you'll need to stick with plain or chocolate chip for dunking in your tea.
Download: The STV News app is Scotland's favourite and is available for iPhone from the App store and for Android from Google Play. Download it today and continue to enjoy STV News wherever you are.