Nessie hunter who has devoted 25 years to finding the loch monster
Steve holds the world record for the longest continuous vigil hunting for the Loch Ness monster.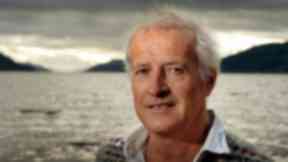 There's a small camper van in the north of Scotland where the Loch Ness Monster hunter lives.
Tucked away on a pebbled shore, it has a small decking area built on driftwood and a pull-out awning protecting a powerful set of binoculars.
Some days, the hunter himself sits behind them, gazing northwards at suspicious ripples on the water.
Other days, he can be found indoors, painting little bug-eyed Nessie ornaments for his fans, his dark grey cat Mao by his side.
For the last 25 years, Steve Feltham has lived on Dores Beach, keeping a beady eye out for Nessie.
His watch has lasted so long he has been recognised by the Guinness Book of World Records for the longest continuous vigil hunting for the Loch Ness monster. Not that he has noticed time going by all that much.
"The years haven't felt fast because so many things have happened," he says.
"It's not the length of time, it's the width and the number of adventures you fit in the time you have."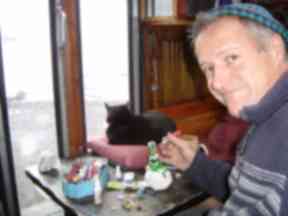 Steve was seven years old when the Loch Ness Monster first came calling.
It was 1970, on a family holiday from Dorset to Scotland, when he stumbled into the Loch Ness Investigation Bureau and met a team of volunteers looking to solve the centuries-old Scottish mystery of the elusive water beast. Steve was hooked.
"I thought, if they could do that, maybe one day I would too," he says. That was "several lifetimes" ago.
In 1991, while in his 20s, he gave up his house, his girlfriend and job in the family burglar alarm company to move to the Highlands and embark on his career as a full-time monster hunter.
"To me the beauty of what I do is that I cannot walk into any library and read a book about what I do as no one has done it before," he says. "I think that's what makes it exciting."
Steve's day-to-day life is conservative but surprisingly busy. When at his home, just five paces from the loch he loves, the 53-year-old can lie in his bed and see right down the water to Fort Augustus.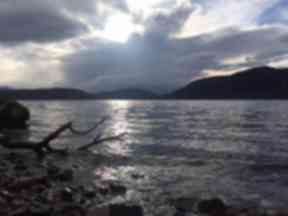 He owns the website, Nessie Hunter, which his brother updates for him, and has taken part in various scientific expeditions, trawled about the loch on boats, walked the shores, spent hours staring at the graphite waves and met thousands of people from everywhere in the world.
Steve's compact van comes complete with a stately upright piano and shelves of books, most of them documenting the history of hunting for the monster in the water.
He does his washing up in a metal bucket and gets by on solar-powered electricity and the money he makes from his small clay models of Nessie which he sells for between £6 and £25 out on his deck.
The income is enough to pay his bills (his tab at the pub, Internet and cat food) and fund his search.
What he gives back though seems much more in comparison.
Steve's name has become synonymous with the world-famous loch and he is a familiar figure with locals and visitors.
He is even popular abroad, and is just back from Germany where he answered questions on his beloved Scottish loch.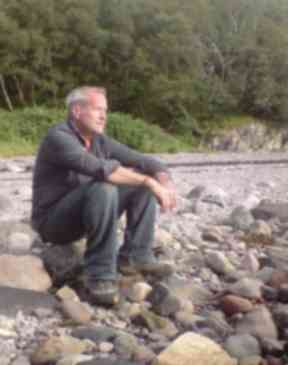 Dressed in his conservative sweater vests and button down shirts, he might not look like the kind of monster hunter the public might expect but then Steve has never really been in the business of being what people expect him to be.
"I remember one Tuesday morning when I stepped outside with a warm cup of coffee in my hand to see some guys inflating a giant, plastic pyramid," recalls Steve.
"Turns out it was a giant inflatable teabag for some kind of tea promotion."
Realising what a benefit a genuine full-time monster hunter could be, the tea team promptly put Steve inside it.
"I was dragged across the loch in a giant teabag," he says. "That was certainly different."
Businesses around Loch Ness regard him as an asset to tourism and a walking PR company for the promotion of the area as a tourist destination, having featured in countless media programmes and articles about Nessie.
Last week, Steve was named ambassador of the year at the Highlands and Islands Tourism Awards for helping to promote Loch Ness to the world.
It is a special award given to an individual who "goes the extra mile" in contributing to the success of tourism in the Highlands and Islands.
Steve received a standing ovation from more than 300 people on the night.
"He has contributed to the legend and become part of one of the greatest unsolved mysteries of the world," says the awards chairman, Craig Ewan.
Though Steve himself had no idea an award was coming his way.
"I thought I was just invited as a guest and I went because they said the food would be good," he says jokingly, to hide his embarrassment.
"I had no idea, it was a complete surprise. I probably wouldn't have tucked into the two bottles of wine beforehand had I known."
Loch Ness is the second largest Scottish loch by surface area at 22 sq mi (56 km2) after Loch Lomond, but due to its great depth, it is the largest by volume in the British Isles.
In all his time searching it, Steve's best personal sighting of Nessie came more than 20 years ago.
"It was like a torpedo," he described recently, to best-selling author Jo Piazza.
"That's the best way to describe it. It was like a white streak. Almost like a water skier."
'It was like a torpedo. That's the best way to describe it. It was like a white streak. Almost like a water skier.'

Steve Feltham
Though after a quarter of a century spent monster hunting, Steve is well versed in pretty much all the possible Nessie theories that exist.
Last July, a freelance journalist interviewed him and Steve mentioned one theory that the water beast could perhaps be a very old Wels catfish put into the lake for sport fishing around the Victorian era which was just reaching the end of a century-long happy life.
The media went wild. Though Steve is keen to point out the real truth behind the Loch Ness Monster mystery.
"As much as I bang on about a Loch Ness Monster, is it a catfish, a spaceship or a dinosaur, not many people really care about the end result," he says.
"I've realised a universal truth that it doesn't matter what my passion means to anyone else."
For Steve, the adventure isn't so much in eventually finding the monster but in the life he leads during the journey to find it.
"People will reach their deathbeds and sometimes wish they'd tried that one big adventure that came their way," he explains.
"That would be the worst thing for me. To regret not trying."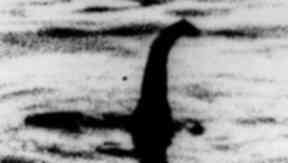 Some visitors to Steve's camper van have been left so inspired by his outlook that they have given up their own office jobs to follow their dreams.
The author Graham Holliday dedicated an entire chapter in his book to Steve's influence on him to quit his job to become a travelling food writer.
"You should always take the chance," says Steve. "Dive in. You might just get an award for that thing you love doing."
And even if Steve never finds his monster he says he still has another big life goal.
"I think that's what I want my contribution to this Earth to be," he says. "To inspire others to chase their dreams. Whether that's to go and hunt a big monster or not.
"Either that , or maybe right at the end of things, when I might figure out the meaning of life or something.
"But if that happens I'll let you know."
For now, Steve says he is content to continue in his role as Loch Ness ambassador to the world and go on with his vigil for the mythical monster in the loch.
"That's what makes my life a constant adventure," he says. "And late at night when everyone is gone away, when you are just looking into the darkness and the starry night sky reflected down the loch, you feel this wave of palpable energy that goes into you.
"I look at it all and very much feel like this is my church. Then I look back at my van and think what a goddamn lucky guy I am."
Download: The STV News app is Scotland's favourite and is available for iPhone from the App store and for Android from Google Play. Download it today and continue to enjoy STV News wherever you are.