Unhealthy kids: Why are Scots children the world's least active?
In a new activity report card, Scotland received an F grade for children's activity.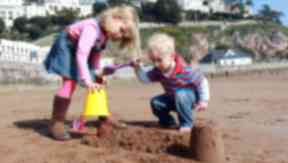 The level of physical activity for Scotland's children has scored an F grade in a new study, putting it among the worst in the world.
Of the 38 nations included in the study, Scotland came joint last for physical activity but joint second best for its national policy on physical activity.
So why is Scotland lagging behind in physical activity compared to other countries?
Healthy children report card
The Active Healthy Kids report card compared the activity levels of children around the world and gave each country a grade (A to F) based on the proportion of children were succeeding or failing to achieve targets in health and activity.
Overall physical activity: F
Active transportation (walking or cycling to school, etc): C
Sedentary behaviours (watching TV, gaming, etc): F
Family and peers (influence of health habits): D-
Community environment: B
Government investment and strategy: B
Areas of concern
Scottish children's overall level of physical activity is well below global averages. Among 11-15 year olds, only 21% of boys and 15% of girls met the Scottish, UK, and international recommendation of at least 60 minutes of daily vigorous physical activity.
Other indicators of health also make for difficult reading . Only 10% of children and adolescents ate the five-a-day fruit and vegetables recommendation, with those in the most deprived positions getting the lowest amount. Average sugar intake for Scots children also exceeded recommendations substantially
Levels of obesity among children and adolescents are higher than at any time in our history.
Conservative estimates show at least 17% of two to 15-year-olds were obese in 2014 and the prevalence of overweight and obese toddlers and pre-school children is particularly high.
It is recommended children and adolescents should spend no more than two hours per day on recreational screen time (TV, gaming, internet use).
On weekdays, 64% of Scottish 11 to 15-year-olds report more than two hours per day of TV alone. This rises to 79% on weekends.
Electronic gaming exceeds two hours per day among 65% of boys and 46% girls on weekdays, rising to 78% of boys and 57% of girls at weekends.
Bad influence?
The report gave Scotland a D- for its family and peers indicator. This assesses how younger people are influenced by the habits and actions of older peer groups and family, and what impact their health choices are helping to shape the next generation.
On adult obesity, conservative estimates show 28% were in this category and 65% either overweight or obese in 2014. Obesity is more common among the socio-economically deprived.
Only 20% of Scottish adults reported meeting the five-a-day fruit and vegetable intake recommendation.
Adolescents in Scotland are likely to exhibit regular sedentary behaviour and the study found peer influence is unlikely to encourage physical activity.
How do other countries fare?
England and Wales fared only marginally better, with a D- grade in overall physical activity, while neighbours Ireland were awarded a C.
Top of the charts is Slovenia, which got the best grades in overall activity (A-), exercise in school (A), and sedentary behaviour (B+).
Other countries languishing at the bottom with Scotland for physical activity are Chile, Estonia, Qatar, China and the United Arab Emirates, while for screen time the country was last alongside Venezuela, Canada, Estonia, South Korea and China.
Culture
The study found the driving factor behind those countries with better children's health was that they had a culture of fitness and exercise.
Dr Mark Trembley, who led the global comparison said: "Countries with the most active children and youth overall, including Slovenia, New Zealand and Zimbabwe, rely on very different approaches to get kids to move more.
"But, what is consistent between all of them is that physical activity is driven by pervasive cultural norms - being active is not just a choice, but a way of life."
The Scottish research was led by Professor John Reilly, of Strathclyde University's School of Psychological Sciences and Health.
He said: "Scotland has one of the world's very best natural environments, facilities offering ideal conditions for physical activity, and much has been done to develop policies which encourage children to take part.
"However, there still appears to be a culture of low physical activity in Scotland."
Download: The STV News app is Scotland's favourite and is available for iPhone from the App store and for Android from Google Play. Download it today and continue to enjoy STV News wherever you are.