Ovarian cancer: Doctors told me I was too young to have the disease
Fiona Munro faced major surgery after she was diagnosed with stage four ovarian cancer.
In living through aggressive ovarian cancer, Fiona Munro had every reason to lose her sense of humour.
The 31-year-old blogger began to experience stomach pains, bloating and frequent urination, all symptoms of the disease, following emergency surgery for an ectopic pregnancy.
Despite having cysts on both ovaries, her GP and gynaecologist assured her there was nothing unusual. She was "too young" to have the disease.
A week before she was due to undergo an exploratory laparoscopy to help pinpoint the cause of her symptoms, Fiona collapsed at work and had to be rushed to hospital.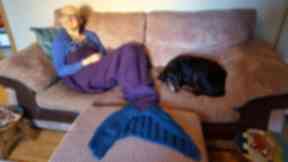 After having five litres of fluid drained from her abdomen and being told that there was no sign of infection, Fiona insisted that the doctor conduct further tests.
By the time she was diagnosed over a week later, her cancer was stage four.
"I felt like I was going a bit crazy," said Fiona. "I was aware there was something wrong but was being told there was nothing wrong.
"Although it was a frightening diagnosis, it felt like a relief to be listened to."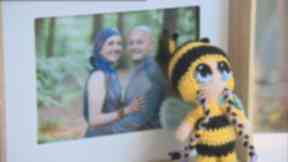 Fiona began her chemotherapy, but was also facing major surgery to rid her body of spreading cancer cells.
As well as a radical hysterectomy, she had her appendix, spleen, omentum and parts of her pancreas, liver and diaphragm removed.
She also had part of her bowel taken out which resulted in a colostomy bag. The overall procedure left the Perth woman with an 18-inch vertical scar over her abdomen.
In a moving blog post, where she writes about "thriving with stage four ovarian cancer", Fiona said it was the colostomy that was hard to come to terms with.
"It felt like the final shred of dignity I had left had been removed," she said. "I no longer had control over my bodily functions.
"When I go to use a disabled toilet and I'm judged by observers because I don't 'look' disabled."
"Having an upset tummy is the worst," she added. "With a stoma, that waste is making an exit whether you like it or not. If your bag sticks in place great. If not then all hell is breaking loose wherever you are.
"I've learned that having a dark sense of humour helps."
In August this year Fiona was told that her scans showed no evidence of the disease.
Having embraced daily yoga, a natural, healthy diet, and regular walks outdoors, she describes herself as happier and healthier than before she fell ill.
But women across the UK are being urged to learn about ovarian cancer, after a study revealed just 20% of women could recognise crucial symptoms.
The study Pathfinder 2016, run by UK charity Target Ovarian Cancer, showed that awareness of all four symptoms has changed very little since 2012.
In Scotland, 600 women are diagnosed with ovarian cancer each year and 375 go on to die from the disease.
Symptoms of ovarian cancer
Increased abdominal size or persistent bloating


Difficulty eating or feeling full


Pelvic or abdominal pain

Needing to urinate more urgently or more often
Target Ovarian Cancer is calling on the government to launch a national awareness campaign to ensure women know the symptoms to look out for and the importance of going to their GP.
Professor Debbie Sharp OBE, of the University of Bristol and member of the Pathfinder 2016 advisory panel, said: "That we are seeing such low awareness, both among the public and GPs, is of great concern.
"It is important that we act on this now, to give GPs the best chance of diagnosing the disease earlier, making it easier to treat."