Scot plans world record attempt to enjoy longest Christmas Day
Fraser Watt will fly between different time zones to raise funds for children in crisis.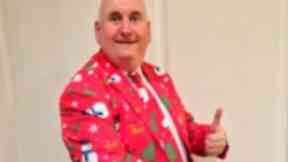 For Fraser Watt, Christmas Day as a child was always over too quickly.
The anticipation of Santa's arrival would begin from as early as November, with his annual trip to Glasgow's George Square to see the city glow with twinkling lights.
Then, tucking himself into bed on Christmas Eve in his little house in Clydebank, he'd squeeze his eyes shut, knowing his favourite day of the year was on its way.
But always, the turkey seemed to disappear in moments and the presents were always unwrapped at such speed.
Now though, the festive fan thinks he has finally found a way to make his favourite holiday last longer.
Fraser, 58, is preparing for what will be the best Christmas of his life - by attempting to break the world record for enjoying the longest ever Christmas day.
He will attempt to break not only the record for the furthest distance travelled on commercial airliners in a single day, but also the furthest distance travelled in any 24 hour period.
Taking on Santa Claus at his own game, Fraser is set to travel through Auckland, Hong Kong, London, Los Angeles and Honolulu to achieve a 47-hour long day.
He is also using his challenge as a way to raise money for The United Nations Children's Fund, which provides humanitarian and developmental assistance to children and mothers in developing countries.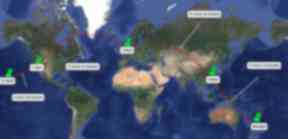 Sitting in a rooftop bar in New Zealand, Fraser was chatting with a friend when he decided to attempt the record.
"We were both approaching big birthdays and talking about how to make the most of the time we had left," he says.
"We began to wonder if you could make a big birthday a BIG BIRTHDAY by chasing the sun around the world."
Excitement growing, a few internet searches told him that the current record for the longest day was held by a German man, who had stretched a single day to last 46 hours.
"The challenge was on," says Fraser, who then began to work out flight times and his route to reach his goal.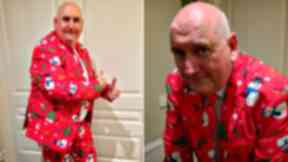 His findings proved futile at first, resulting in an hour less than the current record, but he was determined to beat the 46 hour target.
"We finally found 47 hours, and a bit of research showed that Christmas Day was the best day to make the attempt," says Fraser, who now lives in Australia.
"It is now all down to the flights being on time, but the big question is can I stand four tepid tasteless turkey dinners at 40,000 feet?"
Fraser will leave New Zealand at 23:50 on Christmas Eve, marking the first part of his long journey away from home.
To top it off, he will also be donning his favourite Christmas suit for the occasion.
"If I was going to challenge Santa to a global race, I wanted to look the part," he says. "Hence the somewhat flashy, decidedly stylish and seasonally appropriate garb."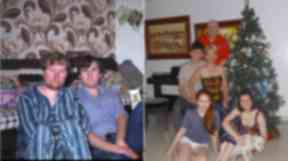 With three grown up children and a wife who he ran away with 31 years ago to get married in Erskine, Fraser is leaving behind a few family traditions in his bid to break the world record.
"Sneaking presents into the house was, and still is, a big part of Christmas for me," Fraser says, remembering his time in Scotland.
Fraser was the second child in a family of four children, who lived with his parents and his beloved 'Granda' in a little house in Clydebank.
Waking his parents up on Christmas morning became a very important task for him and his siblings, as they tried to follow the main rule of Christmas - that no-one could open anything until the entire family was awake and sitting together.
A silver coin, an apple, a rare tangerine and sometimes a pencil would routinely make their way into the over-sized sports socks laid out near the fireplace.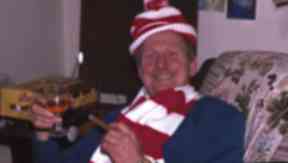 "Mum generally got perfume and bath bombs and dad a single cigar in a tube that he would smoke at Hogmanay and a box of liquorice - and more underwear and socks than he could ever wear," says Fraser.
"Even now, my own kids will try to find the most ludicrous set of Christmas socks to wrap for me."
His family usually sat down to dinner in the early afternoon, which then made way for the most important part of the meal.
"As I grew up, I became the family trifle-maker," Fraser says. "I would use a clear-glass bowl to make the trifle as colourful and interesting as possible using layers of fruit jelly, fresh fruit and toppings."
For now though, Fraser's trifle making skills are on hold while he prepares for his Christmas challenge.
As the Yuletide adventurer says: "The world really needs at least one good news story for 2016."
You can donate and follow Fraser's story online here.