Fogbow causes stir online but what is it and how did it form?
STV weather presenter Sean Batty explains the science behind Melvin Nicholson's image.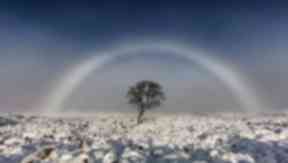 A landscape photographer's image of a fogbow over Rannoch Moor has caused a storm online.
Melvin Nicholson captured the image on the moor on Sunday but how does the rare phenomenon occur?
STV weather presenter Sean Batty said it is similar to a rainbow but the smaller water droplets mean you cannot see the distinct colours.
He said: "Queries of fogbows are very rare, although they are formed in pretty much the same way.
"In fog, the water particles suspended in the air are much tinier than raindrops which is why it appears white.
"The sun's light is still refracted by the water particles, but to a much lesser extent due to the water droplets being so small.
"So there will be some colours within a fog bow, although they will be so weak that our eyes don't pick it up."
He added: "This is a brilliant photo of a fogbow, and it's so vivid as the fog looks like it was breaking up and allowing strong bursts of sunlight through."
Sean said there is also the even rarer moonbow.
He explained: "This is basically a rainbow but formed at night. The reason they are so rarely seen is that they are only seen on a showery night, during a full moon, and only during the few hours of moonrise or moonset."
Download: The STV News app is Scotland's favourite and is available for iPhone from the App store and for Android from Google Play. Download it today and continue to enjoy STV News wherever you are.