Soldier Bear: War hero Wojtek's spellbinding tale to hit big screen
The beer-swilling brown bear was adopted by the Polish army in 1943 and retired to Edinburgh Zoo.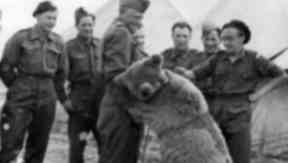 The spellbinding tale of a bear who became a war hero is to be told on the big screen after a movie deal was secured.
Directed by Brendan Foley, Soldier Bear will chronicle the life of Wojtek, a 500-pound Syrian brown bear who went to battle during the Second World War.
Known as a big softie by some of the war's toughest troops, Wojtek was adopted as a cub by the Polish army in 1943 after an Iranian boy swapped him for cans of food.
He had the capacity to kill with the swipe of a paw but it was the lovable mammal's larger than life personality that saw him enlisted as an honorary soldier in 1944.
Wojtek's fame is rooted in the Battle of Monte Cassino, where he helped to carry 25-pound artillery shells under heavy gunfire with no prompting and without dropping a single one.
With a bit of tutelage from his Polish comrades, he also learned to salute, wrestle, smoke and drink beer - just like one of the guys.
Wojtek once resided in the Scottish Borders before he retired to Edinburgh Zoo in 1947.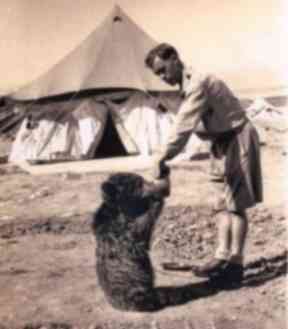 Known for his work on The Riddle and Johnny Was, director Foley discovered Wojtek's fascinating history during research for his book Under The Wire and envisioned a film that could rival the success of War Horse.
He was struck by a number of endearing contradictions - the ferocious bear who wouldn't hurt a fly and the hardened soldiers who found something of their own humanity in Wojtek.
Now, four years on, the 52-year-old has signed a deal with Filmpolska, a Polish-based film company that will co-fund development of the film with a budget upwards of £10m.
Soldier Bear will also be supported by Northern Ireland Screen, which backed the production of Game of Thrones, and has attracted interest from Creative Scotland and the Polish Film Institute.
"It's just rare to find such an amazing, compelling story," said Foley.
"War Horse is a very popular film and I think ours has advantage that bears have much more relatable animals to humans.
"They have very human traits, walk on their hind legs and have very expressive faces that can portray many emotions - and people just love bears.
"Wojtek has a very large international fan club. This story has the advantage of taking him from a tiny cub who looks like teddy bear to a great 500-pound bruiser with claws."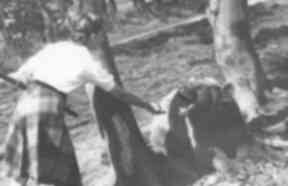 Hailing from Belfast, Foley credits much of the film's research to Scots author Aileen Orr, who penned the book Wojtek The Bear: Polish War Hero.
She grew up listening to stories about Wojtek from her grandfather who served with the British Army and spent around eight months with Wojtek while posted in the Middle East.
The author put Foley in touch with one of the bear's main minders for most of the war, Dimityr Szawlugo, and professor Wojtek Narebski - the last survivor of the bear's unit living in Poland.
Dimityr recounted the bear's unfathomable actions at the Battle of Monte Cassino to Foley as he lay on his death bed.
Foley said: "He and his son told me normally Wojtek was like most soldiers - not overly keen on extra lifting.
"But at the Battle of Monte Cassino he carried full ones because he knew it was serious. I thought that was a wonderful glimpse.
"The bear really thought he was one of the foot soldiers. He smoked and drank beer along with them. And when he smoked he insisted that his cigarettes were lit, he'd take one puff and swallow it as his party trick."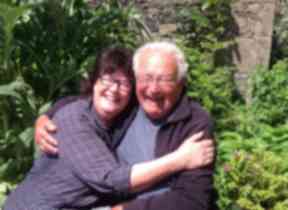 Talks are ongoing on how the film will be funded but ground work is already under way.
Glen Coe and mountainous regions in Northern Ireland have been tipped as ideal locations, as much of the film will be set in north Africa, Italy and Scotland.
For Wojtek's scenes, options include the use of animatronics and a live bear, but with advances in technology, it is likely a great deal will be done through CGI, following the footsteps of Life Of Pi.
The film will have two male leads and one female lead - two soldiers who mind the bear, one of whom falls in love with an Italian woman.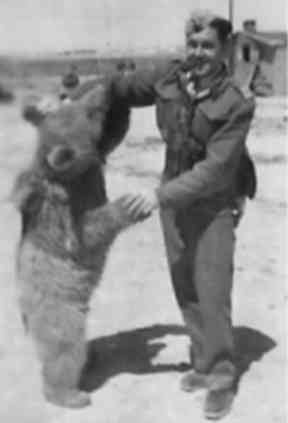 While Foley has not secured any actors for the parts so far, he admits his wish list is fairly star-studded.
He hopes Wojtek, the bear who held his vanquished foes upside down by the ankles, will remain the selling point of the epic movie.
Foley added: "My hope is that a Syrian brown bear found in mountains of Iran, who lived in North Africa, who fought in Italy and retired in Scotland might be able to bring a divided world together - if only for length of a movie."
Images courtesy of Aileen Orr, founder of the Wojtek Memorial Trust.
Download: The STV News app is Scotland's favourite and is available for iPhone from the App store and for Android from Google Play. Download it today and continue to enjoy STV News wherever you are.