Young swimmer who funded own leg amputation has 'no regrets'
Hope Gordon was living in constant pain, but the NHS would not pay for the surgery.
A young athlete who raised funds to have her leg amputated says she has "no regrets" following the surgery.
Hope Gordon, a 22-year-old student from Stirling, suffered from a condition known as complex regional pain syndrome, which left her in constant agony.
Burdened with a limb that put her in a wheelchair at age 16, Hope battled with the NHS for five years, asking to have her left leg amputated.
"I didn't see the point in living with a limb which served no purpose to me," she said.
The NHS refused to pay for the her amputation, saying it did not meet current guidelines so Hope launched a crowdfunding campaign to pay for the surgery herself.
After having had her leg amputated in August , Hope says her quality of life has drastically improved.
"Everything is just so much easier," she said. "I couldn't lie on a bed properly for almost ten years.
"I had to have my leg stacked up on lots of pillows but I couldn't have all of the leg touching the pillows or a duvet on it.
"I could only lie in one position so the little things people don't think about. I couldn't sit in a car properly. It's a lot more enjoyable."
Hope, an elite swimmer who has competed for Scotland in UK and international para-sport events, lodged an official appeal against the NHS refusal to amputate but it was rejected.
Having the operation was a great risk in several respects - crucially there was no guarantee Hope's pain would leave her after the procedure if the cause was found to be neurological.
"I think I've proven a lot of people wrong and a lot of people right," she said.
"I went into the operation with the mindset that I might have the same pain but a better quality of life.
"I wasn't getting my leg amputated to get rid of the pain, I was getting it amputated so I could do and live more. The fact that the pain has now gone is a massive, massive bonus."
Before the operation, Hope's condition had a significant impact on her life.
Although she still kept fit in the pool, the keen athlete was forced to cut down on active lifestyle.
Now she has tried a whole catalogue of sports that she previously thought were outwith her reach, including trampolining and a 92km cycle around Dubai.
The cycle came just four months after the amputation and was organised through amputee charity Finding Your Feet.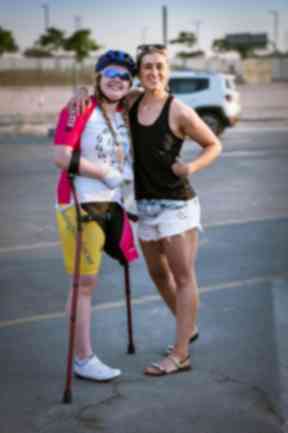 Hope said: "I had never cycled before and it's never something I thought I would be able to do. I was back in the pool about ten weeks after operation.
"It's been really fun because it's like learning how to swim again and everything is different. It has made a big difference at university as well. I used to find concentrating really difficult because I was in so much pain all the time.
"I had a lot of memory problems as well because of lack of sleep. Anything I want to do now, I just go and do it."
Since raising more than £9000 for her surgery, Hope says she has found a new lease of life, and remains forever grateful to the people who assisted her journey.
She added: "I wouldn't say I had regrets. It's been really difficult especially the start of this year.
"But what has happened has raised awareness of the condition which would not have been raised if this hadn't happened to me.
"I just can't thank the people who helped enough. They've given me a life that the NHS didn't and I'll never be able to thank them enough for that."
Download: The STV News app is Scotland's favourite and is available for iPhone from the App store and for Android from Google Play. Download it today and continue to enjoy STV News wherever you are.