Desert dog Gobi home at last after Scots ultra runner's epic quest
Dion Leonard mounted a social media campaign to be reunited with the pooch after the race in China.
Nobody knows why a scruffy little dog with pointy ears showed up at the starting line of a 155-mile desert ultra-marathon in China.
It was the middle of summer in June last year and the nearest village was several miles away. With nothing but the vast Gobi Desert ahead, the stray pup was very far from home.
But when Dion Leonard, a distance runner from Edinburgh, saw her dashing alongside a group of runners in the Chinese marathon, the pair instantly hit it off.
The two went on to cross the entire desert together, with Dion sustaining his new furry companion, who he called Gobi, by splitting the strict rations he was given.
He refused to leave her behind - even when she cost him an advantage in the race - carrying her across rivers and through barriers of sharp rocks.
At other times, it was Gobi who pushed Dion ahead, racing 20 metres down the road in front of him and waiting for him to catch up. When he ran too slowly, Gobi would nip at his heels.
"I finished the race and I looked down and she was still with me," says Dion.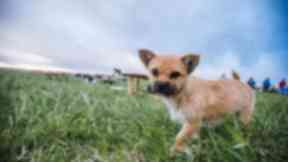 At the end of the race, Dion decided to have Gobi flown to Edinburgh to live with him permanently.
After surviving the desert together, the little mongrel had stolen his heart, but just before they could begin their second journey together the story took a twist.
Just a few days before her quarantine was over, Gobi ran away and got herself lost in Urumqi, a bustling Chinese city of three million people.
Distraught, Dion flew back to China and mounted a huge social media campaign to find his marathon companion.
"People would come up to me on the street to hug me and tell me what I was doing was amazing," he says.
"Even the mayor knew about the story."
Dion lived in China for four months as he worked on his quest to find her. Then, a local couple spotted her in a park.
"There were a lot of fake sightings so we were wary when we got the phone call," says Dion.
"But we found her - it was a miracle."
The pair were reunited in August and Dion began to organise the long trip back to Edinburgh.
"It was the best news,"he says. "She ran across the room and jumped into my arms when she saw me.
"We've been like this ever since."
Six months on, Gobi is happily continuing to follow Dion and is settling into life in Scotland.
A crowdfunder raised more than £35,000 to help cover medical and travel costs for the dog, and saw the duo return reunited to Edinburgh on January 2.
"The post went viral and donations came in from across the world," says Dion. "It was just phenomenal."
Since then, the pair have proven quite the stars, appearing in TV interviews and capturing even more hearts.
Although Gobi is still recovering from an operation to her leg, she and Dion have no plans to quit the hobby that brought them together, though maybe this time, they won't aim for quite so big a desert.
"I think her 250km desert days are over," Dion says.
"I think we'll do some local races in and around the community."
Download: The STV News app is Scotland's favourite and is available for iPhone from the App store and for Android from Google Play. Download it today and continue to enjoy STV News wherever you are.