Climber's stunning photo captures two rare weather moments at once
John McSporran snapped a fogbow surrounding a Brocken Spectre in the Trossachs.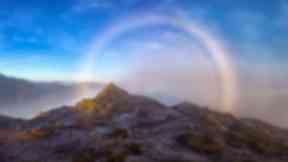 A mountain climber has managed to capture not one but two rare weather phenomena at the same time.
John McSporran, 58, managed to take a snap of a magnificent fogbow surrounding a glowing Brocken Spectre during a sunrise climb in the Trossachs.
The retired police officer had been climbing Ben A'an in the early hours when he happened to look over the ridge to see a rare fog bow.
He was left stunned when he spotted what is known as a Brocken Spectre, a rare phenomenon caused by the sun and his own shadow, resting in the middle of the shimmering arc.
The weather events are fairly rare in themselves so capturing both of them at once is even more unusual.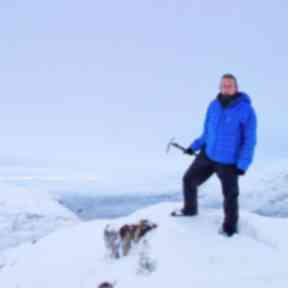 "I travelled to Ben A'an, got there early in the morning and climbed up the mountain with a head torch," says John.
"I waited for the sunrise and as the sun crested, all of sudden, I saw a fogbow with my Brocken Spectre projected into the middle of it.
"I've seen Brocken Spectres before but have never seen both of them together."
In Germany, they're known as Brockengespenst, ethereal spectres on the Brocken, a peak in the Harz Mountains.
In Scotland, the mountain walkers call them Brocken Spectres or mountain angels.
A well known phenomenon to those who climb Scotland's peaks regularly, the spectres can seem enormous, a magnified shadow of the observer, cast upon the upper surfaces of clouds opposite the sun.
The head of the figure is often surrounded by glowing halo-like rings of coloured light that appear directly opposite the sun when sunlight meets a cloud of water droplets.
The ghostly figures can appear on any misty mountainside or cloud bank, of which Scotland has plenty.
They can even appear to move, sometimes suddenly, because of the shifting of the mist and variations in density within the cloud.
"It was really, really rare and just a fantastic sight," says John.
"I've never experienced anything like it before. It was just one of those magical moments."
Download: The STV News app is Scotland's favourite and is available for iPhone from the App store and for Android from Google Play. Download it today and continue to enjoy STV News wherever you are.