Desperate last plea for help as vital baby bank faces closure
Mothers helped by the volunteer crisis group have shared their stories in hope of saving the group.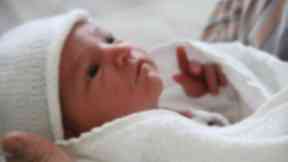 It's snowing and a wintry cold January day when the call comes through.
A young father, just 19 years old, is in crisis. His little baby boy is hungry but he has no more milk to give him.
Desperate, he has already gone without food himself to feed his son. He's given up every penny he has but now he has nothing more to give.
On the other end of the line, Bernadette Murphy is already packing everything she can find into a bag for him.
Nappies are put in, milk and extra food for them both. Warm clothes are added for the father, too.
"That's what we always do," she says. "We make sure they have a warm coat and a good pair of shoes."
It's the first few weeks of a new year in Scotland, 2017, and Bernadette listens while yet another call comes through from a family at breaking point.
On Tuesday, the grandmother had ten emergency cases. Today she has taken on five and it has not even hit lunchtime.
"It breaks my heart," she says. "Nearly every day I take a call about a parent who has reached rock bottom, trying to feed their child. Can you imagine what that desperation must feel like?"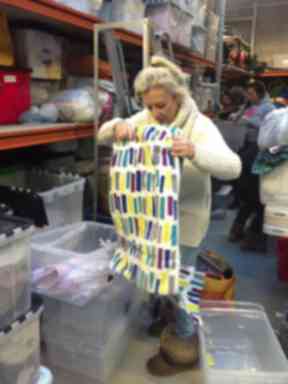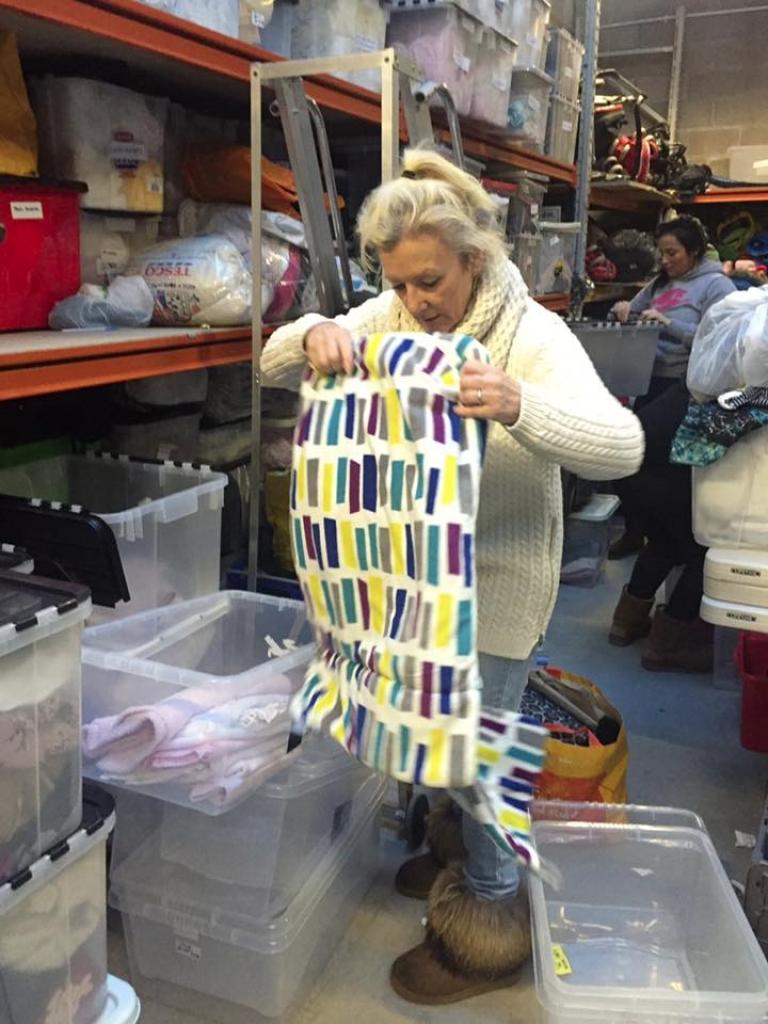 Over the last year, Bernadette has heard from more than 1500 desperate voices which she says is something she can never get used to.
Every call comes from a social worker, or another professional agency, each representing a family in need.
Lanarkshire Baby Bank, which she founded in a large industrial unit in Coatbridge, is a lifeline for parents who have nowhere else to turn.
Now though, with just two weeks to go until they lose their premises, Bernadette is anxious for their future and for the welfare of those she and her volunteers support.
"We were given notice to quit the unit but we have nowhere else to go," she says.
"We receive no funding and totally rely on kind donors and our amazing team of dedicated, hard-working and selfless volunteers."
If a new home cannot be found, one of Scotland's biggest baby banks will be forced to close.
"I cannot think about it, I can't," says Bernadette. "I have hope. If I didn't, my heart would break."
"I have hope. If I didn't, my heart would break."

Bernadette Murphy
At the age of 55, Bernadette works 18 hours a day to operate the baby bank she founded, posting emotional pleas for donations when emergency cases come through, even answering calls at 3am from parents in need.
A whirlwind of efficiency, she is most often found in the unit, dressed in baggy jumpers with her blonde hair swept up in a bouncy pony tail, dishing out hugs and orders for nappies in equal measure.
"I started Lanarkshire Baby Bank after my little granddaughter was born," she says.
"It's amazing how much your life changes when a child comes into it.
"I live in a small village and I started noticing real poverty. We have a lot of good food banks but I felt more needed to be done for babies and mothers."
Every donation she gets is carefully stored in the industrial estate in towering racks holding plastic boxes.
The room is icy cold and the volunteers' hands are numb as they come each day to sort through the items.
The labels on the boxes show the range of children they help, with cases of booties, socks and shoes sized from birth to primary school.
There are prams, baskets, formula milk and canned food. Clothes for children and adults, with baskets of toys to make little faces smile.
For the mothers, there are handbags, special gifts filled with toiletries.
"We give away 120 packets of sanitary towels a week," says Bernadette. Her smile is grim.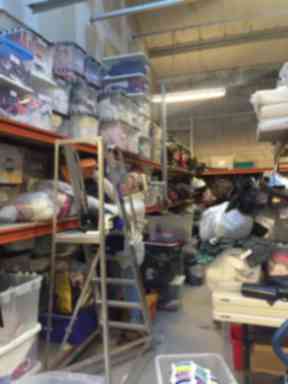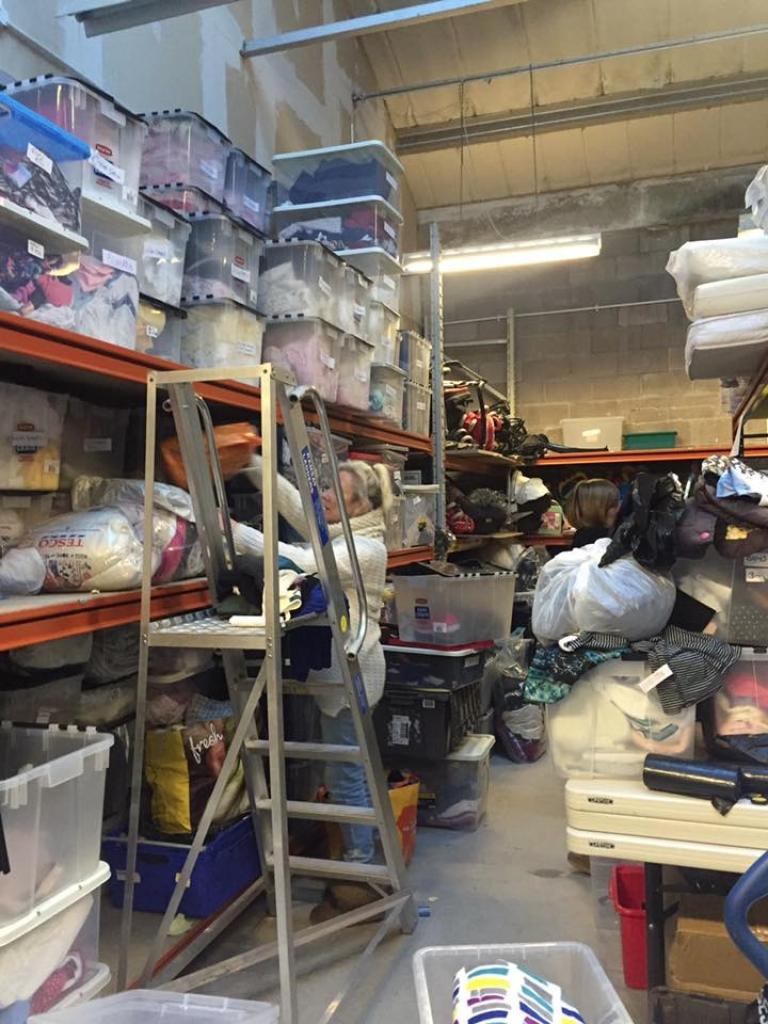 One mother Bernadette remembers was a 26-year-old in October, who was hit with four months of benefits sanctions. She had a little boy who was only two years old.
"She was just a poor soul," says Bernadette. "She'd left her house at 7.30am that morning and had been walking around from agency to agency pleading for help.
"She was running low on nappies and had very little food and didn't know what to do. As a last resort she came to me after the Citizens Advice Bureau told her to call me."
The 26-year-old mother's situation was so desperate, says Bernadette, that she had gone without sanitary towels to buy what she could to feed her son.
"She had gone to a public bathroom to get a wad of toilet roll instead," she says. "I remember crying when the call came through."
The last few months have been an urgent search by Bernadette and her team for a new home but so far nothing has been found.
With no guaranteed income and a project run entirely on kindness and the goodwill of others, they are relying, as Bernadette says, "on a huge miracle".
"Time is running out," she says. "Everywhere I look, the rooms just seem so expensive."
With the amount of stock they have, the team estimate they need a new unit measuring around 3500sq ft. They have until January 27 to find one.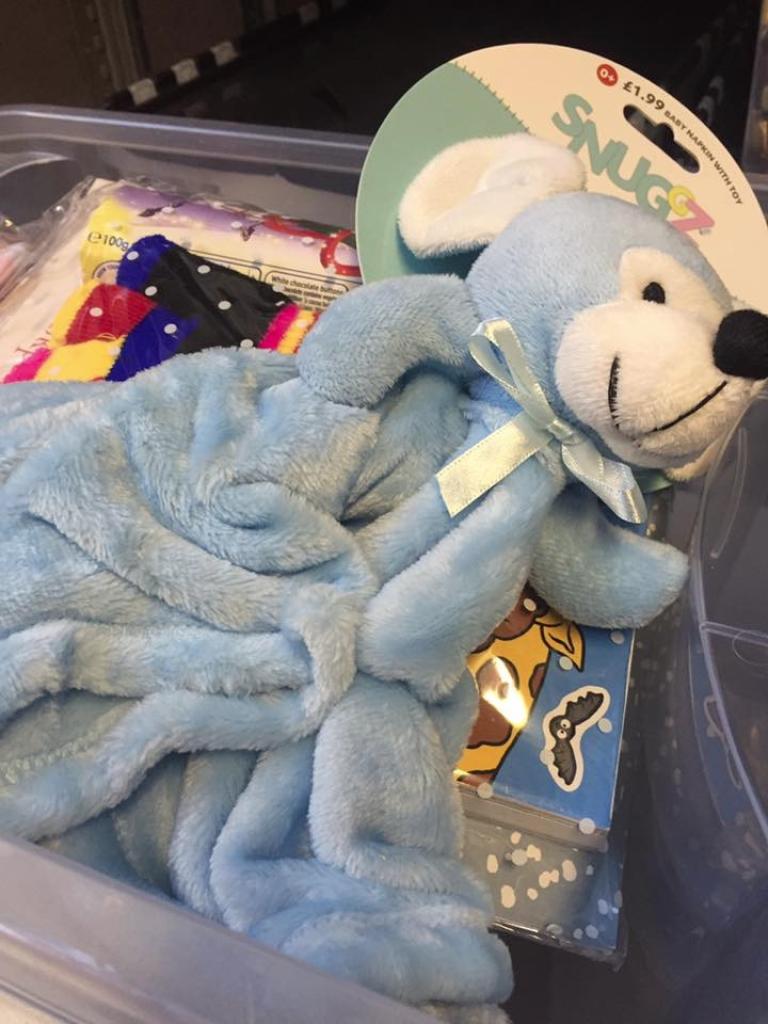 Over the last few weeks, Bernadette has taken to social media to beg for help, to ask if anyone knows of a unit to spare that they could afford.
What she did not expect in reply, was the many mothers she has supported over the year stepping forward to offer their help.
"I want to share my story," says Karen McGuire, 37.
"Bernadette was there for me and my kids when no one else was and my heart is breaking for her.
"They get no funding whatsoever and it's just so, so sad that they're in this situation."
Single mother Karen approached the baby bank after her daughter's school suggested she ask Bernadette for help.
"My eldest daughter, Jenna, was due to go on a school trip but my partner had just left me," says Karen.
"The school had sent out a list of things she would need for camping but I simply couldn't afford it.
"I was panicking and worried sick, I didn't want her to feel left out or tell her that she couldn't go anymore just because of the financial situation we were in."
Anxious to not let her daughter feel excluded, Karen left a message on the baby bank Facebook page.
Bernadette, she says, phoned her straight away and asked what it was Jenna required. Within a few hours, the team had sourced everything the 11-year-old would need.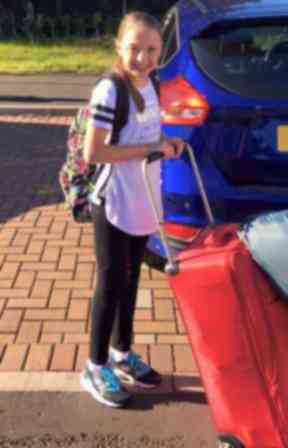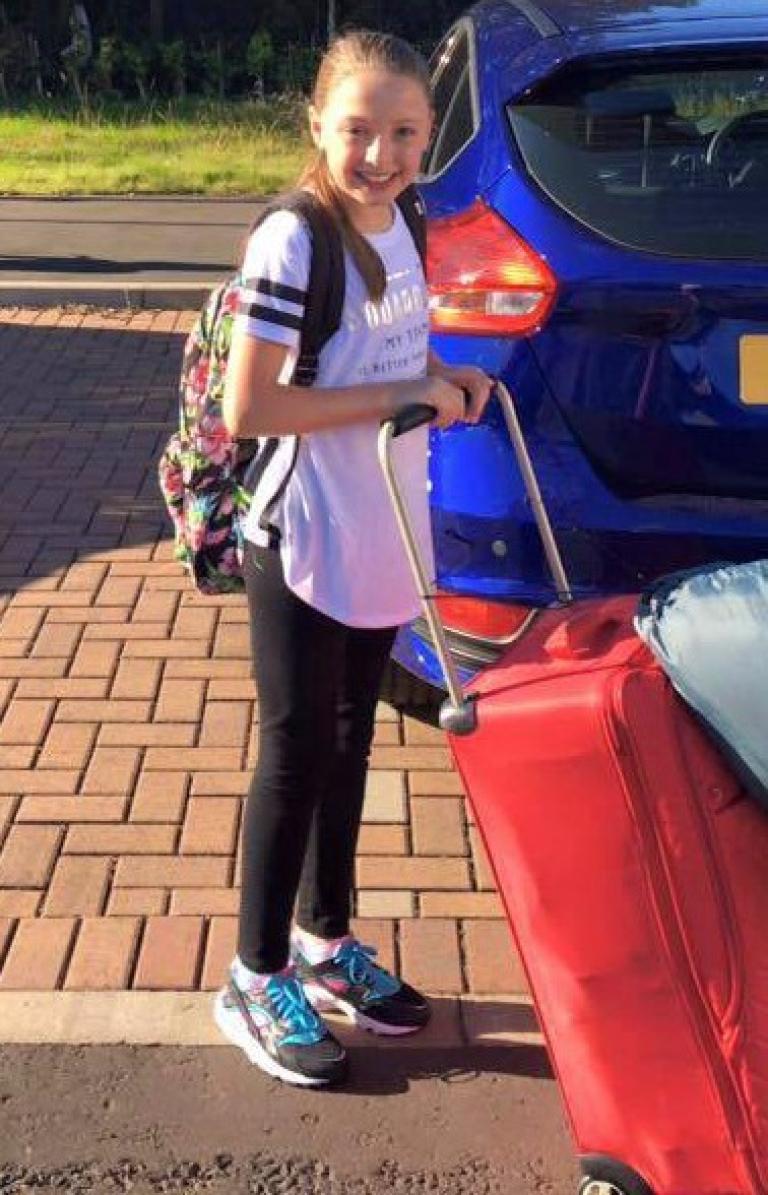 "They got her a suitcase, a sleeping bag, they even got her a Superdry outdoor jacket," says Karen.
"I was in tears when everything came. They even thought of my little three-year-old and gave her her own torch so she could play at camping with her big sister."
The team had even packed a bag for Heather too, understanding that life for the family could be tough. They gave her a new warm jacket, some books, and a special gift for Christmas.
Most importantly, though, Karen says it made her daughter feel just like everyone else, as she deserved.
"She went and made some great memories with her classmates," says Karen.
"Bernadette is an absolute angel. I cannot thank her enough."
"I was in tears when everything came."

Karen McGuire
Like Karen, more mothers have come forward, anxious to share their own stories of how Bernadette has helped them in the hope it might help draw attention to how vital the baby bank is in Scotland.
One mother, Lisa, took in her brother's two young boys after he passed away but struggled to afford clothes and bedding for them on top of providing for her own three daughters.
The baby bank got them everything they needed and offered to get beds for the boys once the family moved to a bigger house.
"We've had to go on a council waiting list for one," says Lisa. "I had to leave my job to take the two boys on and it's been a bit of struggle.
"My husband and I are sleeping on the couch at the moment while we wait for something bigger."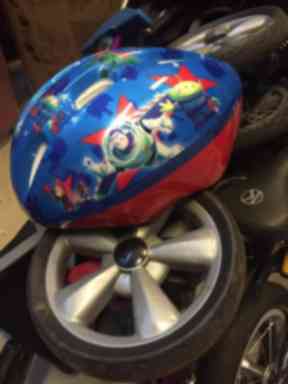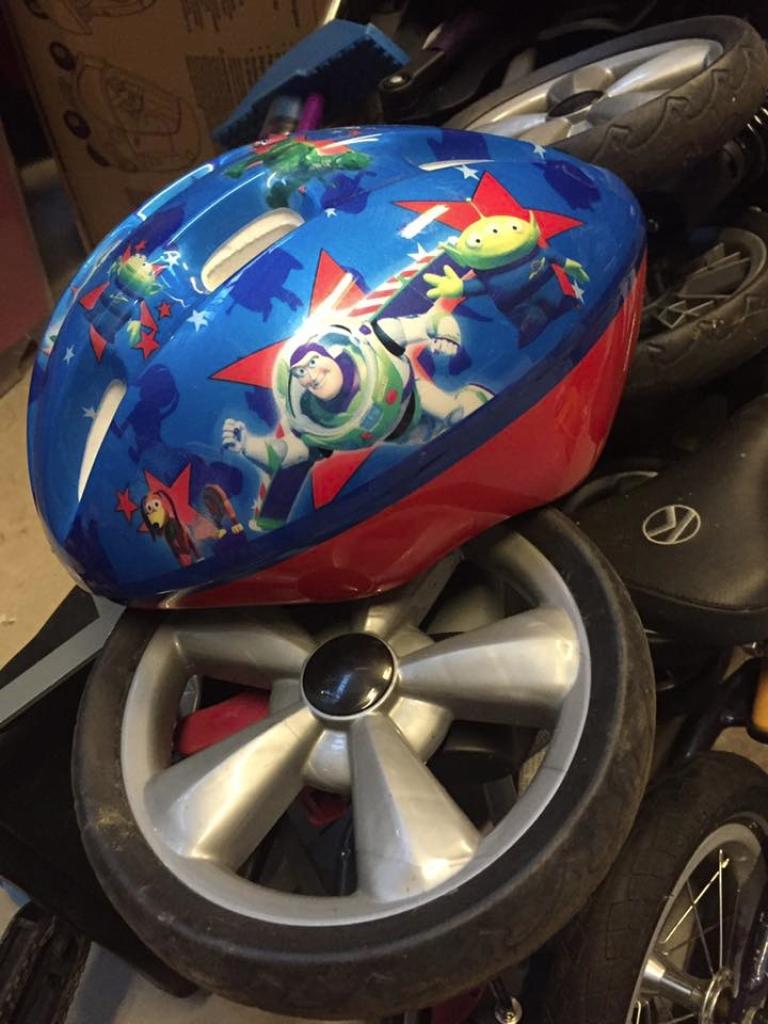 Heather Underwood, 33, was desperately struggling to afford food for her baby son when she was encouraged to ask Bernadette for help.
"I was in a situation of domestic violence and I was moved into homeless accommodation until they found a new place for me and my children," says Heather.
"It was just so hard to get everything together for them during that time, and Bernadette helped me get clothing and food for them when times were hard.
"Sometimes others don't understand how hard it can be to be in a situation where families struggle and feel bad that they may not be able to provide things for their kids. The baby bank takes so much pressure off the family."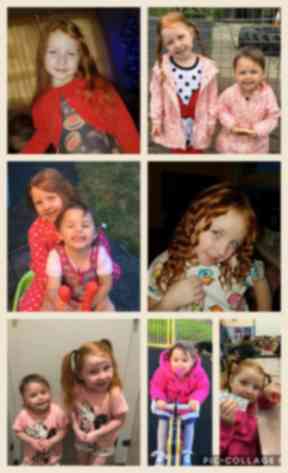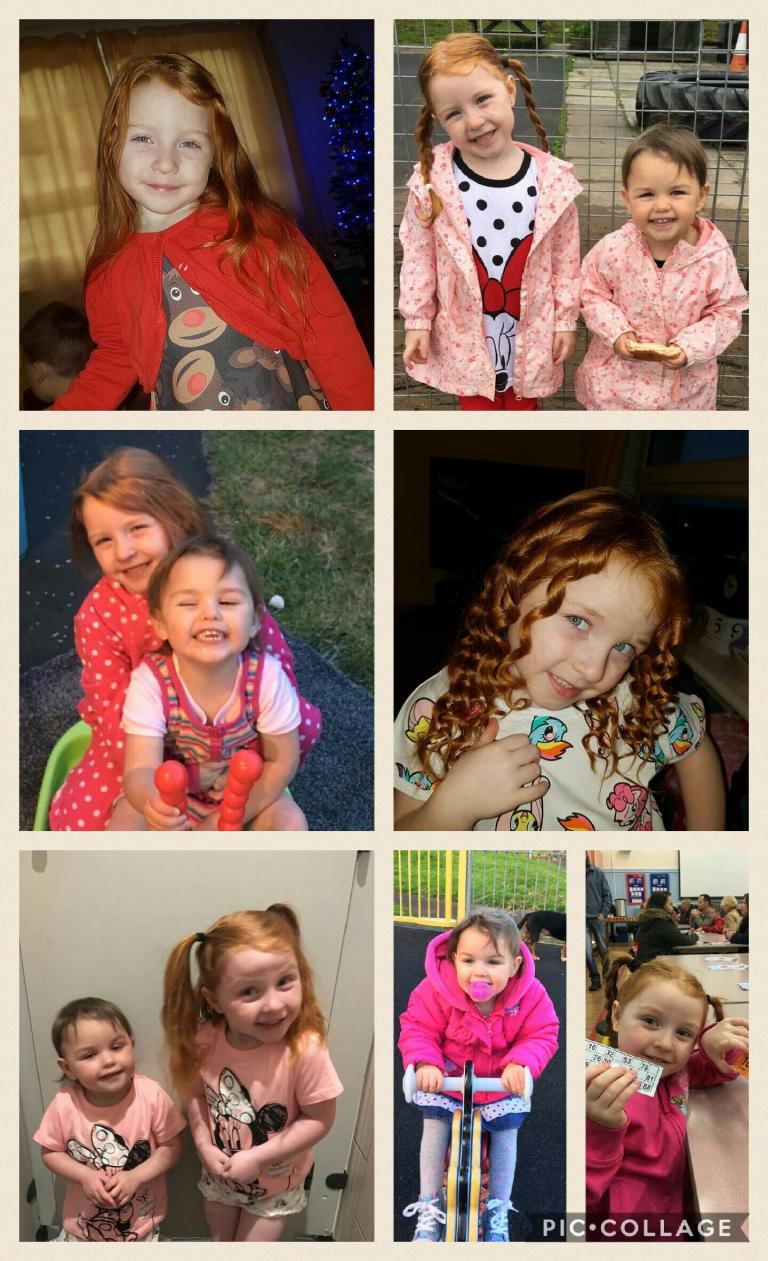 Even more mothers call including Sandy, 36, a single parent whose benefits got stopped in error and took longer than she could budget for to sort out.
"I spilt up with the father of my children, I've got four and a wee baby and simply didn't have enough food to last us until the benefits were sorted," she says.
"I had no nappies yet for my youngest daughter and I was in tears when the volunteers came with baby milk, wipes, everything I could need for her.
"They even brought toys for all my kids, they were there within two hours. It was incredible."
The quick response the baby bank always seems to provide is a common theme mentioned among the mothers.
All say they receive the emergency food or nappies they need, allwithin a few hours. They also all mention the genuine kindness that is delivered with them.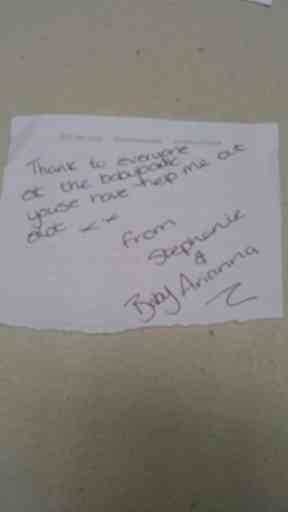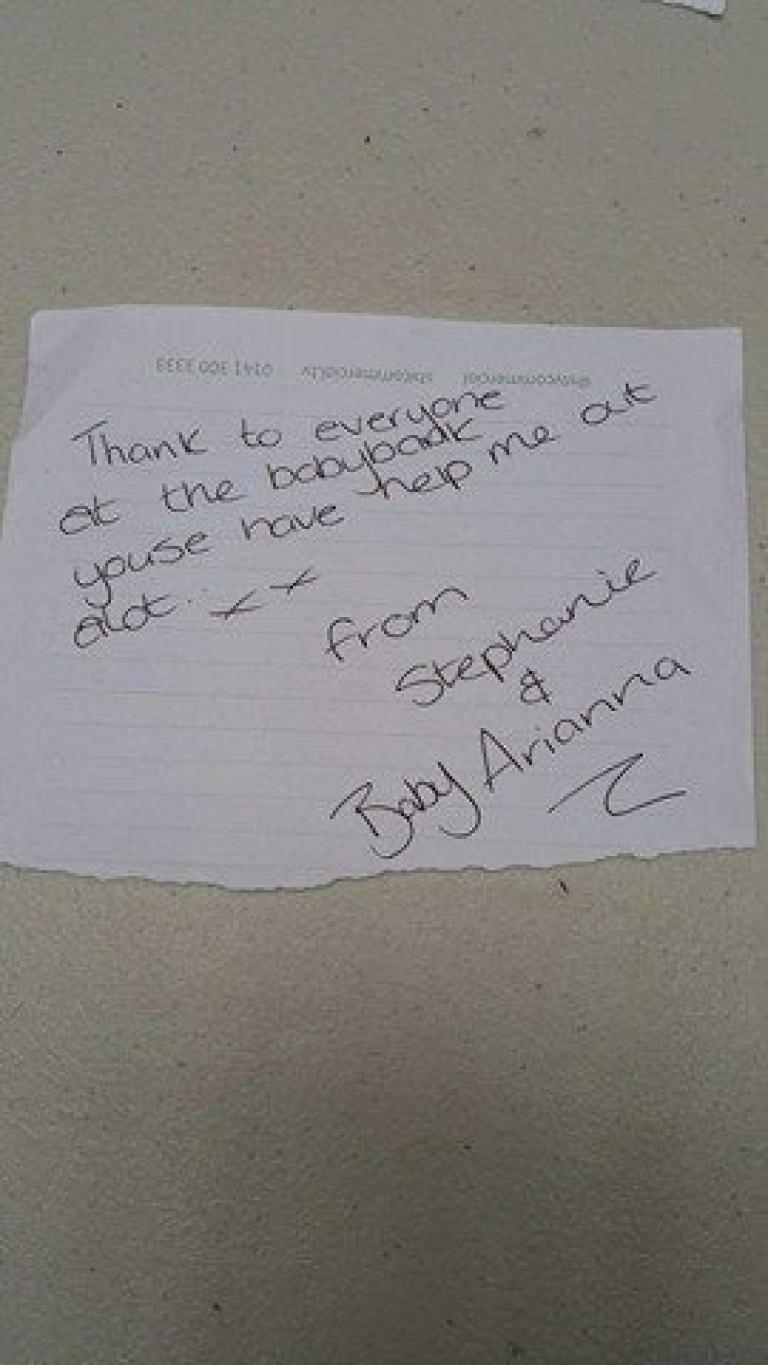 Many say Bernadette keeps in touch with them, checking up to see they are safe and provided for.
She also sends them messages and inspirational quotes, making them feel they are not alone.
"As a single parent it is really hard. I was in tears when they came," says Sandy.
"They go over and beyond to help you. If it wasn't for them I don't know what I'd do.
"I don't really talk to my family but these absolute strangers who don't even know me helped me."
Sandy and many others now donate their old baby items in turn to give back what they can to help.
"I wouldn't wish this on anybody, so anything I can do to help I will," says Sandy.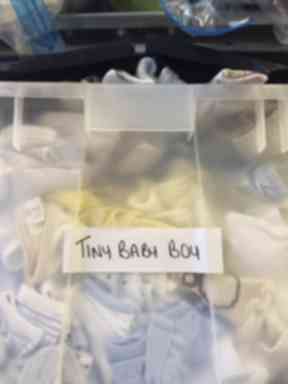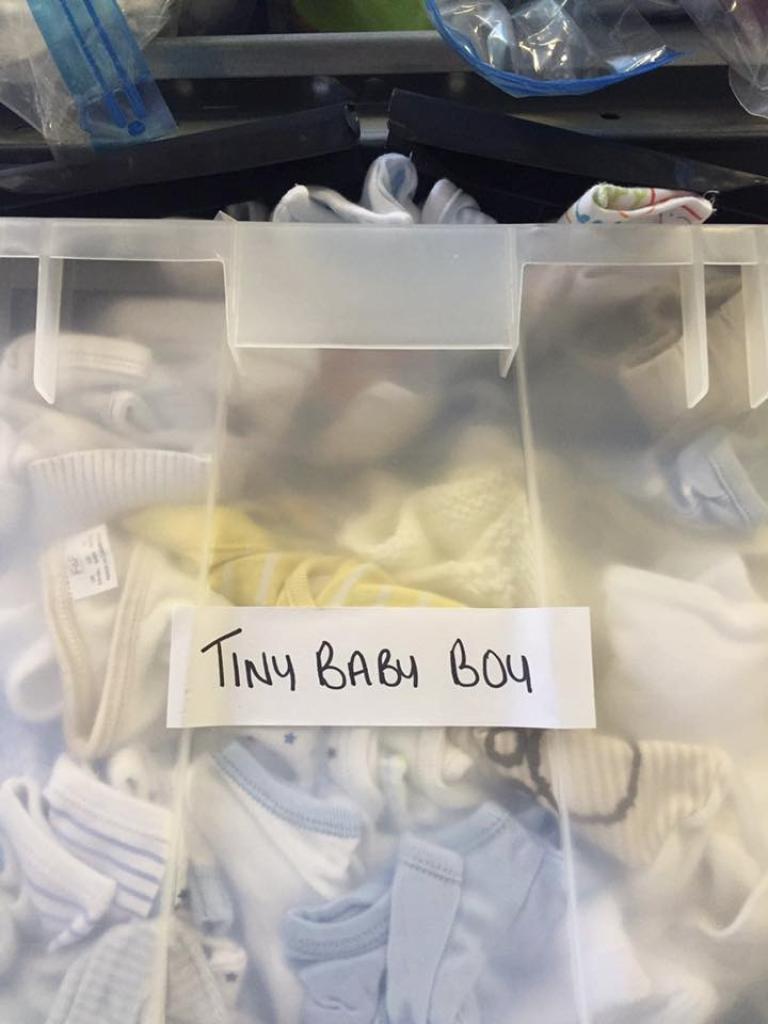 It is the prospect this situation could land on anybody that Bernadette says is key to the baby bank's future.
"People need to understand that these women could be anyone - your daughter, a next door neighbour, the lawyer at the end of the street," she says.
"Loads of people come to me who are working but they're on zero-hour contracts and they're struggling.
"It really is a case of them being faced each day with the choice of either heating their homes or buying food for their children."
Bernadette describes several families she knows of who have taken donated sleeping bags.
"They pretend to their children that it's a big camping adventure," says Bernadette.
"They're pretending to go camping with their kids to keep them warm."
One of the worst cases, she says, was a young mother and her baby who a health visitor called her about.
"She found the little baby sleeping in a drawer on a pillow, covered in a thin sheet," says Bernadette.
"She came back to the unit and cried in my arms. That's the reality in Scotland right now and it's despicable."
Bernadette says almost all of her referrals come from social services, who are unable to offer support and says tough benefits sanctions are partly to blame.
"Some people get sanctioned because they're 15 minutes late to an interview because their bus broke down," she says.
"It's ridiculous but this happens."
Marie Paterson, 35, is one single parent who understands the difficulties that can sometimes face those on the benefits system.
A mother of five, with baby number six on the way, she can remember the first time she called Bernadette to ask for help.
"It was a hard thing to do," she says. "I'd never asked for anything from anyone before but I just didn't know what to do.
"When you're a single parent it can be so hard to stretch the budget and I needed clothes for my children.
"My ex-partner had assaulted me and I was going through a right bad time. It is hard being on your own and I don't have any family."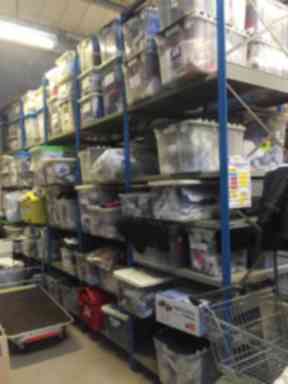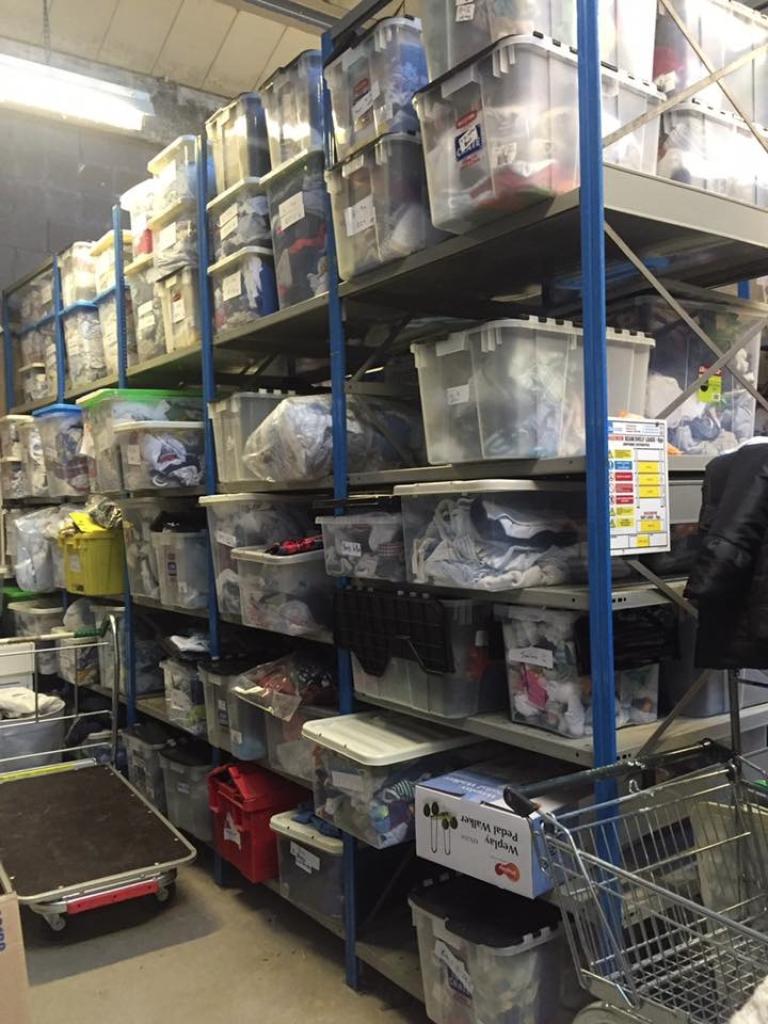 Within hours, Bernadette had rallied the volunteers and bags of clothes, food and even a new pram for the unborn baby were sent to Marie's door.
"I can't thank her enough," says Marie. "I don't know what I would have done without her.
"All I had was Bernadette. She's an amazing woman and I want to help her.
"I'm not ashamed of asking for help. My children are my priority and I don't mind asking for help now."
The perceived shame of asking for help is something, perhaps one of the few things, those that know Bernadette say she gets angry about.
Baby bank volunteer Jillian Thompson says she often sees Bernadette cry when the stories behind the emergency calls come through, but it's a tougher side that comes out when the grandmother speaks of the stigma of mothers on benefits.
"These are poor souls, beautiful women who could be any one of us when times get tough," says Bernadette angrily.
"How can anyone deny a child in need or not help a mother desperately trying to provide for her child?"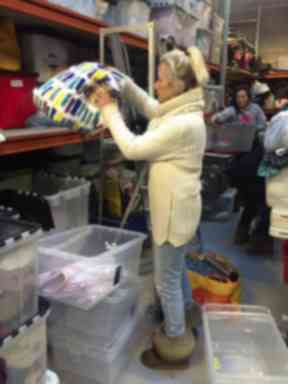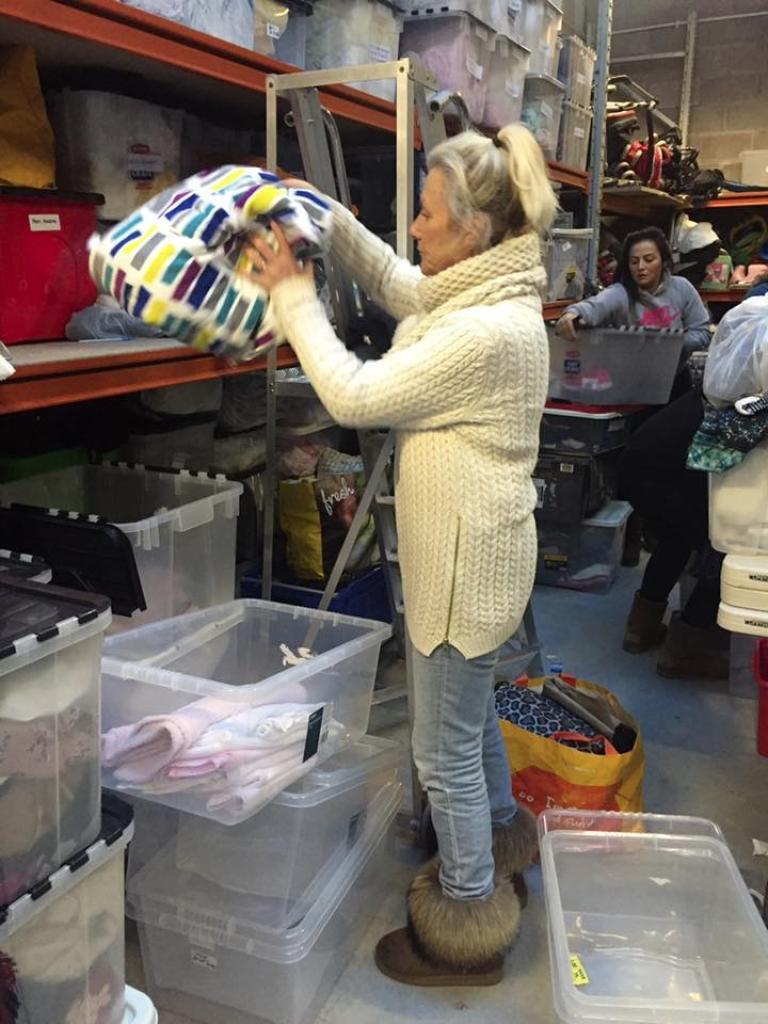 The grandmother is thankful, though, for the sheer amount of support she gets from the public and her local community.
"People have been so kind," says Bernadette. "They have donated so much and it restores your faith in humanity."
Now though, she knows the entire future of her project rests on that one person out there who might be able to keep her work going.
"I must just stay positive," she says. "Someone must know of one place somewhere."
The women and others she has dedicated her life to helping are wishing just as much as she is that an answer will be found soon.
Not just for the families in need of her help, but, as many admit, for Bernadette's sake as well.
"It would break Bernadette's heart if she couldn't keep this place going," says Marie.
"She must be absolutely shattered but she has a set of wings and a halo on her head.
"I'm wishing with all my heart that someone can help her as much as she's helped us."
Download: The STV News app is Scotland's favourite and is available for iPhone from the App store and for Android from Google Play. Download it today and continue to enjoy STV News wherever you are.