Scots mother who befriended bull saves him from slaughterhouse
Lynn Jolly has now launched a bid to open a vegan animal sanctuary for more cows in Scotland.
Lynn Jolly had been out walking her dog when she first laid eyes on her Prince.
Tall, dark and handsome, he stood higher than her shoulders but there was something about him that seemed just that extra bit special.
"There were eight of them in the field but he in particularly was quite friendly," says Lynn, 47, from Glasgow.
"I said 'hello', then went back later on to see him again."
The same thing happened on her next walk, and the next. Each time Lynn passed the field of cows "her one" seemed to recognise her.
"I know it sounds weird but people who meet him say he's just like a dog," says Lynn.
"By the end of the summer, he'd hear my voice and just get so excited he'd come running up to the fence at full speed."
Delighted, Lynn asked her son Luke, 23, to come and see the animal for himself.
"I didn't know what to expect," says Luke. "But as soon as he heard her voice he turned around and galloped like a horse straight up to her.
"I'd never seen a cow act like that before."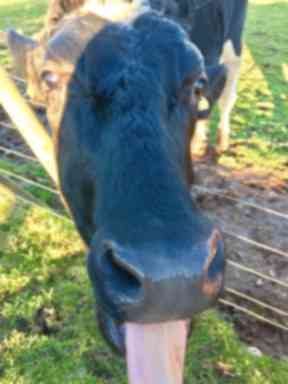 By the time autumn came, Lynn was visiting the young bull, now nicknamed Prince, a couple of times a day on her dog walks.
"It got to the point where I really cared for him," she says. "I guess it felt like I'd bonded with him."
So much so, an idea began to grow to make sure her new friend would be guaranteed a safe and happy life.
As the offspring of a dairy cow, Prince didn't have too bright a future. Like many farmed calves in the dairy industry, few males are required so are often killed for veal.
Prince was already at the unusually ripe age of two so time was not on either his or Lynn's side.
Even as a toddle, Lynn's mother recalls her saying how much she loved cows and from a very young age she apparently refused to eat meat.
A practising vegan and animal rights activist, she wanted to do what she could to help. She was determined not to let Prince end up at the slaughterhouse.
"I got to the stage where I felt I had to try to do something," says Lynn.
"I found out who he belonged to and wrote a note to the farmer, asking if there was any way I could try to save him."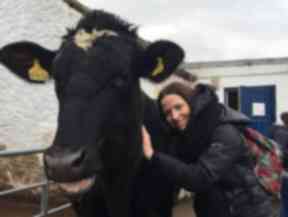 The very surprised farmer politely declined but Lynn wasn't going to give up easily.
"He was never unpleasant to me or anything, he did say I was living on cloud cuckoo land but I don't think he meant it in a bad way," she says.
Determined, Lynn tried again until finally the farmer caved in and said he'd think about it.
Lynn was elated. All she needed now was somewhere to put her extremely large and heavy animal friend.
"Legally I had to become a registered cattle keeper," she says. "I was finally able to find a place for him at an animal sanctuary in Lockerbie called Mossburn Community Farm."
That, though, was just the beginning. After she had managed to find sanctuary for Prince, a call came through about two other calves needing saved.
"They were two Highland cattle in Wester Ross," says Lynn. "A couple had called asking if I could find some way to help them."
A 19-year-old cow and her two-year-old male calf were at risk of slaughter.
After several busy phone calls, Berry and Bramble were relocated together in Dunbartonshire.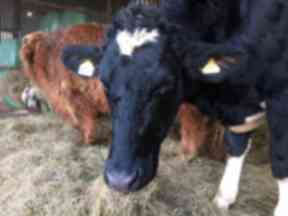 Lynn had done it again but she knew she could do even more.
She wanted to have a place, a field so Prince could be moved closer to her. And she wanted it to be big enough to fit in other rescue cattle and animals too.
So Lynn embarked on a mission to try ti launch a fully vegan animal sanctuary.
"I want it to be educational, a place where schools could come and learn," says Lynn.
"I've found someone maybe able to help me rent some land to bring Prince back to Renfrewshire."
Lynn has launched a crowdfunding page to help get the sanctuary off the ground and is in the process of applying for grant funding. While both working full time, her son Luke has stepped in to help her.
To attract support, she has also launched social media accounts for Prince to help spread the word with some success.
Prince's biggest online fan so far has come in the form of Esther the wonder pig, an internet celebrity with one million Facebook fans.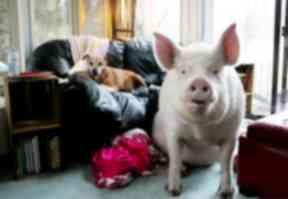 The celebrity pig from Canada hit the headlines after her loving owners bought her thinking she was a micro-pig.
Esther, however, kept growing and is now a 670lb giant.
Described as a "pig of leisure" who "spends a lot of time napping", Esther's owners have also created another online page, Esther's Kitchen, to feature the vegan food they prepare for their rambunctious pet, including spinach lasagna and chocolate chip granola bites.
Therefore a vegan Scottish animal sanctuary seems right up their street.
"I got in touch with them and they said they'd love to share Prince's story, too," says Lynn.
"I'm also selling vegan products online with all proceeds going towards the sanctuary."
Until all the funds are raised, Lynn continues to visit Prince in his field at Mossburn, where he is apparently a very happy young bull indeed with some new cow friends and lots of visitors.
"He's got a bit of a fan club going now," she says.
Download: The STV News app is Scotland's favourite and is available for iPhone from the App store and for Android from Google Play. Download it today and continue to enjoy STV News wherever you are.