Story of the little stone bear keeping watch over Orkney harbour
The bear has drawn in fans from his spot on an Orkney harbour wall gazing out to sea.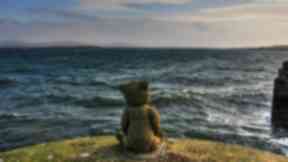 On a cold, mossy pier in Orkney a small bear sits gazing out at the horizon.
He's barely knee height, has small concrete ears and a watchful expression. He's been there a while - nearly 20 years.
Unless you're friendly with the locals, you're unlikely to know his name, and in the grand scheme of things he might not really even seem that important.
He's just a little bear, sitting by the sea, watching the waves and the world go by.
But even little bears can mean something to someone.
The first clue is the house not far behind him, with a fully working toy train set in one window and a large line-up of small glass eyes in the other.
It's a pile of bears - a lot of bears. There are many more bears behind them.
"About 450 actually," chuckles Tim Barthorpe, 59, proud owner of perhaps the largest collection of teddy bears in Orkney.
"Many have moved in and have stayed. We have teddy bears all over the house now.
"Did you know the collective noun for them is a 'hug' of teddy bears?"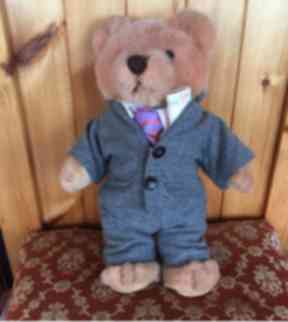 It was something Tim and his wife Jenny hadn't quite planned on happening but from three little bears in 1982, things had sort of snowballed.
One bear used to accompany them on the commute to London with them.
Another had been at their wedding and another two on their honeymoon.
"They joined us on the Orient Express for our honeymoon nearly 30 years ago," says Tim.
"When we boarded the British Pullman train at London Victoria for the UK leg of our journey to Venice, we left the two bears looking out the window whilst we went to the front of the train to photograph the locomotive being attached to the train.
"When we returned to our seats we found that one of the stewards had given each of them a pot of honey."
Their collection grew. Some bears even had their own passports, stamped in person by the train manager of Eurostar. Others were at the venerable age of around 90.
"We have Sandalwood Honey Bear, Jenny's original bear, and Great Uncle Ted who was Jenny's late aunt's teddy bear," says Tim.
"He was born in July 1928 and has been a much loved member of the extended family ever since."
Then, for one particular birthday, the couple's friends gifted Tim an extra special bear.
"We had initially seen him in a restaurant in Cambridgeshire," says Tim. "I don't know where he came from before that but we came to know him and the restaurant owners well."
So much so, the owners chose to part with the concrete bear Tim and Jenny went on to call Stout Cortez, from the poem by John Keats on the famous Spanish conquistador.
When the couple moved to Orkney, Cortez came with them. And he was promptly put in place on the harbour wall by their home "to look out over the sailors".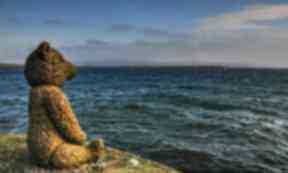 Since them, the little bear statue has become something of a minor celebrity among visitors to this Stromness harbour.
So much so, the weathered watcher has been added to a number of bucket lists among his fans.
"Yes, he's got quite famous over the years," laughs Tim. "I think people here know him more than they know us actually."
Which is a shame, really, because fans of the harbour bear would probably be very keen indeed to see inside Tim and Jenny's teddy bear house.
"We are completely bonkers," chuckles Tim. "But only in that sort of Alice in Wonderland, wonderful way."
"We get calls from families asking to see our bears and several bears are left on our doorstep in baskets with notes saying please look after us."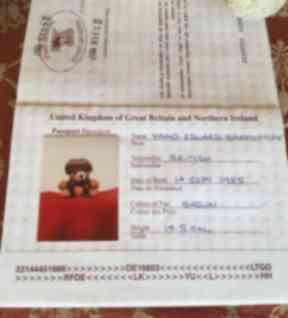 Over the years, the couple have received visitors - and bears - from as far as New Zealand, South Africa and all over Europe.
"They're an absolutely lovely couple," says photographer Glenn McNaughton.
"For 17 years I lived in Stromness, I remember seeing Tim's house with teddy bears at every window and the stone bear at the sea's edge.
"I now visit Stromness two to three times a year to see my mum, and when I do I take lots of photos.
"A week ago I decided to ask Tim if I could go onto their pier for closer photos of the bear, he was very friendly and said "of course".
"When I posted them on Facebook I'd amazing reactions, people were enchanted and wanted to know his story. They have been posting that they've added seeing the bear to their bucket list."
Not that Tim or Jenny mind at all. As everyone who has knocked on their door, says, the couple are always pleased to see fellow bear fans.
"It's nice to be able to make the kids smile when they walk past," says Tim.
"We don't mind at all when people and their bears visit. We're exceptionally hospitable."
Download: The STV News app is Scotland's favourite and is available for iPhone from the App store and for Android from Google Play. Download it today and continue to enjoy STV News wherever you are.