Cut above: Big-hearted barbers offer free haircuts to the homeless
Mark Reilly and Roo Mackinnon wanted to boost the self esteem of those "down on their luck".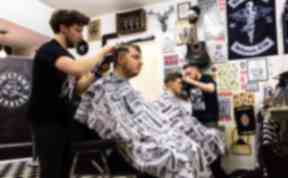 After a day of carefully fading, cropping and styling the hair of his clients, Mark Reilly downs his tools just momentarily, before walking from his rustic barber's shop in Aberdeen to a local charity to volunteer.
The same scissors and well-kept blades are laid out for a new set of customers, Mark chatting away with them as they sit in his seat for a tidy up or a trim.
For the service users of Aberdeen Cyrenians, a charity which supports the needs of homeless individuals in the north-east, the simple act of having a haircut gives them the chance to feel a sense of normality.
"I've heard so many stories, people are just down on their luck and things just haven't gone their way," Mark says.
"I go in straight after work and I'm there for about two hours just cutting hair, normally there's a list of people wanting their hair cut and then I just do it.
"Everyone's very friendly and you get to know people's names and you just have a laugh, it's a really nice community."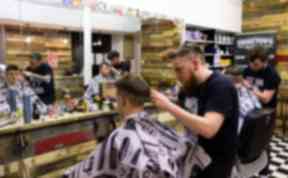 For the past two years, the 26-year-old has given up his time twice a month to cut service users hair as part of the charity's street alternatives project.
A safe space for vulnerable people to to use shower facilities, make use of laundry facilities and enjoy a hot meal, the project began in 2006 after the Cyrenians lost funding from Shelter for its winter crisis project, instead relying on volunteers to support the city's homeless.
But up until two years ago, the community didn't have access to a regular hairdresser, until Mark's girlfriend spotted a news article in America about a man offering haircuts for the homeless.
Mark then spoke to a number of homeless people in Aberdeen to find out if such a service was available to them in the city, and when one of them passed him a card for the Cyrenians he began volunteering, first in the kitchens before bringing his tools in to cut hair shortly afterwards.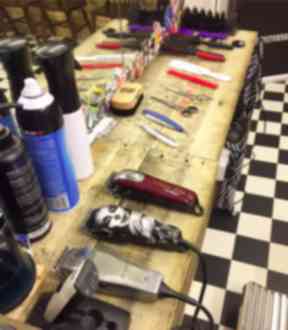 Scott Baxter, deputy chief executive of the charity, says: "They love him. Even just the whole dignity aspect of being able to have your hair washed and haircut and face the world looking good is a huge thing for folks self esteem and overall dignity.
He adds that offering service users the chance to tidy their hair is also helpful for those actively seeking work who don't have the means to pay for a haircut.
"Of course, in terms of people being more presentable, they may not have the funds to assess hairdressers," he says.
"We have a number of people who have access to no money at all and a number of folk that are actively seeking work so that all helps."
In the meantime, Mark and close friend Roo Mackinnon decided to set up their own barber shop, opening Hometown Barbers in late 2016.
Very quickly the pair established that giving back to the local community which had helped them realise their dream of owning their own place was of great importance to them, and chose to back the Cyrenians as much as they could.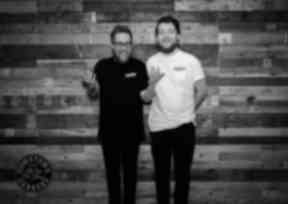 Roo admits he wasn't aware that his friend had been giving up his time to volunteer until recently.
He says: "That's the kind of person Mark is, he's always been quite giving. It's such a selfless act and an awesome thing to do."
The duo never post pictures or videos of their charity work online, insisting that they volunteer not to better the business, but just to do something to help.
"There's something honest about that that appealed to me as well, so as soon as we opened up I thought we should give back," says Roo.
Continuing to support the charity outwith the volunteer work, the pair set up a Christmas fundraiser for friends, family and clients, hosting beer pong, Fifa tournaments and poker games and collecting raffle prizes from local businesses.
Also donating all of their tips in the week leading up to Christmas, the pair handed nearly £700 to the charity which Scott says was a welcome donation right before the festive period.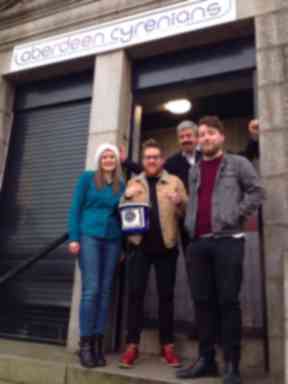 He explains: "It's very helpful, because we had an amazing response as we do every year but this year was bigger than ever from the public in relation to things like food, clothes, sleeping bags and suchlike but like every other organisation we have increasing costs of utilities and if were open more it costs us more to deliver services.
"The money would be going towards our winter appeal, which is very much directed at our services and meeting the needs of folk during the winter and that includes our street alternatives service which has seen an increase in numbers due to the weather and the cold."
Both Roo and Mark are determined to continue to support the Cyrenians, planning to hold at least one fundraising event a year and doing all they can to support Aberdeen's homeless community, especially during the city's downturn.
Scott says: "We're absolutely appreciative, particularly with it being a small business, recognising how hard it is for small businesses at the moment to look after themselves let alone look after other folk."
Roo adds: "As long as our shops running, we want to do as much as we possible in Aberdeen, support as much local businesses, especially now more than ever with the oil, we definitely need to support each other."
Download: The STV News app is Scotland's favourite and is available for iPhone from the App store and for Android from Google Play. Download it today and continue to enjoy STV News wherever you are.