Homeless Scot defies all odds to cycle the world for women's rights
Ishbel Taromsari had run away from foster care and was homeless before adventure came calling.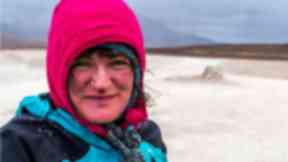 She had been peppered with 31 shot gun pellets when Ishbel Taromsari found her.
One of her paws was completely destroyed and she was limping from old fractures, a broken hip and the toll of life on the streets.
In horror, Ishbel watched as the little dog lay down on the road near to her, rolling over in submission as four other street dogs attacked and bit the injured parts of her body.
She had a flashback to her own life, back to when she was a young girl in Scotland and people were trying to hurt her.
A foster care runaway and homeless, it was the most scared she had ever been. If only someone had stopped to help her, she thought.
The decision was made. She could not leave this dog to die.
Throwing down her bicycle, Ishbel ran at the dogs to pull them off the stray. The little dog lay still when she reached her, moving only her head to lick her hand.
A pair of big chocolate brown eyes looked up and melted Ishbel's heart.
"I shall call you Lucy," she said.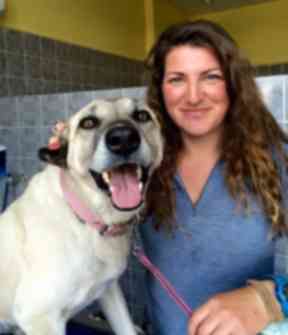 Twenty years ago Ishbel Taromsari was a young girl homeless in Scotland who most people would probably have walked on by.
"At 16 years old life was giving me a hammering and I was in foster care being looked after by strangers," Ishbel openly records in her online diary.
"I ran away from foster care and although I was homeless I clung on to dreams of university and tried very hard to go to school.
"But being homeless won. Being vulnerable won. Being 16 years old with no life experience won."
That was then. By the time she was 21, Ishbel had sworn to herself she would take control and commit herself to living.
Since then, over the course of two years, the inspiring Scot has pedalled her way solo through 16 countries, several war zones and some of the most breathtaking places on earth.
She is an active women's rights activist, a moving symbol on wheels campaigning for the right of all women, everywhere to ride where they choose.
Without a map or compass to guide her, it is a journey that has already brought unexpected highs and one heart wrenching low, the humbling kindness of strangers and the answer to where home is to a girl who for a long time has never had or thought she needed one.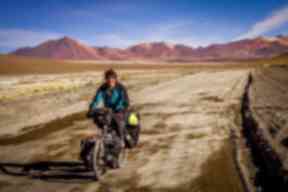 Ishbel's first time on a bike was when she was barely a year old with her Iranian father in the saddle - she, perched on the back behind him, a sack of potatoes sat on the front.
When she was a toddler, the family moved with her Scottish mother to Falkirk. By the time she was five, her parents had split up and life took a downturn.
Foster care followed, and when that didn't help her, homelessness. It was a life, she describes, as "totally horrendous".
Until she picked herself up and focused everything she had into living. Ishbel went back to learning and travelled to Australia.
On her return, she picked up a bike and made her legs do the rest. Within a short time she became one of the fastest female sprinters in both Scotland and Iran.
Still, something felt missing though. Unable to find what she was searching for in Scotland, Ishbel took to the road instead.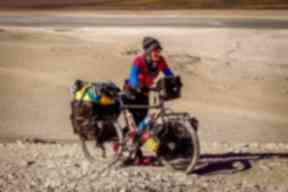 Ishbel had already pedalled across France, Spain and Portugal before she hit Turkey.
With nothing but her bike, a tent and some meagre cooking utensils she was completely alone, until she met Lucy.
Scooping her up, Ishbel placed her in an old vegetable crate she managed to craft into a makeshift basket.
By chance, she had found an English woman nearly 300 miles away willing to take the shy stray. But it was a long road to take.
Around 200 miles in, exhaustion hit. In tears, she pleading on her Facebook page for anyone passing in a car to stop and help.
Determined, she rode on, feeling desperate and alone. Unknown to her though, her post was going viral. Help was on its way.
Around 3am Ishbel woke to a news crew outside her tent and the offer of a ride. She had made headlines across the world and kind strangers had been working throughout the night to find her and help them both.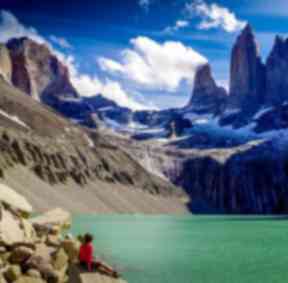 Lucy began her time in quarantine, a family in the UK had been found for her and all she needed was a clear bill of health to get there.
During the wait, the pair cycled 700 miles through Turkey, educating students on the value and care of street dogs, their close bond growing each day.
"Lucy really changed me," says Ishbel. "It's strange, because she's a dog, but her unconditional love really changed my heart."
Ishbel was with her new friend on the last day of quarantine. It was also the last day they had together.
Lucy had begun coughing up blood. Ishbel ran to the vets carrying her in her arms, but it was too late.
The little dog died in her arms the day before she was meant to leave for her first home.
It was a heartbreaking moment for the Scottish adventurer who had begun to realise how much it meant to be loved.
As she now recounts to those she meets: "Lucy smashed the wall around my heart with her tail wagging and her eyes loving and I don't want to build that wall again."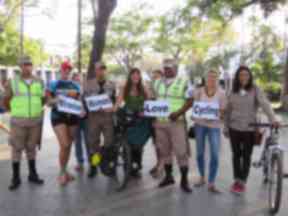 Driven ever onward Ishbel continued on her own down the Turkish-Syrian border. She's cycled through Croatia, Bosnia, Albania, Iran, Argentina, Chile, Bolivia and Brazil.
The photographs in her diary are of parrots, sapphire blue with sunshine yellow beaks. Of swamps, with a floating carpet of emerald leaves and road after dusty road with no visible beginning or end.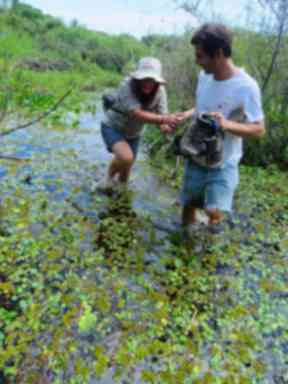 She's enjoyed a whisky on a boulder under the 2000 metre high Torres Towers, walked on glaciers and carefully navigated alligators in the jungles of Brazil.
She's made a life long commitment to the environment to commute by bicycle. She doesn't own a driving license, never has, nor probably ever will.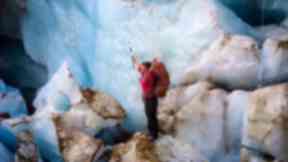 Jokingly referring to herself as an "accidental adventurer" she regularly updates her blog with moments from her travels, and in doing so has become an inspiration to others.
"So many women have got in touch saying they're getting back on their bikes," says Ishbel.
"I think they see me and think I'm brave but when they meet me and see I'm scared of everything I think that helps convince them to give it a go."
Ishbel also regularly writes and gives talks to young people in care.
"Choose life, keep going, just ride through it until you get out the other end," she says. "Everyone is going to go through different things in their life, but you come out with new skills you can use to make your life even better."
"Lucy smashed the wall around my heart with her tail wagging and her eyes loving and I don't want to build that wall again."

Ishbel Taromsari
Ishbel laughs openly when discussing her fears. "I never research where I'm going because if I did I'd never go," she says. "I mean, I scream at slugs - genuinely."
She does. So much so, she carries a tub of salt with her that she pours in a circle around her tent to stop the little molluscs gliding in.
She survives on around £3 a day and is now in preparing for a cycle trek to the Amazon, alongside writing a book about Lucy.
She has no plan, but that's sort of the point. Ishbel is not looking to conquest the world on a bicycle - she is looking to experience it.
Though for the woman who used to readily say she had no home, her experience with Lucy has wrought a change.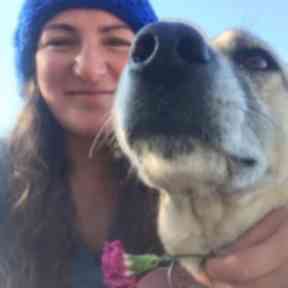 "The biggest change has actually been about my past," she says. "I've always kept it hidden and thought I would be judged on it. But I have so many strengths from that time, it has helped me through and I now celebrate it. I trust myself a lot more.
"I think I'm just really happy being me. Lucy and her unconditional love really changed my heart and all the relationships in my life have flourished since she came into my life."
For now, Ishbel is back in Scotland, sharing her story before she prepares to get back on her bike.
She won't be here long, but geography is not necessarily important when it comes to finding out where you belong.
"A street dog called Lucy and her unconditional love set me free," writes Ishbel.
"Home is where the people are that you love."
You can follow Ishbel on her cycling journey here on her World Bike Girl blog.