Share the love: 14 alternative ways to enjoy Valentine's Day
From unicorn bark to homemade bath bombs, show you care without a bunch of red roses in sight.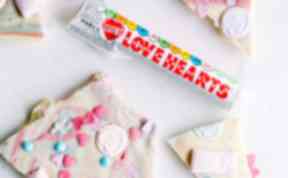 If the sight of bright red foil balloons, rows of soppy cards and 'novelty' gifts has you feeling less sweet and more sickly, you may be inclined to reject Valentine's Day altogether this year.
Of course, you could just pull the duvet over your head and pretend the holiday doesn't exist, but then you'd be missing a day where it's perfectly acceptable to eat chocolate for breakfast, lunch and dinner.
So whether you're a Valentine's Day lover or hater, hoping to wake to a room filled with heart-shaped balloons or the annual card on your doormat from your mum, there are still plenty of ways to celebrate February 14 whether you're single or taken without a cliche in sight.
From sprinkle-covered glasses filled with refreshing cocktails to sparkling unicorn chocolate bark, glittery Play-Doh for kids to a giant cookie to dig into with friends, here are 14 alternative ways to share the love without a gushing card or bunch of red roses in sight.
Surprise your other half with some pretty strawberry pancakes
Start the day with a rainbow-coloured spring in your step with these pancake stacks, studded with sprinkles with a strawberry surprise in the centre. Simply whip up a batch of pancake batter filled with sprinkles and fry on one side, nestling a slice of strawberry in the middle before flipping. Drench in maple syrup and enjoy breakfast for two for an extra sweet start to your day.
Have a relaxing rainbow bath
While bath bombs are pretty easy to pick up on the high street, making your own is not only a fun activity but also makes a lot more pretty baths for your money. These rainbow sprinkled bath bombs are scented with candyfloss and will turn your bathwater a pretty pink colour, perfect for adding a little sweetness to your Valentine's Day. Wrap up in brown paper for gifting to friends, making sure to keep a couple back for yourself. Stick a film on and relax with a glass of rosé for a perfectly pink night in.
Make a bunch of bacon roses
What do you get the man who has everything? A dozen bacon roses of course. If a bouquet is the last thing he'll expect to receive on February 14, then a bunch of these edible roses will surprise and delight him. Simply roll up slices of bacon, skewer with cocktail sticks and pop them into the oven to cook before attaching your little bacon buds to some wooden skewer stems. For extra points, have a sneaky cheeseboard waiting to pair with your roses as you settle down to watch a movie together.
Put together a happy thought jar
Whether you plan to gift this to your children to encourage them to be nicer to one another or to your partner to raise a smile, this simple and cheap gift will help spread the love and certainly won't break the bank either. Simply set aside some time to write happy memories, thoughts and quotes about love or friendship on pieces of paper, then fold up and stuff into a labelled jar. Tie with a bow and present to your loved one. For couples, you could throw in a couple of date night ideas for the coming year.
Make your vegan friend some tasty biscuits
Sadly most premade sweets aren't suitable for people with dietary requirements, making it hard to pick up a simple box of sweets for a friend to show you care. Thankfully there are plenty of resources for those who follow a vegan diet, and a box of these handmade jammie dodgers will certainly put a smile on their face, especially as the shop-bought version recently re-added milk to their ingredients. Stuff into a box, tie with ribbon and pop round for a chat, cup of tea and a biscuit that both of you will enjoy.
Get creative with Valentine's-themed Play-Doh
If you have children looking for a fun way to celebrate Valentine's Day, then a batch of pink and red coloured Play-Doh is the perfect way to get little hands involved. Easy to whip up from flour, oil, cream of tartar and some water, you can then create different colours using food colouring pastes easily found in a supermarket. Add some gold or red flecks of glitter and encourage them to create pretend cupcakes for afternoon tea using paper cases or lollipops with cocktail sticks. Their creations may not be edible, but they'll have hours of fun playing with their own homemade dough they can help stir together.
Enjoy chocolate waffles on Galentine's Day
Parks and Recreation fans will know that the day before Valentine's Day is (un)officially known as Galentine's Day, whereby girlfriends get together as an antithesis to the three course dinners and bunches of flowers of the 14th to celebrate friendship instead. A fun brunch filled with sweet treats and pink wine is the perfect way to celebrate, and these chocolate waffles topped with whipped cream and cherries will certainly fit the bill.
Shake it up with some cocktails
If bottles of red wine or champagne seem a little overdone on Valentine's, why not dust off your cocktail shaker and make some pretty themed drinks instead? Try whipping up a classic Cosmo and strain into sprinkle-covered glasses for friends or try your own concoctions with rose or raspberry flavoured lemonade and your favourite spirit. Little ones can also have a go with cranberry, grapefruit or red grape juices shaken with a little lemonade and topped with an umbrella and a slice of pink grapefruit.
Bake a giant cookie
Whether you plan to spend Valentine's alone or with friends, a gooey giant cookie studded with pink, red and white sweets will be equally welcome in both situations. Invite your friends round for pink fizz and set this frying pan-sized cookie on the table, complete with a few scoops of ice cream in the centre with a mess of spoons and go to town on it together. Or simply bake and eat in slices like a sweet pizza as you devour an unhealthy amount of romantic comedies in your unicorn onesie.
Make some pretty wafer biscuits with the kids
If baking seems like too much of a hassle this Valentine's Day but your children are desperate to hand out treats to their friends, these easy dipped wafer biscuits look the part and will take no time at all to make. Let kids dip biscuits in melted and slightly cooled white chocolate then decorate with sprinkles and leave to set. Encourage them to write heartfelt notes to their friends, then tie them to treat bags filled with their creative biscuits.
Decorate your windows with strings of bunting
If you're more of an all-in type of person when it comes to Valentine's Day, then leave your shame to one side and craft reams of heart-shaped bunting to decorate your windows and show your neighbours how much you love the holiday. Write some cute notes on each heart as a different way to show your Valentine that you care or use as a backdrop for photos if you plan to host a Valentine's Day party with friends. Simply cut heart-shapes from different coloured pieces of card, use craft glue to string together then hang up with a few blobs of blu tack or wrap around curtain rails.
Make a tray of unicorn bark to gift to friends
Not much of a selection box person but still love to receive a sweet treat on Valentine's Day? Then a sheet of this pretty, sparkly and very sweet (vegan) unicorn bark is the perfect bake for those with little time but a very sweet tooth. Simply colour melted white chocolate, stir together on a tray for a marbled effect then decorate with edible glitter, sprinkles, marshmallows and love heart sweets. Break into pieces for gifting or hoard the entire tray to yourself on the 14th.
Curl up on the sofa with pink velvet hot chocolate
If you are of the opinion that Valentine's Day is worth celebrating but you don't have someone to share it with, there's no reason why you can't still enjoy the pinkness of the holiday watching Netflix on the sofa. This white chocolate drink is coloured with pink food dye and simply decorated with festive sprinkles, so the most difficult thing you need to do is pick which show to watch while you sip.
Make white chocolate popcorn for a romantic movie night
Whether you involve children for a screening of Frozen to remind them to be kind to their siblings or for adults to enjoy alongside Love Actually, these sweet popcorn balls are the perfect movie snack. Melt some white chocolate and stir through unsalted popcorn and festive sprinkles, forming into balls before leaving to set on baking paper. Stuff into bags for tucking into whilst watching a movie or hand out to friends as a sweet gift to show you care.
Download: The STV News app is Scotland's favourite and is available for iPhone from the App store and for Android from Google Play. Download it today and continue to enjoy STV News wherever you are.