Runner's marathon dream after beating flesh-eating bug
Robin Grant had part of his bicep cut out after developing necrotizing fasciitis.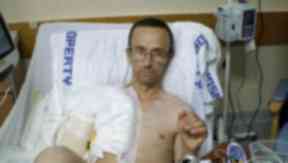 As Robin Grant lay in his hospital bed, chest and arm tightly bandaged after surgery to remove a flesh-eating bug from his muscles, there was only one thing he was desperate to do.
Robin wanted to run.
"Hospital was an incredibly boring place," the 43-year-old explains.
"I signed up to take part in a local 10k event while I was still admitted, and completed it the next year."
A keen runner, he had completed half marathons in the years before he was struck down with necrotizing fasciitis, a rare condition which is often called 'flesh-eating disease'.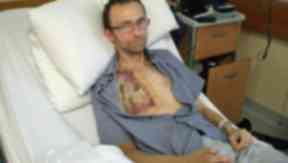 But having undergone life-saving surgery, the 43-year-old from Old Rayne in Aberdeenshire, would face an uphill battle if he was to achieve his dream of crossing the finish line.
In August 2014, Robin noticed an intense pain in his arm but averse to visiting the doctors and not even registered with a GP, he ignored the symptoms.
He explains: "It felt like I had overstretched and trapped a nerve in my shoulder - only multiplied by a hundred. But after about half an hour, the pain went away and I thought I was okay."
After taking some painkillers, he visited his local surgery in Inverness where he had to register to be given more pain medication. But even lifting his arm to fill in the form left him in pain.
"As the week went on I got progressively worse, to the point where I couldn't get to the end of the road without feeling violently sick," he says.
Staying with his father at the family home in Aberdeenshire, Robin's condition rapidly deteriorated and when a local doctor gave him a check up, he advised he be taken to Aberdeen Royal Infirmary's A&E department immediately, where he was rushed into surgery four hours later.
Robin was diagnosed with necrotizing fasciitis, a rare bacterial infection which develops from a minor injury such as a cut.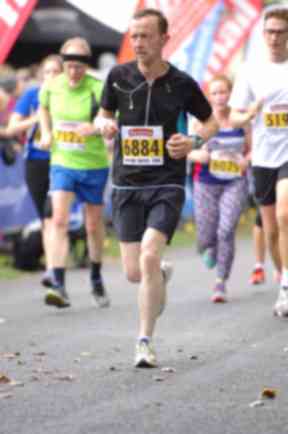 It rapidly develops in the body, attacking tissue beneath the skin and affects muscles and organs, releasing toxins that damage nearby tissue.
The illness can be life threatening if it is not caught early on.
"When I came out of surgery, I was in intensive care for about two weeks and on a ventilator for a week," says Robin.
"The only way to treat the bug is to cut it out - the flesh is essentially dead - so I also required plastic surgery."
Six months after his battle with the flesh-eating bug, Robin had returned to his old life in Inverness but couldn't shake the idea of returning to running after his long stint in hospital.
But the surgery, which saw part of his right bicep and and shoulder muscles removed to save his life, meant his balance was compromised. Determined to stick to his goal to run a 10k, he began to work on ways to adapt to his altered body.
"I had to develop a different style of running," Robin says. "My right side was hit hard by the bug - I lost my shoulder muscles and part of my bicep - so it really affected my balance."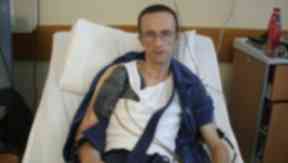 "I couldn't swing my right arm, and I still can't lift it properly to this day," Robin adds.
"I noticed that I had begun to compensate with the left side of my body, but I actually feel like I'm running better now than I ever did before.
"It might be because I'm running more now, but I think that I'm also improving because I'm thinking more about how I need to run."
Robin began to retrain his body, evening out his running stance and concentrating on his form to ensure he could achieve his goal of a 10k.
And once he crossed the finish line, Robin was official hooked on running, going on to enter a number of 10k races across the country including the River Ness 10k, part of the Baxters Loch Ness Marathon and Festival of Running.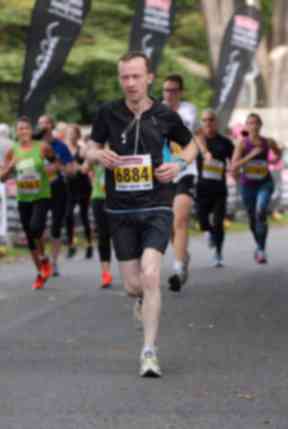 He says: "I was back living in Inverness and decided to run the River Ness 10k. It was tough - it was roasting hot that day - but I absolutely loved it. The course is great, and the energy around the whole event is really uplifting.
"This year I'm looking to up my distance and run a few half marathons. I'd run a few before I was ill, but this will be the first time I've attempted it recently. And I'll definitely be back to run in the River Ness 10k. The year wouldn't feel complete without it."
Eventually Robin says he hopes to run his first full marathon.
"One day soon," he says. "You'll find me on the starting line."
Download: The STV News app is Scotland's favourite and is available for iPhone from the App store and for Android from Google Play. Download it today and continue to enjoy STV News wherever you are.