Fashionable diseases: When syphilis and gout were trendy
Consumption left you pale and beautiful and gout made you witty and rich in the 18th century.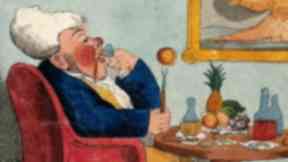 The 18th century was perhaps the golden age of the "trendy" disease.
Blotchy rashes, bulbous swellings and fever abounded but those suffering from the ailments still found time to make a bit of fashion statement about it all.
In Scotland, medical research was making some advances, though this was still the murky era of bleeding patients with cups and taking opium to cure your backache/head pain/snoring/sniffles - delete where appropriate.
Sugar and opium pills were handed out like sweets, served with a side of gin and tonic, dashed with quinine.
"In this period they were largely making up medicine as they went along," explains Daisy Cunynghame, archivist at the Royal College of Physicians of Edinburgh.
"They were bleeding people, purging people and then consumerism arrived."
In short, the trend for "fashionable diseases" began to rise faster than a fever.
The port-swilling upper classes had a smorgasbord of ailments to choose from. Heavy drinking, overeating and sexual promiscuity gave rise to the prevalence of diseases such as gout, consumption, lethargy and syphilis.
But that was OK. If you had gout, it was a sign of your wealth due to all that hearty venison and wine at your table.
If you had melancholy, you were not depressed, you were creative, brooding and artistic.
"People become almost boasting," says Daisy.
"The women wanted to be like the Jane Austen figure, the ones who faint or become hysterical. It was seen as genteel to be seen as weak."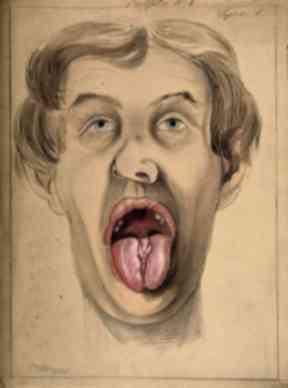 Daisy and a team of speakers have been preparing a behind-the-scenes tour of the Royal College of Physicians in Edinburgh for the curious, as part of the city's international science festival.
Its fascinating early medical texts and illustrations will show how these previously shameful diseases became the height of fashion.
Despite the poorer, working members of the population having suffered from pretty much all of the same diseases for years, it was a very different thing to be rich and ill.
Consumption, for example, was known as a "poetic" or "beautiful" disease, particularly for the young ladies.
Tuberculosis was thought to be caused partly by miasmas, or "bad airs," in the environment.
Among the upper class, it was alarmingly seen as an attractive look.
Thinness and pale skin from weight loss were the height of fashion, with sufferers "delicate" instead of diseased.
The 1909 book Tuberculosis: A Treatise by American Authors on Its Etiology, Pathology, Frequency, Semeiology, Diagnosis, Prognosis, Prevention, and Treatment backs this notion.
The authors noted: "A considerable number of patients have, and have had for years previous to their sickness, a delicate, transparent skin, as well as fine, silky hair."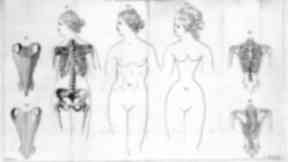 Sparkling or dilated eyes, rosy cheeks and red lips were also common in tuberculosis patients - characteristics now known to be caused by frequent low-grade fever.
But it made them look good - or at least they thought so.
"It was all about what the in-crowd was doing," says Daisy. "Rich women where fainting all over the place."
Despite this, not all diseases managed to become fashionable.
"The ones talked about the most were actually flatulence and anal fissures," adds Daisy.
"They were the two most common but weren't really written about. It wasn't the attractive ailment the rich were looking to brag about."
It was an exasperating time for doctors who had a bit more savvy than the "quacks" portioning out balms and creams claiming to miraculously cure everything.
Scots physician James Makittrick Adair was especially provoked.
Born in Inverness and practising in Edinburgh, he openly bemoaned his rich patients' eagerness to latch on to popular diseases like the "vapours".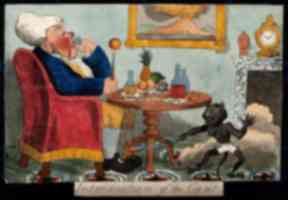 Some 30 years previously, a treatise on nervous diseases had been published by a professor of physic at Edinburgh.
"Before this", Adair argued, "people of fashion had not the least idea they had nerves".
"Branded products began to appear that claimed to cure every disease known to man," says Daisy.
"They claimed to cure every disease know to man, but if they had the label of an important person like a royal on them, then people bought them."
Every juicy detail of the strange era in British history will be discussed by Daisy and the team in April.
Iain Milne, the college's librarian will be looking at baths, the places where the rich escaped to cure themselves.
Catherine Jones, academic at Aberdeen University will be speaking on melancholy and Mona O'Brien, PhD student at Glasgow University, will be speaking on syphilis.
"The pictures are slightly terrifying," says Daisy. "But I'm sure she'll try and not scare everyone too much."
Fashionable Diseases: Syphilis, Consumption and Gout takes place at the Edinburgh International Science Festival from April 6 -8. Tickets are available here online.
The minimum age of the event has been set at 14 years old.
Download: The STV News app is Scotland's favourite and is available for iPhone from the App store and for Android from Google Play. Download it today and continue to enjoy STV News wherever you are.