Made with love: 14 gifts to show you care on Mother's Day
Why not treat your mum to an at-home manicure or a sprawling afternoon tea?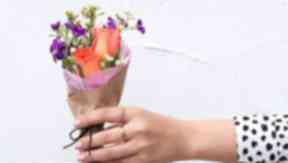 From mothers to grandmothers, aunts, to step-mums, and sisters to wives, Mother's Day gives us the chance to spoil the special women in our lives who do so much for us.
While the classic card and bunch of flowers never fails to raise a smile, there are so many more things you can do to show you care on March 26.
From fancy breakfasts with homemade cards made by the kids, to sprawling afternoon teas and promises of a manicure and a luxurious bath, here are 14 ways to give thanks to the special women in your life this Mother's Day.
Breakfast in bed
Possibly the most popular way to show you care on Mother's Day aside from bunches of flowers, is dusting off a tea tray and loading it with croissants and coffee. If you can, treat her to the long lie she so desperately craves (especially considering the clocks go forward on March 26) and busy yourself and little helpers in the kitchen.
Fluffy Fruit Butter
To make the day more special, whip up this sweet jam butter, a cross between buttercream and jam that will make even the humblest slice of toast seem decadent and special.
Decorate a clean jam jar with drawings from your younger children or get older siblings to design labels online and print them off, then serve the jar up on the tray with a little ice cream scoop of the butter in a small bowl for her to dip into with a knife.
Fairy Bread French Toast
For mums with a bit of a sweet tooth, transforming a fancy french toast breakfast into something slightly more colourful will be fun for little hands, a visual treat for the eyes and an indulgent start to the day.
Dipping slices of brioche into eggs and milk can be done by small helpers, or older children can cook the whole thing, finished with a good flourish of sprinkles.
Mini pancake canapes
If mum isn't the biggest fan of eating first thing in the morning, then these tiny pancake stacks are the perfect mini treat for nibbling on whilst opening cards, especially when topped with her favourite fruit.
Sandwiched together with whipped cream or jam, prepare a little workstation for wee ones to carefully put the stacks together then finish with a flourish of icing sugar.
Homemade cards
A classic way to show you care, a handmade card is a lovely heartfelt way to show your appreciation for your mother, gran, sister or aunt.
While the shops are full to the brim of different options, sometimes a personalised gift makes Mother's Day that little bit more special.
Turtle Love
With just a few cupcake cases and card, children can make this cute card pretty quickly.
Simply fold cake cases in half, glue down onto card and create a head and feet with coloured paper.
Draw on a little face, write down your message and you'll have a 'turtley' sweet card to give to mum.
Perfect cup of tea
Everyone has their idea of the perfect brew, so whether your mum is a fan of breakfast tea, peppermint or a fruit infusion, find a box in the shops then turn a tea bag into a meaningful card.
Cut a section from an old egg box and paint a bright colour before gluing onto card and creating a handle with a pipe cleaner.
Pop her favourite tea in the cup and stick the kettle on just before you gift it - her perfect tea will be in her hands in minutes.
Spa day
A little me-time is a gift that will surely be well received by mums just looking to put their feet up for the day.
Pop open a bottle of fizz and pour her a glass of bubbles or boil the kettle for her favourite cuppa and start pampering.
Pink French Manicure
If she can't get to a nail salon as often as she likes, then a chance to sit in her favourite chair while you do all the filing, shaping and painting will be a dream come true.
A perfect gift for teens to offer, simply pick out a few pink shades, a cheap sponge and some stickers then follow this tutorial for a girly twist on a classic French manicure.
DIY Vanilla Latte Coffee Scrub
A softening scrub that smells just as delicious as her morning coffee, this easy homemade scrub is the perfect gift for smoothing away the day.
Promise her no interruptions and a long soak in the bath while you keep children occupied elsewhere.
Infused Bath Salts
Perfect for pairing with the DIY coffee scrub, a set of homemade salts personalised for your mum will ensure she can enjoy an invigorating, relaxing or warming bath of her choosing.
Afternoon Tea
A great way to celebrate all of the special ladies in your life, a family afternoon tea will not only be a nice activity to look forward to but will also be all the more memorable thanks to a tower of homemade treats and hand poured cups of tea, allowing for a few splashes on the tablecloth of course.
Marshmallow wands
Quite possibly more fun for kids to put together than for mum, these cute marshmallow sticks can be covered in chocolate and sugary decorations the night before.
Once set, prop up in a tall glass and serve on your afternoon tea table. If hot chocolate is being served up for those with a sweet tooth, these wands would be perfect stirred through a steaming mug or pulled off and left to melt on top.
Colourful Chocolate Brownie Cookie Bars
The beauty of these decadent bars is that they are mostly made up of boxed cake mixes and biscuits, so the hardest part is keeping your hands off them until tea time.
If you aren't planning to serve these up for afternoon tea, package up in a box stuffed with tissue paper for a pretty homemade gift with the promise that mum can enjoy them with a quiet cuppa uninterrupted.
Raspberry and Rose Bundt Cake
If you have older children who just love to bake, then challenging them to not only create a showstopping cake for afternoon tea but also clean up the kitchen afterwards will certainly keep them in the good books.
Full of sharp berries and drizzled with icing, this cake will look picture perfect on the table, with plenty left over for elevenses the next day.
Flowers
A big bunch of flowers often goes down well as a gift, but to put a personal spin on things there are a few ways you can make a bouquet rather memorable on Mother's Day.
Mini Bouquets
If you're planning to see lots of family members on Mother's Day or just want to treat the special ladies in your life, then these tiny bouquets are a cute way to show everyone you care.
With just a few roses and brightly coloured filler flowers, you can create tiny bundles all wrapped up in paper and string that can be handed out as gifts.
If you're planning an afternoon tea for the whole family, you could also place a bunch at each sitting as favours.
A Homemade Herb Garden
If your mum loves cooking with fresh herbs, then a planter full of her favourites will be a welcome gift for the kitchen.
You can even decorate a simple pot with a marbled nail varnish technique before potting some thyme, sage and mint inside. Finish with a fun label thanking her for her 'thyme and sage advice' around the middle with string.
Cute Cupcake Daffodils
A classic craft for little ones to create, these flowers will never wilt and will certainly last until Easter.
Simply gather some orange and yellow coloured cake cases, some straws and buttons for the centre, then glue together and tie into a bunch with some ribbon.
Download: The STV News app is Scotland's favourite and is available for iPhone from the App store and for Android from Google Play. Download it today and continue to enjoy STV News wherever you are.