Lovin' it! Man builds own eco home out of McDonald's waste
Brain tumour forced Angus Carnie to re-evaluate the way he lived.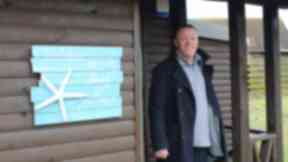 Angus Carnie had been discussing confidential paper shredding when the monster in his head made its first appearance.
He'd been at a solicitor's office, talking to clients as he always did as part of his "posh recycling job". It was, he says, a perfectly normal day.
Until the monster roared.
Angus woke up on the floor, his clothes wet with blood and urine, and the frightened faces of the office staff anxiously looking down at him.
He didn't know it yet, but he'd just suffered an intense grand mal seizure.
Known as a tonic-clonic convulsion, his muscles had contracted so violently he had bitten his tongue and wet himself.
At the hospital, doctors were able to capture the cause of it on their scans.
Hidden behind his skull the monster had been growing, and now it had a name - an Epermoid cyst.
A rare type of benign brain tumour, doctors said it had likely been growing inside him before he was even born.
"It was just up there, quietly growing," says Angus. "It was always going to happen. It was just a matter of when."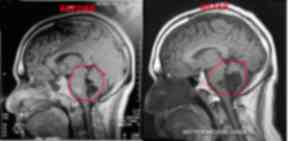 Angus had a surgical procedure "which wasn't the prettiest" and began his journey to recovery "which is odder than you think".
"The only way I can describe it is like switching a crashed computer back on," he explains. "The hard drive is there but it takes a lot of time for everything else to come back."
He had to teach himself to walk again. His balance was the last thing to be restored.
"I kept crashing into doorways like I was permanently drunk," he says.
His experience, however, got Angus thinking. The monster had turned his whole life around.
It could happen to anyone, at any time. What would he do if he couldn't work?
One thing he knew for sure was that he was not going to accept benefits.
"I never have and I never would," he says with pride.
What he needed was to be self-sufficient. To find a comfortable way to live without very much.
So he decided to build a house. Not just any house though - a house built entirely from waste that others didn't want.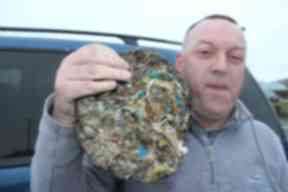 At first, every industry expert Angus spoke to told him it wasn't possible, that he'd never be able to do it.
"But I just thought I'm Scottish, I can do anything," he says.
And when a small plot of land came up in his home town of Carnoustie, he went for it.
He began searching for items that would usually end up landfill, particularly McDonald's packaging.
Made out of complex polymers, he compacted them into building materials for his interior walls.
"The system I use is to microwave and compact it at the same time as there is an element of grease in it," he says. "But you don't notice the gherkin in it or anything."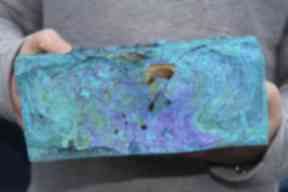 The insulation is super-efficient and is made from shredded plastic toner bottles from photocopiers and printers.
Work tops are made from waste plastic hospital bed sheets and internally he "went to town" with jam jars as lights, cable reel as a coffee table and a whisky barrel as a feature unit.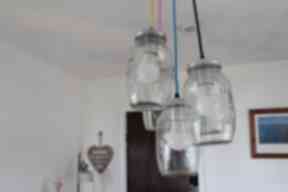 He also had lights made from vodka bottles, picture frames made from waste tyres and even the coasters were once circuit boards.
His only theme was 'I-used-to-be-something-else' which is carried throughout the project.
The little home, which looks like a log cabin, also runs off a mixture of wind and solar power.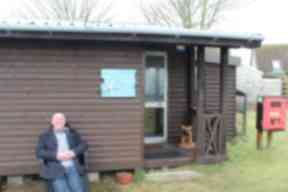 "It's amazing what people throw away," says Angus. "I found double glazed windows and doors that people no longer wanted so I've popped them in too."
The house is now 90% finished and he has begun work on the garden, but says it's coming along.
"I'm not a big lover of grass because it needs cut," he says. "I just want somewhere I can sit out and have a beer."
There has been a lot of interest in his 'Scottish Eco House' project which Angus is delighted about, especially given the current housing situation.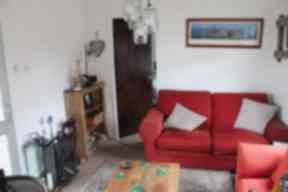 "There's been a lot of interest in what I do, I think because of how expensive properties are," he says.
"How do kids in this area get on the property ladder? Or, when you speak to homeless people as I do, you think invariable these are people where something has happened to them.
"It could be like what happened to me? Or they could be ex-forces. You just don't know. It's so very hard out there to find a home if you don't have one."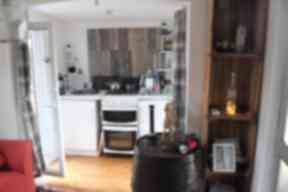 A delighted Angus runs his home off the grid, and all in all, his environmental project cost him £40,000.
Zero Waste Scotland have apparently been in touch with him, and - reportedly - HRH Prince Charles and the Archbishop of Canterbury, both enthusiastic eco warriors, are keen to visit his house.
"It has stones from the seashore, pallets, everything simple really," says an unfazed Angus.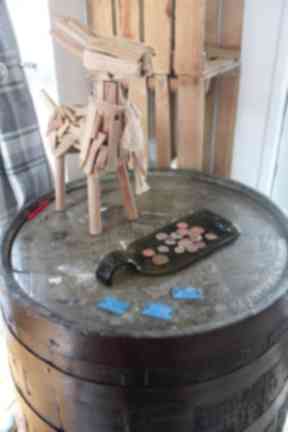 Angus continues as a self-confessed "dumpster diver" to pull together his garden and has completed a glasses stand for his house made out of an old bicycle chain.
He has made a brilliant recovery from the monster that first appeared in his head two years ago.
He says all he has to do now is pop a few epilepsy pills and entertain his neurosurgeon, Charlotte, with tales of his eco escapades.
"These doctors are just so kind. What they do is spectacular," he says.
"I got quite excited yesterday because I found two pieces of decking that someone had dumped by the side of the road. I could have just bought them, but that's not the idea.
"Everything is more exciting when you find it."
Download: The STV News app is Scotland's favourite and is available for iPhone from the App store and for Android from Google Play. Download it today and continue to enjoy STV News wherever you are.