Mother vows to continue fight after Strep B test rejected
Shaheen Blackie is calling for more awareness of the illness which took her son.
"My son lost his life for no reason. I want my son to matter, I want his life to matter."
Shaheen Blackie's one wish in her life is simple, despite everything she has been through.
Just less than two years ago she gave birth to a little boy named Zach. He fell ill in August 2015 and was diagnosed with bacterial meningitis, a rare but life threatening illness.
He'd caught it, the doctors said, after he contracted Strep B, a bacteria his mother hadn't known she was carrying.
Less than a fortnight after he was born, Shaheen and partner Craig were told the devastating news that their baby son would not survive.
In the weeks and months since losing her baby boy, Shaheen vowed to raise awareness to encourage more testing for the illness her son had contracted.
Unlike many other developed countries, pregnant women in the UK are not routinely offered tests to detect Group B Strep unless they are thought to be at risk.
However, the UK National Screening Committee (UK NSC) has rejected her call for such a measure, leaving the mother "extremely disappointed".
She told STV News: "After all the different women coming forward telling their stories and how it's affected their lives, and all the different women raising petitions.
"What more evidence do they need? They're saying it only effects a minority of babies. How can they justify even one life being lost for something that can be prevented?"
Shaheen says she is concerned not just for the small percentage of babies who pass away, but also for those who can be left severely disabled or with learning difficulties from the illness.
"Not to mention what the mother, father and family go through when a child takes not well," she says. "It's the scariest thing in the world."
Shaheen adds that she believes that antibiotics are key, after her own experience with the birth of her second son Leo.
"It definitely comes down to money," she says. "I was given antibiotics with Leo and he is absolutely fine. There were no side effects and he was given antibiotics a week after he was born, that was due to my concerns."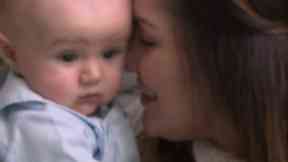 After a difficult pregnancy, Shaheen says it is little Leo who has helped her get through the grief of losing her first born son.
The Bellshill mother remarked that Leo even looks like, and has the same nature as Zach.
"Every day I look at Leo and think about Zach," she said. "Is that what he would have been like or is that what he would have done? I'll always pine for him. He's here in everything we do.
"I never thought I'd feel like this again. After Zach passed away I hit rock bottom and I genuinely didn't know how I was ever going to be happy. Since Leo's been born he's literally just gave me my life back. He'll never know what he's done for me, he's saved me."
Her experience with the infection though, continued to add stress and worry during her second pregnancy.
"I was excited but anxious because of what happened to Zach and still grieving for him," says Shaheen. "It was a strange pregnancy, nothing like my first. I actually had to see a counsellor because I was so scared.
"I'd been taken in to get induced, my choice, and it meant I would have the antibiotics before I gave birth so I knew I'd had them. It happened really quickly, when Leo was born I was just hysterical."
"They took him away then gave him antibiotics for three days, but on the second they told us he had an infection in his blood and they were taking him to intensive care," she adds.
" I've never been so scared. It was just history repeating itself. But it was just the doctors being overcautious.
"I felt like I couldn't really enjoy him, I was just watching him constantly and worrying about things that I never worried about when I had Zach: his breathing, napping too long, if he wasn't moving, if he had a cough or anything. It was just fear. When he got his first jags that's when I really relaxed."
The group Shaheen has been working with, and hoping to help make a breakthrough for, claims the powers that be are ignoring medical evidence.
Jane Plumb MBE, Group B Strep Support chief executive, said: "The Government will be making the wrong decision if it accepts the UK National Screening Committee's recommendations against a group B Strep screening programme.
"There is a huge amount of international evidence demonstrating the benefits of screening pregnant women for Group B Strep. For example, since the USA first recommended screening in 1996, the incidence of Group B Strep infection in babies has halved without comcommitant harms. Yet the UK has seen a rise of 30% since 2000, despite our risk-based prevention strategy introduced in 2003.
"This evidence seems to have been ignored, despite our and others highlighting it during this during the public consultation.
"The UK National Screening Committee position is unacceptable. How can they advocate denying pregnant women the opportunity to make an informed choice about their and their baby's care?"
The UK Government has now set aside funding for a bedside test but Shaheen argues there should be more awareness and help from the NHS and midwives themselves.
A Scottish Government spokesman said: "We recognise the importance of Group B Strep and continue to work hard to improve the situation. If a baby is considered at risk of infection they will be monitored and treated accordingly.
"The Scottish Government receives independent advice on all aspects of screening by the expert advisory group the UK NSC. The UK NSC regularly reviews national screening programmes against international evidence and technology to ensure they remain relevant and fit for purpose.
"The UK NSC have recently recommended not to introduce national screening for Group B Strep as they don't yet have evidence on the balance of good and harms."
Download: The STV News app is Scotland's favourite and is available for iPhone from the App store and for Android from Google Play. Download it today and continue to enjoy STV News wherever you are.