Student behind cycling scheme to take pensioners for a spin
Cycling Without Age visit care homes to help residents 'feel free again'.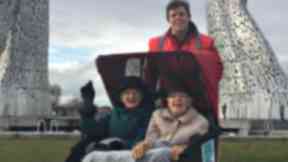 A young student with a generous heart has helped spearhead a movement in Scotland to take elderly passengers out on bike rides.
Fraser Johnston, 20, from Falkirk, is still at university but every spare minute he gets, he's back in the saddle taking care home residents out for cycle trips through the countryside.
The idea came from a Danish movement called Cycling Without Age, which encourages older people to ride on trishaws with the help of volunteer cyclists.
It started with five trishaws - a type of passenger bike - and has now spread to all corners of Denmark, and since 2015 to another 28 countries around the world until Fraser spotted it and launched it in Scotland this year.
"I took three residents out to the Kelpies a few weeks ago," says Fraser. "One woman, Mary, was 89 and she took her daughter with her for mother's day.
"She had a great time and I had another few ladies out the week before too when there was a big crowd there.
"They were loving it, waving at everyone and saying hello like the Queen."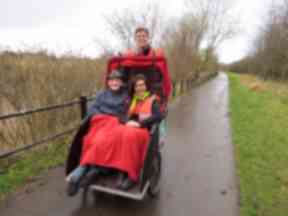 The Scottish team of volunteers officially launched in Falkirk this week, but Fraser says the idea has skyrocketed.
"We've got around 40 volunteers and the number is growing," he says. "We're hopeful that this will go on to spread throughout Scotland."
The original Cycling Without Age movement began with a simple wave outside a nursing home in Copenhagen.
Every morning Ole Kassow would cycle passed an impeccably dressed 97-year-old man called Thorkild on his way to work.
He would be sitting outside the nursing home on a bench, a walker by his side, but would always greet Ole as he went by.
Ole began to wonder about the last time the older man might have been out on a bike and received permission from home staff to take him our for a ride in a rental trishaw.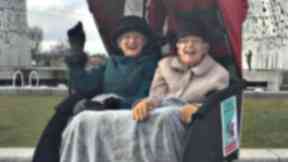 Off the pair went and a friendship grew. Ole received a call the very next day asking if he'd do it again.
On one ride, Thorkild pointed to a set of old army barracks by Rosenborg Castle and shouted to Kassow, "I used to live there." It turned out that Thorkild had been a royal guard in 1938.
Other seniors in the home wanted to go out with Ole too. He brought in volunteers and the idea spread. Before long the entire Cycling Without Age movement had begun.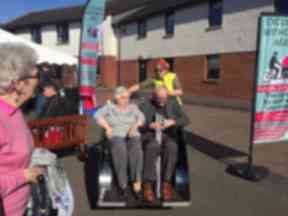 "We've had our first few rides in Scotland now and the reaction has been just as it was in Denmark," says Fraser.
"They told us how they feel stuck inside sometimes and how great it was to get out."
The movement aims to brings generations closer together by sharing experiences by bike.
The group's mission statement is that by simple acts of generosity and kindness, it hopes to bring residents out and about to meet people and have them "feeling free again - to feel the wind in their hair".
As they state on their website: "The issue of social isolation cannot be underestimated in Scotland today. We know that despite us making progress towards an all inclusive society we still have a severe lack of integration, and it is our senior citizens that are left behind."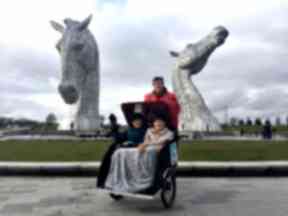 This week, Fraser has taken time away from his studies to present the movement to the Scottish Parliament and he has high hopes that with the amount of people in Scotland signing up to help, more bikes will be available across the country soon.
"We've launched a crowdfunder to help us get a few more bikes and we're hoping it will grow from there," he says.
"We'll continue it in Falkirk and the hope is to roll it out in all corners of Scotland."
Download: The STV News app is Scotland's favourite and is available for iPhone from the App store and for Android from Google Play. Download it today and continue to enjoy STV News wherever you are.