Archaos: Last look inside legendary former Glasgow nightclub
The building on Queen Street is set for a makeover ten years after it closed its doors.
It was the nightclub with possibly the most notorious double bed in Glasgow.
Archaos, with its VIP upholstered bed and well-known 'unders' nights, was where you were able to gain entry probably 90% of the time more than any of the other city clubs.
As one former punter fondly told STV, it was the place you went to if you couldn't get into Destiny and then, if even Archaos wouldn't have you, you went to the Moon.
In its prime, the Queen Street venue was one of the hottest clubs in Glasgow, attracting footballers and celebrities like Charlie Sheen, who spent a night there partying with Paul Gascoigne.
Clubbers would queue down the street to get in for sets by big-name DJs.
After 12 years of trading, the club eventually shut down in 2007 among the tide of rising competition.
A bid has been put in to turn the old building's fortunes around after a decade lying empty.
Plans have been submitted to turn the former legendary nightclub into offices.
Carrick Properties wants to create "grade A accommodation" across the four upper floors of the building and architects McGinlay Bell will hope to make it happen.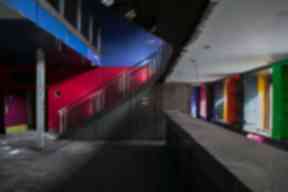 "The building is complicated so there is a lot to work out," says architect Mark Bell.
"But we knew from the start that this place would hold a lot of memories for people, so we knew we had a responsibility to capture some of that."
McGinlay Bell commissioned Glasgow photographer Gillian Hayes to visit the site and take photographs before any work on the old club begins.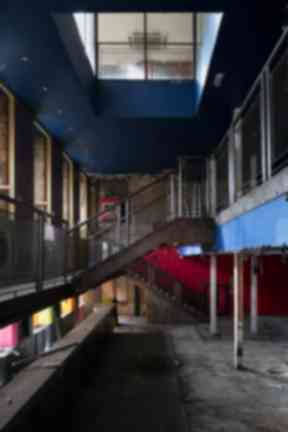 "The photos she came back with are rich in decay, colour and texture," says Mark.
"The next step will be to work out how these images influence the design."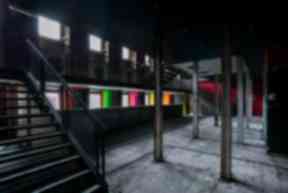 Mark says he is old enough himself to remember Archaos in its heyday.
"One of my pals used to DJ in it and I sent him some of the photographs last week," he says.
"I think it was quite a trip down memory lane for him."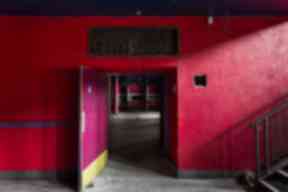 The club is located in an old warehouse building, meaning that its interior is well disguised and is unlikely to be what you would expect when walking in.
The bright painted bar can still be seen as well as the large central projector screen and the Archaos sign.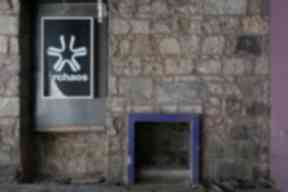 Archaos was used in 1999 for a recording of Sharleen Spiteri and Texas on Top Of The Pops.
Set over three floors, the nightclub tried to emulate the clubs of Ibiza, with professional dancers who would perform dangling from the ceiling.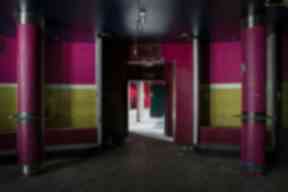 The cavernous main room still clearly shows the different levels where each area played its own mix of music.
The Betty's level was allegedly the haunt of students while the top floor was rigged for the club's guest aerial dancers.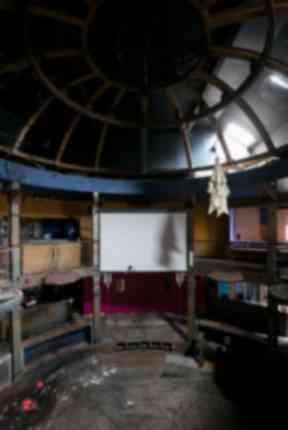 The indoor staircases can still be seen spiralling upwards and the bright Crayola-coloured walls remain largely intact.
"Given its unique history we knew it was important to capture this," says Mark.
"The building certainly has an oddness to it."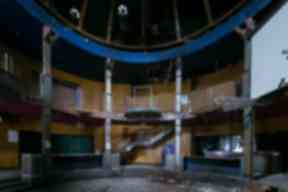 The building itself is still in relatively good condition, though renovating it into offices will entail a lot of work to fill in gaps and board up sections.
There does not seem to be any sign of the notorious double bed yet - but there is still time.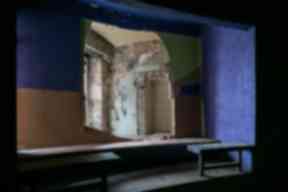 This is not the first major urban project McGinlay Bell has undertaken with a level of public interest.
The team was also involved with the challenging development of St Peter's Seminary in Cardross - a brutalist ruin that is being given new life as an arts venue.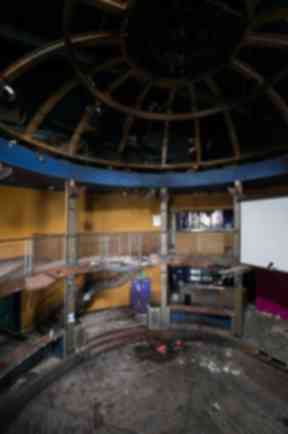 It was also behind the significant refurbishment of the Glasgow Film Theatre, a former 1930s James McKissack's cinema building.
"We've done projects in the past where we didn't capture as much as we would have liked before starting work." says Mark.
"We regret that so that's why it was so important to get these photographs done."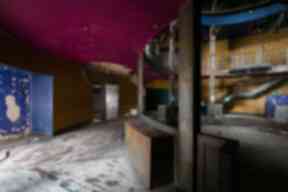 Should planning permission be granted, the move by Carrick Properties will create 3240 sq m of grade A accommodation spread across four upper floors at 21-41 Queen Street.
Originally owned by Stefan King, Archaos and its Sky Bar will be much changed if it is turned into offices.
"Now that we've got these images we'll be able to see where history takes us if we get the go-ahead," says Mark.
"We're not sure on what it will look like yet, but it will be good and it will be interesting."
Download: The STV News app is Scotland's favourite and is available for iPhone from the App store and for Android from Google Play. Download it today and continue to enjoy STV News wherever you are.